First Solar (NASDAQ:FSLR) reports 4Q15 earnings on 2/23/16. I'm projecting EPS of $0.84 which is slightly above the average estimate of $0.77 and the range implied by FSLR's FY15 guidance and 3Q15 YTD results. With FSLR having delivered on expected production and gross margin gains in 3Q15, and 4Q15 numbers fairly clearly laid out through the FY2015 guidance provided on the last call, I expect to be focusing less on actual 4Q15 results and far more on management commentary. In particular, I'll be looking for updates on plans for capacity expansion, the impact of the ITC extension on the domestic landscape, and developments in international bookings.
Capacity expansion plans?
FSLR guided to FY15 shipments of 2.8-2.9 GW in their 3Q15 earnings call, and FY16 shipments of 2.9-3.0 GW in their 2016 guidance call. On that same call, they also indicated expected 2017 sales volumes north of 3 GW, and indicated that the migration to lead line efficiencies in 2017 would add 140 MW of capacity over existing production lines. While this presents a low growth trajectory, the unsettled fate of the ITC would likely have called into question any substantial deployment of capital prior to December 2015. However, management did indicate they would reassess capacity levels in the first half of 2016, and with the ITC issue now resolved, with efficiency improvements driving just a mid-single digit growth rate in manufacturing capacity over the next couple years, with potential bookings continuing to grow, and with a projected net cash balance of at least $2.0 billion by YE16, I will be looking to hear management's comments on capital deployment plans, even if just an indication that more detail will be provided at the Analyst Meeting on 4/5/16.
Updated guidance in light of ITC extension
Management indicated in their 2016 guidance call that an extension of the ITC could impact projections, with the possibility that 2016 numbers could come down as some project completions were pushed into 2017. With the 30% ITC now having been extended, I expect management to provide some updated guidance. Rather than focus on timing issues and the bottom-line impact of some 2H16 earnings being pushed into 1H17, I'll be looking for commentary on whether the ITC extension offers FSLR the opportunity to roll out lead line efficiencies earlier and actually realize enhanced margins on the projects that are delayed until 2017.
While the impact of the ITC extension is certainly positive, any additional detail from management of its implications on domestic bookings, product mix, and margins moving beyond 2016 will also be welcome, though meaningful commentary could certainly be delayed until the Analyst Meeting or beyond.
International developments
As of 3Q15, 85% of FSLR's mid-late stage opportunities were international, up from 50% in 2Q15. As such, I expect recent booking developments to have an international flavor.

Per management guidance, these are likely to be module-plus or module only in nature at the outset, but presuming an initial shift occurs, I will be looking at any commentary around the nature of international bookings and opportunities moving forward. With the ITC extension presumably improving the profile of domestic projects, and given the lower margin nature of the initial international product mix and the political and currency risks inherent in international project developments, any commentary on FSLR's international growth and capital allocation plans in general will be of particular interest.
Summary
As my bullish case for FSLR rests largely on capital deployment and longer-term growth potential, I feel than any drop in share price from an earnings miss or downward revision in 2016 guidance could present a buying opportunity if accompanied by capital deployment plans or positive developments in the product mix/margin outlook.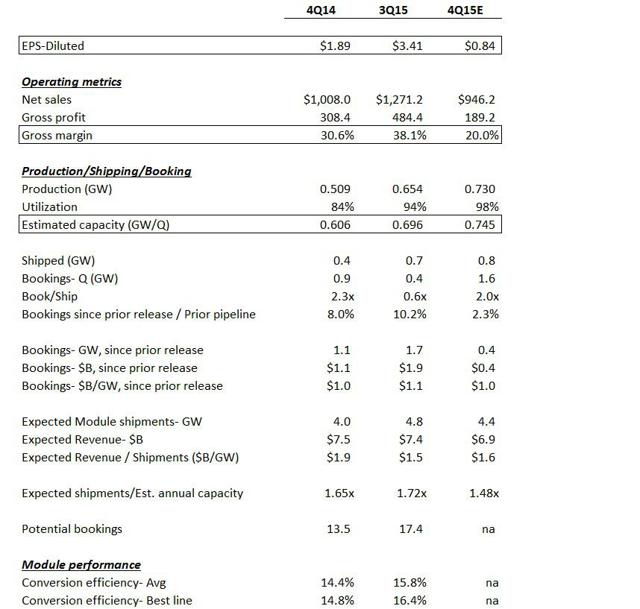 Disclosure: I/we have no positions in any stocks mentioned, and no plans to initiate any positions within the next 72 hours.
I wrote this article myself, and it expresses my own opinions. I am not receiving compensation for it (other than from Seeking Alpha). I have no business relationship with any company whose stock is mentioned in this article.