Northern Plains electric and natural gas utility NorthWestern Corp. (NYSE:NWE) reported Q4 earnings that came in slightly below both revenue and EPS estimates as warm fall and winter temperatures across its multi-state service areas prompted low demand. This came after larger misses on both lines in Q3 as warm temperatures again resulted in low natural gas demand. The company's share price has shrugged off these underwhelming results, however, and is nearing an all-time high (see figure). Back in September I discussed the company's strong earnings growth and falling valuation but cautioned investors from initiating a long position, concluding that
While it is tempting to recommend the company as a long investment on those grounds alone, potential investors should be aware that meteorologists expect this year's El Nino to be historically strong through spring...[T]here is a strong likelihood that both hydro output and natural gas demand will be reduced during the important Q4 2015 and Q1 2016 earnings periods. I encourage potential investors to wait for potentially disappointing earnings in the coming quarters resulting from adverse weather conditions to provide a better buying opportunity.
While warm temperatures are hurting NorthWestern's earnings, broader conditions have taken over as investors have reacted to reduced interest rate increase expectations and global market turmoil by engaging in a flight to safety. The company's share price has gained a solid 15% since September as a result. This article reconsiders its shares as a long investment opportunity in light of worsening weather conditions and recent regulatory uncertainty.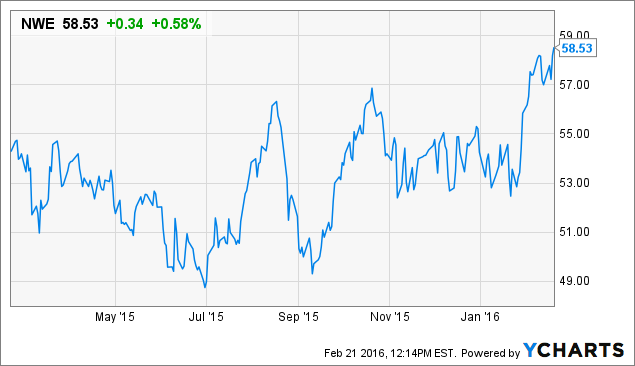 Q3 and Q4 earnings reports
NorthWestern's Q3 earnings report was an early indicator of the weakening operating conditions that showed up in Q4. The company reported Q3 revenue of $272.7 million, up 8.3% YoY but missing the analyst consensus estimate by $35.7 million. The gain compared to the same quarter of the previous year was the result of its completed acquisitions of hydro and wind generating capacity. September saw warmer-than-normal temperatures across the company's service area, however. While this impact was limited by low seasonal heating requirements during the period, the company's diluted EPS of $0.51 still missed the consensus by $0.06.
NorthWestern's Q4 earnings report fared better, although it still missed on both lines. The company reported revenue of $325 million, up by 3.8% YoY due to its previous acquisitions but missing the consensus estimate by $36.7 million. The revenue result was largely the result of continued warm conditions in Nebraska, South Dakota, and Montana as the year's strong El Nino began to make its presence felt. The company's service area experienced roughly 17% fewer heating degree days than normal during the quarter, reducing demand for natural gas in particular.
The company's cost of sales only fell slightly compared to the previous year, from $108.1 million to $107.4 million. While surprising at first glance given the steady decline of fuel prices during the quarter, this reflected two factors: the company's renewable generation capacity acquisitions and the fact that renewables' costs do not move in tandem with fossil fuel prices. The lower cost of revenue combined with the revenue growth to generate a gross margin of $217.6 million, up from $204.9 million YoY. The company attributed the increase to additional generation margins resulting from its acquisitions and the presence of higher rates during the quarter, partially offset by warm temperatures.
NorthWestern reported Q4 net income of $45 million compared to $37.2 million in the same quarter of the previous year, with its high post-acquisitions costs being outweighed by gross margin growth. Its diluted GAAP EPS came in at $0.92, up from $0.85 YoY despite the dilution that occurred as it financed its acquisitions. The company's Q4 earnings were reduced by $0.06 due to the warm weather, however. Its adjusted earnings excluded this negative impact, resulting in an adjusted diluted EPS of $0.98 that slightly missed the consensus estimate by $0.01. It should be noted that even this non-GAAP result was substantially lower than the earlier consensus estimates for Q4, however, which were as high as $1.06 in June 2015.
Misses aside, the company's FY 2015 diluted EPS represented annual growth of 6%, within its targeted long-term total investor return of 7-10% (the company's dividends have a forward yield of 3.4%). The adjusted annual EPS increase for the year was still higher at 17.5%, although the fact that this excluded unfavorable temperatures means that investors should take it with a grain of salt. Furthermore, it reported $90 million in additional operating cash flow for FY 2015 due to its acquisitions, an increase that it felt was sufficient to justify a 4.2% dividend hike resulting in a quarterly dividend of $0.50/share. Weather impacts aside, 2015 was a solid year for NorthWestern as it successfully incorporated its acquisitions into its overall operations.
Outlook
NorthWestern's management reaffirmed its FY 2016 diluted EPS guidance range of $3.20-$3.40. The midpoint of this estimate would result in earnings growth of 4.8% for the company, lower than in FY 2015 but still within its target total return range. The company expects the primary drivers for this growth to be the presence of a new rate case in South Dakota and its completed acquisition of the 80 MW Beethoven wind farm for $143 million. South Dakota recently approved a $20.2 million annual base rate increase for the company's operations there. While this is less than the $26.5 million annual increase requested by the company, it will be the first to incorporate the operations at Beethoven. Importantly, the company's request was made at a time when it appeared that the federal tax credit for wind power was about to expire. A Congressional deal struck in December saw this extended for several years, so the reduced rate increase will not have the negative impact on the company's targeted earnings growth that it would have had otherwise.
The company's FY 2016 earnings guidance range is based on the assumption of normal weather conditions. The company's service areas have continued to experience warmer-than-normal temperatures as it enters into the second half of Q1. While temperatures in Nebraska should return to normal in Q2 if the impacts of past El Nino events continue to be a guide to those of the current one, temperatures in South Dakota and Montana will likely remain high through the end of Q2. The good news is that precipitation levels in Montana are expected to return to normal by the beginning of spring, in which case negative impacts on its hydroelectric operations should be minimal even if natural gas demand remains weak.
Management was upbeat during the Q4 earnings call about the company's longer-term outlook. The economies in its service areas have remained robust despite the collapse in energy prices that has occurred since late 2014. For example, while I had previously highlighted an increase in the unemployment rate in Montana and South Dakota as a possible concern, both have fallen over the subsequent month (see figure). In fact, all three states boast unemployment rates that are substantially lower than the U.S. average. The company expects to maintain annual customer growth of 1% or more and this assumption is supported by current conditions in its service area.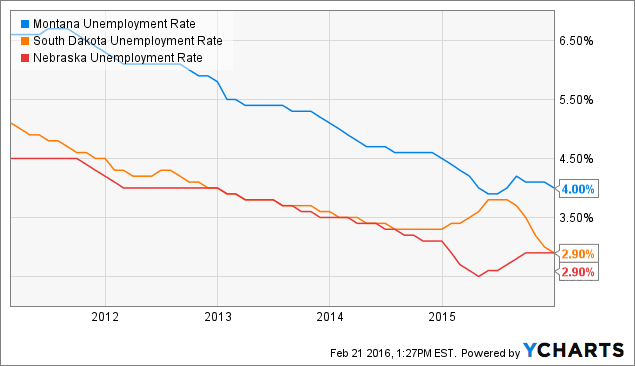 Montana Unemployment Rate data by YCharts
Numerous national headlines in February have thrown the company's longer-term outlook into a state of uncertainty, although this is not entirely negative. Earlier this month the U.S. Supreme Court ordered the U.S. Environmental Protection Agency [EPA] to refrain from implementing its Clean Power Plan until after the courts have finished hearing a multi-state challenge to it. The ruling had the practical effect of delaying the Plan's implementation until 2017 at the earliest, and then only if the Supreme Court upholds a subsequent lower court ruling validating the Plan. NorthWestern has supported the lawsuit against the Plan on the grounds that it would unfairly impose large costs on its operations.
The Clean Power Plan requires each U.S. state to reduce the carbon intensity of its electricity sectors by predetermined levels based on their initial intensity thresholds, primarily by eliminating coal-fired generation. NorthWestern's generating portfolio is unique in that its average intensity is below the thresholds required by the EPA even as 61% of its electricity is derived from coal. The thresholds are not exceeded due to the large amount of renewable electricity that it generates from wind and hydro sources, however. NorthWestern has argued that the CPP will require impose large costs on its coal-fired operations despite this fact in the form of either the early retirement of one facility in particular (the coal-fired Colstrip plant) or the purchase of tradable emissions permits from other entities. While investors could expect the company to pass these costs to its customers in the form of higher electricity rates, this could negatively impact its earnings by reducing electricity demand.
An additional concern for NorthWestern's investors is that the early retirement of the company's coal-fired capacity would require the construction of new capacity to replace it. The company has already budgeted $1.5 billion for capex through 2020 that will be financed via cash flows and long-term debt. It has left the door open to utilizing equity financing for any expenditures beyond this amount. To date dilution has not been a concern for acquisitions such as the Beethoven wind capacity since the company was able to achieve attractive terms that allowed the resulting earnings growth to exceed the negative impacts of dilution on EPS. There is no guarantee that NorthWestern would be able to achieve equally-attractive terms in the future, however, especially if an acquisition was made out of regulatory necessity rather than on its merits as an investment. It should be noted that the company's financial position is sufficient to cover its needs in the event that the Clean Power Plan does not intervene, however, with no long-term debt redemptions prior to 2019 and net liquidity at the end of Q4 that was 30% higher YoY.
Valuation
The analyst consensus estimates for NorthWestern's earnings have been revised lower over the last 90 days as weather conditions in its service areas have continued to discourage natural gas consumption. The FY 2016 consensus estimate has fallen from $3.43 in September and $3.36 in November to $3.33 today, although it is worth noting that this is still above the midpoint of the company's own guidance range. The FY 2017 consensus estimate has moved lower, from $3.60 in November to $3.48 today. The FY 2016 estimate would still represent annual earnings growth of 6.7% were it to be achieved, landing at the top of the company's targeted total return range. The FY 2017 estimate is more worrisome since it would only represent earnings growth of 3.6%, although it also is the most uncertain of the existing estimates.
The fact that NorthWestern's share price has approached an all-time high even as its earnings estimates have been revised lower has caused its forward P/E ratios to spike since the beginning of the year (see figure). At 17.4x and 15.8x for FY 2016 and FY 2017, respectively, the company's forward P/E ratios are off of their previous lows. They are not nearly as high as could be expected, however, given the recent flight to safety and falling earnings estimates. The company's shares appear to be fairly valued at this time so long as investors continue to disregard any negative impacts on earnings of continued warm temperatures.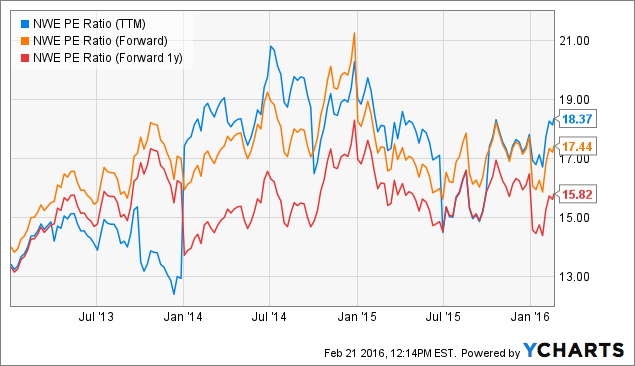 NWE PE Ratio (NYSE:TTM) data by YCharts
Conclusion
NorthWestern Corporation ended 2015 by reporting underwhelming earnings in the face of warm autumn and winter temperatures in its service areas, although the weather impacts were not large enough to offset the accretive impact of its recent hydro and wind capacity acquisitions. Indeed, weather impacts aside, 2015 was a good year for the company as the earnings increases resulting from its acquisitions exceeded the negative effects of their dilutive financing. 2016 has in many ways been a continuation of 2015, with investors ignoring continued warm weather to focus instead on headlines with potential positive implications for the company's earnings growth prospects. Even falling earnings estimates have been unable to slow the company's share price in recent weeks.
Normally the movement of a share price in the opposite direction of earnings estimates causes the shares to become overvalued. NorthWestern's earnings guidance suggests that it will continue to report strong earnings growth in 2016 despite being conservative compared to the analyst estimates for the same year, however. While the prospect of adverse weather conditions through Q2 prevents me from encouraging investors to initiate new positions in the company, I do suggest that existing investors maintain their positions due to the combination of positive headline news and a share price that is not clearly overvalued. The prospect of a 10% total return from a company with as solid of an operating history as NorthWestern's is not to be discounted during a time of global market turmoil.
Disclosure: I/we have no positions in any stocks mentioned, and no plans to initiate any positions within the next 72 hours.
I wrote this article myself, and it expresses my own opinions. I am not receiving compensation for it (other than from Seeking Alpha). I have no business relationship with any company whose stock is mentioned in this article.