Business Brief
Founded in 1865, Carter's (NYSE:CRI) is a leading producer of apparel for babies and young children in the United States and Canada. Per Reuters:
The Company owns two brand names in the children's apparel industry, Carter's and OshKosh. The Company operates through five business segments: Carter's retail, Carter's wholesale, OshKosh retail, OshKosh wholesale and International. It offers multiple product categories, including baby, sleepwear, playclothes and related accessories. As of January 3, 2015, the Company had approximately 18,000 wholesale locations (including national department stores, chain and specialty stores and discount retailers), 855 Company-operated stores and its Websites. As of January 3, 2015, the Company operated 531 Carter's and 200 OshKosh outlet, brand, and specialty stores in the United States. As of January 3, 2015, its products are sold through 124 Company-operated stores in Canada in addition to its international wholesale, licensing and online channels.
The company is a compounder, which we define as a highly cash generative business operating in a niche market with a defensible moat. For background on why we like compounders as investments, refer to our introductory article here.
The Opportunity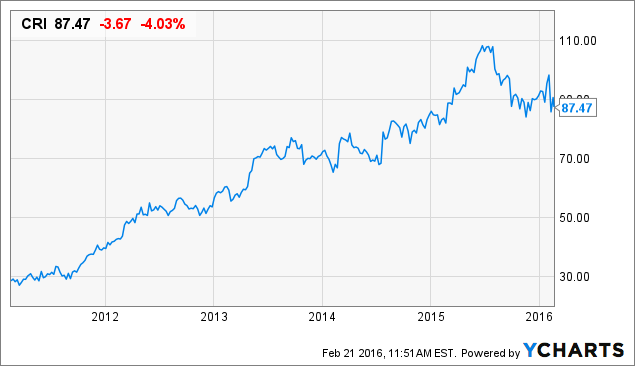 Shares in CRI was trading at $87.47 as of 02/19, some 20% off its 52 week highs.
What Happened?
Macro and currencies have put brakes on the company's share price since 2015. Carter's CEO, Michael Casey summarized this well in the Q3 earnings call:
A challenge in our business this year [2015] has been the decline in demand from international consumers shopping in the United States. We believe this is a macro issue, certainly not unique to Carter's. As you may know, we have benefited from strong international demand in our US websites in the years past, exceeding over 40% of total demand in each of the past four years...

...We believe the decline in international demand is related to meaningful changes in currency exchange rates. It is possible that we will continue to see decreases in international demand well into next year until exchange rates normalize year-over-year. By comparison we had very good performance in our international business, which we believe reflects our efforts to expand the reach of our brands to global markets.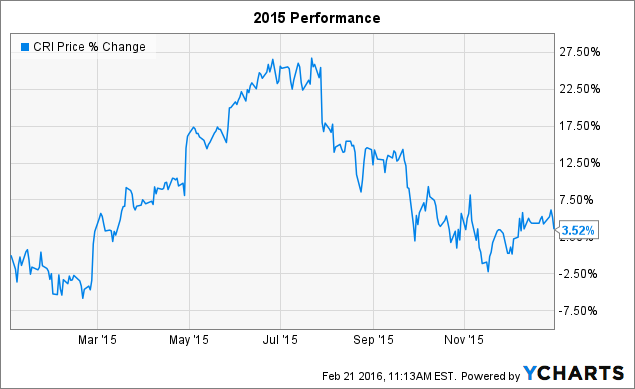 Is the drop warranted? Let's revisit the basic investment thesis using a series of questions to see if anything fundamental has changed:
Is its management shareholder-oriented?
Is its moat defensible?
Is it still profitable?
Is its revenue stable and recurring?
Is it trading at reasonable valuations?
1. Shareholder-Oriented Management: PASS
Carter's is run by an experienced CEO who is compensated on long-term share price performance.
CEO & Chairman, Michael D. Casey has been with the firm since 1993 and was promoted to CEO in 2008. Prior to becoming the CEO, he was the firm's CFO. Clearly, he is a numbers person and focused on financial performance.
His compensation package is very much long-term focused, contingent on the company's share price performance. This provides an important alignment of interest with the firm's shareholders: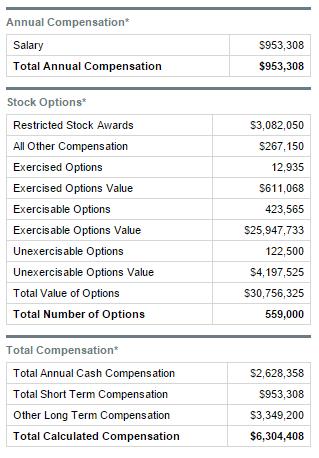 The company has also been buying back shares steadily on weakness: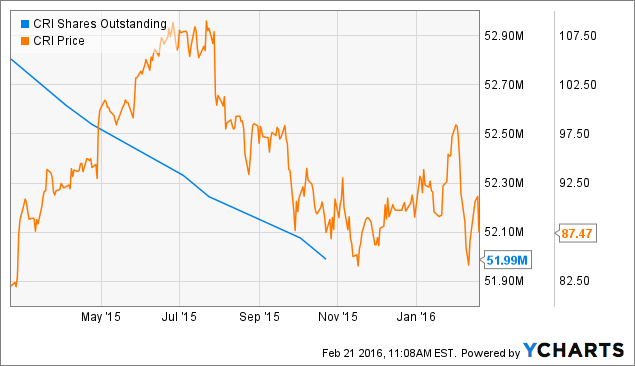 2. Defensible Moat: PASS
Carter's brands compete in the $20bn young children's apparel market (ages 0-8) in the United States. It is a niche market. The firm's Carter's brand has the #1 position with a 14.3% market share and its OshKosh brand has a 2.2% market share. In the baby segment, its market share is an impressive 26%, which is more than five times the market share of the next largest brand.
In aggregate, Carter's market share is 80% greater than the next largest competitor, providing it some pricing power in an otherwise competitive market.
The firm's international expansion is in its early phases. Last quarter, the firm's international sales rose 8.4% to account for 10.8% of total revenue but would have grown a much more impressive 17% had it not been for currencies.
3. Profitability: PASS
The company's gross profit margins have hovered above 35% for much of the last decade, and improving in recent years.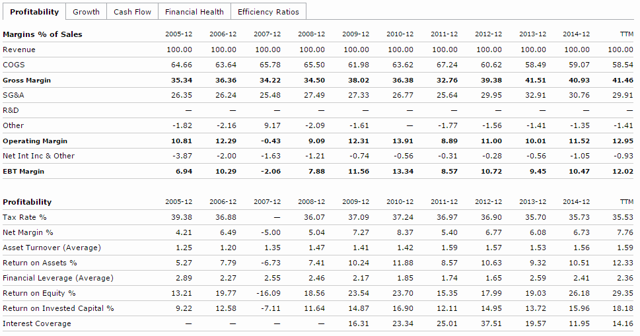 That said, from time to time this can decrease temporarily due to factors such as the promotional retail environment and overall levels of consumer spending. The latter is sensitive to macro factors.
Free cash flow and financial health are also robust: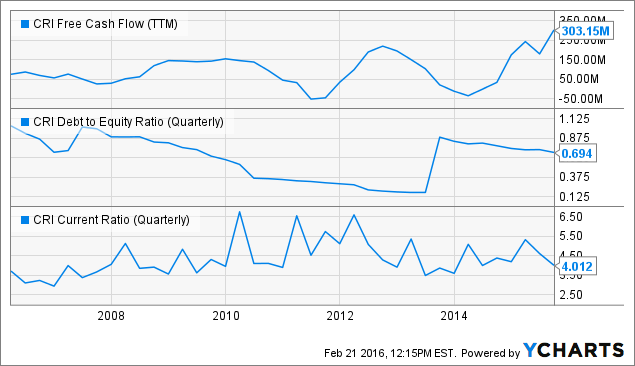 4. Stable, Recurring Revenues: PASS
2014 marked the 26th consecutive year of revenue growth. For the past 10 years, the firm has grown its revenues consistently at a CAGR of 11%. Its share prices have followed suit, and returned an annualized +12% over the same period. Revenue growth have remained positive in recessionary periods, as marked by the grey bars.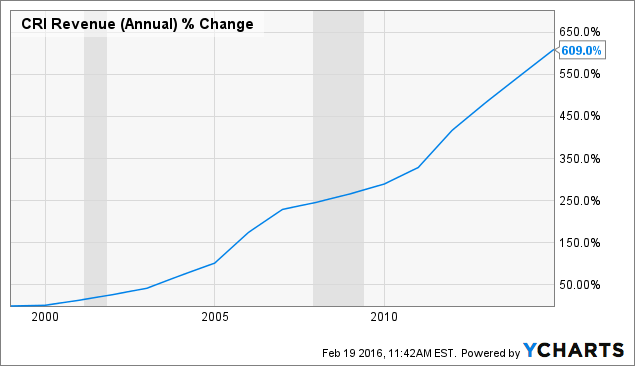 5. Reasonable Valuations: PASS
After the recent drop, CRI is currently trading at a free cash flow yield of 6.6%, a level last seen in late 2012. P/E is 19.5x. We believe valuations are overall reasonable for a high quality and steadily growing business.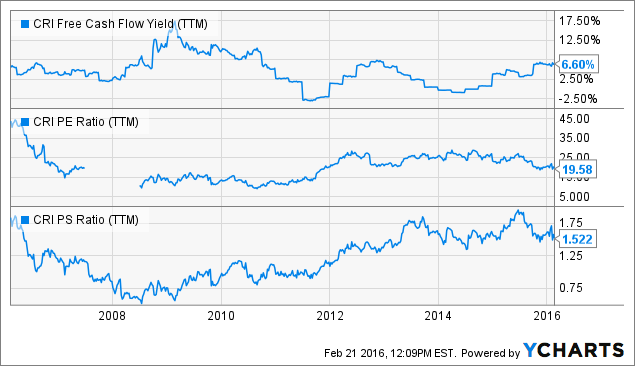 Our Take
Although currency headwinds will likely persist in the near term, Carter's fundamentals are sound and long-term growth trajectory is intact.
The company will report its earnings before open on February 25, 2016. We recommend readers accumulate CRI at present levels, and buy more on weakness if it falls further after earnings next week.
We added CRI to our diversified portfolio of compounders at an average cost of $87.50 on 02/19.
Interested in more compounders?
Take a look at our recent articles on the following companies:
Disclosure: I am/we are long CRI, TDG, FLT.
I wrote this article myself, and it expresses my own opinions. I am not receiving compensation for it (other than from Seeking Alpha). I have no business relationship with any company whose stock is mentioned in this article.