Introduction
A few months ago, I wrote an article titled "If I Had to Build an Income Portfolio Today" which was published by Seeking Alpha, October 23, 2015. The article described the development of a portfolio for a relative that recently came into a significant sum of money and wanted to conservatively invest to supplement their retirement income and help the grandkids with college costs. The article was very well received by Seeking Alpha readers generating nearly 30,000 page views.
As I mentioned in the first article, after establishing the initial portfolio, there remained a significant cash account yet to be invested. I've decided to turn the portfolio development into a series of articles documenting not only the development of the portfolio and the rationale for the investments selected, but also report on the capital appreciation and income produced by the portfolio. I plan to provide updates on the portfolio whenever there is a significant change in the portfolio holdings. This article is the fourth update in that series.
Portfolio Capital Appreciation and Income
The EXCEL table below shows the financial performance of the portfolio through February 19, 2016.

Source: Author
So far, the February market provided a significant opportunity to pick up additional shares of high quality high yield stocks. While the DOW dropped nearly 5% from January 29 to February 11, most bank stocks and REITs dropped significantly more. Bank stocks were in the market's crosshairs due to the fear of lower earnings due to continued global economic softness and "lower for longer" interest rates including some central banks entering into negative rate territory. Healthcare equity REITs seemed to be getting hit from a number of market fears including the difficulties that HCP, Inc.'s (NYSE: HCP) largest tenant, HCR ManorCare, is having with the Department of Justice as well as general concerns over the potential overbuilding of senior housing properties. Since this portfolio is designed to be a long-term income generating vehicle, I viewed the February selloff as an opportunity to pick up high yielding quality stocks on sale.
February Additions to the Portfolio
The additions to the portfolio are shown in the table below along with the percentage drop in per-share price from January 29 to February 11, the cost per share I was able to achieve, the yield on cost, and the closing price as of February 19 market close.

Source: Author
I picked up 100 shares of each of the five stocks in the table above; Royal Bank of Canada (NYSE: RY), Toronto-Dominion Bank (NYSE: TD), Starwood Property Trust (NYSE: STWD), Omega Healthcare Investors (NYSE: OHI), and Ventas (NYSE: VTR). I also had a limited order in for Welltower, Inc. (NYSE: HCN) but I was looking for more of a blue light special than the market was prepared to offer and I missed picking up an additional 100 shares of HCN during this sale.
The volatility in the market will likely continue as crude oil prices search for a bottom, the US Federal Reserve comes to grips with the fact that the global and US economies need continued juicing from low interest rates, and banks cut costs and shed money-losing divisions. So, there will likely be additional opportunities to pick up more quality stocks on sale in the next couple of months. The purpose of the table above is to drive home the point that maintaining a cool head during a market selloff allows investors to deploy their capital wisely.
The rationale for focusing on RY, TD, OHI, VTR, HCN, and STWD during the recent market drop is because I believe there is significant upside for each of these stocks to go along with the current healthy yields each of them offers.
The two Canadian bank stocks, RY and TD, have dropped in price over the last 18 months due to a couple drivers that I consider to be temporary. First, the drop in crude oil prices has slowed the Canadian economy and raised the fear of loan defaults in the oil and gas sector and potentially in the mortgage lending sector as high paying oil field services jobs are cut. Both RY and TD have low exposure to oil and gas sector loans and Canada's mortgage lending regulations are much stronger than those in the US. I believe that RY and TD are very well positioned to weather the oil price drop. Secondly, the strength of the US dollar versus the Canadian dollar has depressed the per share price (in US dollar terms) of all Canadian companies that trade on US exchanges. In reviewing the greenback versus loonie valuation, it is rare that the greenback has been this strong against the loonie. The loonie and greenback will move back into closer parity and when that happens, the valuation of RY and TD priced in US dollars will rise. I covered this in much more detail in a previous article I wrote a couple months ago.
The three healthcare equity REITs OHI, VTR, and HCN all have solid balance sheets and carry investment grade credit ratings. All three have a strong history of growing funds from operations and the dividends they pay out. However, the best reason to invest in these REITs is the coming growth in senior living (independent and assisted), skilled nursing facility demand, hospitals, and medical office buildings due to the retirement of the baby boom generation. Roughly 10,000 baby boomers retire every day and it is well documented that retirees are heavy consumers of healthcare services. Likewise, the number of US citizens 85 and older will nearly triple between now and 2050. Clearly, the demand for senior housing and medical services will continue to rise in the US and most other developed countries. I wrote a couple of articles on the impact the boomers will have on healthcare demand. They can be found here and here. For more detail on the investment thesis for OHI, VTR, and HCN, it is hard to beat Brad Thomas' analysis and articles. To borrow a phrase from an older James Bond movie, "Nobody does it better". Brad's most recent article on each of these can be found here, here, and here.
I believe that the valuation of STWD was driven down by the fear that the Federal Reserve was going to significantly raise interest rates this year. While rising rates generally have a negative impact on the valuation of mortgage lending REITs, STWD is commercial mortgage REIT with its loan rates tied to LIBOR. If market rates increase, STWD's commercial loan rates also rise. I also believe the Federal Reserve jumped the gun in December in their initial rate increase and has since figured out that both the global and US economy will not fare well in a rising rate environment. With a yield of 11.3%, STWD was just too good to pass up. STWD is pretty well covered on Seeking Alpha. One of the more recent articles on the investment thesis for STWD can be found here.
Total Portfolio
In update 3 of this article, I explained the rationale for placing a large portion of the portfolio into bank savings accounts and certificates of deposits. There has been no change to that portion of the portfolio. With the February additions to the portfolio, the total annual income has increased to $22,915.

Source: Author
In addition to those stocks, mutual funds, and MLPs already mentioned above, the portfolio consists of the following stocks and mutual funds: Enterprise Products Partners (NYSE: EPD), AT&T (NYSE: T), Realty Income Corporation (NYSE: O), Ameren Corporation (NYSE: AEE), Cal-Maine Foods (NASDAQ: CALM), Old Republic International Corporation (NYSE: ORI), American Electric Power (NYSE: AEP), Lexington Realty Trust (NYSE: LXP), Western Gas Partners (NYSE: WES), STAG Industrial (NYSE: STAG), and Verizon Communications (NYSE: VZ). The portfolio also includes the Vanguard Health Care Fund (NYSE: VGHCX), the Vanguard Dividend Growth Fund (NYSE: VDIGX, and Vanguard Mid-Cap Growth Fund (NYSE: VMGRX). A snapshot of the stock, MLP, and mutual fund portion of the portfolio as of market close on February 2016 is provided below.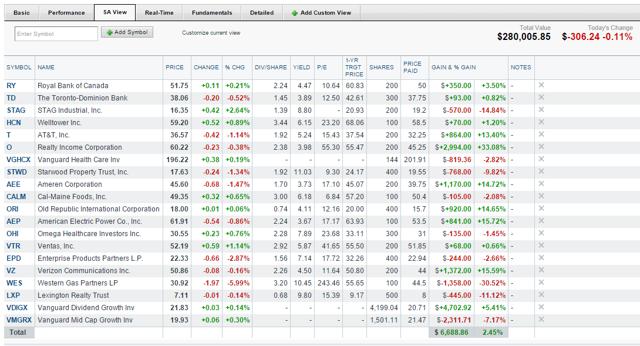 Source: Yahoo Finance
I still have funds to deploy and will continue to update the portfolio and this article as new investments are made.
Disclosure: I am/we are long AEP, AEE, EPD, HCN, OHI, O, STWD, VZ, T, VTR, ORI, CALM, RY, TD, VGHCX, VMGRX, VDIGX, WES, LXP, STAG.
I wrote this article myself, and it expresses my own opinions. I am not receiving compensation for it (other than from Seeking Alpha). I have no business relationship with any company whose stock is mentioned in this article.