The failure of U.S. and European equity indexes to break to new highs in 2015 has led participants to question the foundation of the (prior) the bull market. Many investors have grown to realize the presence of a disconnect between price and fundamentals, which we highlighted in last week's commentary.
Over the past seven years, and especially since 2013, investors have been buying equities for the wrong reasons. These reasons included everything (such as equities being the "only" viable alternative to low interest bonds, ample central bank liquidity, company share buybacks, etc) EXCEPT value. When buyers become "agnostic" when it comes to value (that is, they will continue to buy regardless of price) it's a sure sign of problems ahead.
Following up on the prior week's commentary (updated valuation charts can be found here), we address below two more topics on equity valuation: the big cap/glamour stock value trap and the low quality of earnings during this cycle.
Big Capitalization Stock Value Trap
As many readers are aware, for the past 10-15 years, the investment community has taken a strong interest in indexed equity strategies. In terms of assets under management, we have witnessed a massive shift in wealth to index funds (+39% relative to actively managed mutual funds since 2006, according to Vanguard). Needless to say, the popularity of Exchange Traded Funds (ETFs) -- the majority of which passively track an index -- has had a profound effect on the investment landscape. In fact, regulators attribute hot money flows into equity ETFs as a cause of increased market volatility. For example, the selling of leveraged ETFs on the S&P 500 or Nasdaq have been cited as an exacerbating cause of the 2010 Flash Crash. However these leveraged ETFs may soon disappear with changes to the 1940 Investment Company Act.
Structurally, as investor demand for an equity index benchmarked ETF increases, the fund issuer (such as State Street or iShares) must create new shares of the fund (ETFs are similar to opened-ended funds in that new shares are created to meet investor demand). As the vast majority of ETFs are focused on market capitalization weighted indexes, the fund manager must purchase proportionately more of the largest companies in the index. The same is true of traditional indexed mutual funds. The upside to all this is that the indexing frenzy drives up the valuations of the largest index component stocks. The two key consequences of this are:
Poorer returns are practically assured going forward for index-boosted stocks.
The bifurcation in the equity markets between the "must own" heavily-weighted index stocks and the rest of the listed stocks on an exchange.
We have been mentioning for a while the rich valuations on the large cap stock indexes. Yet another reason for the overvaluation of your favourite glamour stocks is the bid that they have been receiving from indexers. In principal, any investor (and especially a value-oriented investor), should flee any indexed strategy or any stock overly-boosted due to its heavy weight in the S&P 500 (NYSEARCA:SPY), Nasdaq-100 (NASDAQ:QQQ), or any other value-weighted index. Why? Simply because, as a stock gets larger (in terms of market valuation), an index strategy requires buying more of the stock as its price rises. Conversely, a stock falling in price, and therefore having a declining market valuation, would need to be reduced in the indexed portfolio. But wait! Is buying what is expensive and selling what is cheap a winning long-term strategy? Generally, no. Yet most investors are content on buying the big, high-flying names such as Google, Netflix, or Facebook today and locking in below-average returns going forward.
Our second point can best be illustrated by a chart comparing the Nasdaq index and some high-flying large cap stocks. The yellow curve below is comprised of four big stocks in the Nasdaq-100: Facebook (NASDAQ:FB), Amazon (NASDAQ:AMZN), Netflix (NASDAQ:NFLX) and Google (NASDAQ:GOOGL). This composite of four stocks has been in a raging bull market. The white curve is the equally-weight Nasdaq Composite. The market of all tech stocks has done nothing for over a year and has even been in a downtrend for the past 9-months. If we removed Facebook, Amazon, Netflix and Google from the equally-weighted Nasdaq composite, the index would already be in a bear market! So in fact, the bulls have been arguing that U.S. stocks remain in an uptrend, when market internals are horrible. Market breadth stinks (so to speak), as only a handful of stocks have been holding up the U.S. indexes since 2014. In essence, a bullish strategy today on the Nasdaq, for example, is a bet on four stocks, with a combined P/E ratio of 856 times earnings, getting even more stupidly overvalued.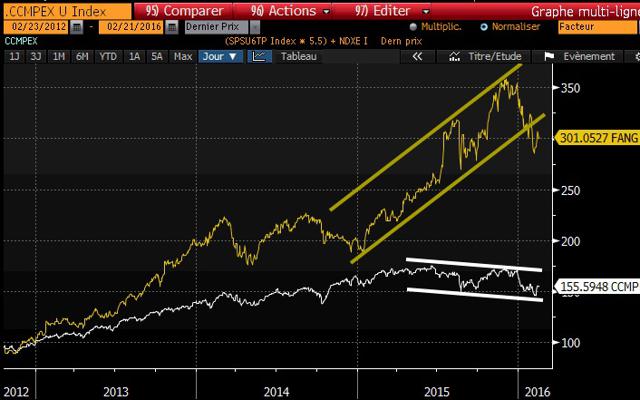 Earnings…at Any Price
Over the recent expansion, most readers understand that the economy has been running at below trend growth as personal consumption expenditures have been lackluster for the past four years (top chart) with households forced to reduce debt levels (bottom chart), undermining the once ubiquitous credit-driven American consumer.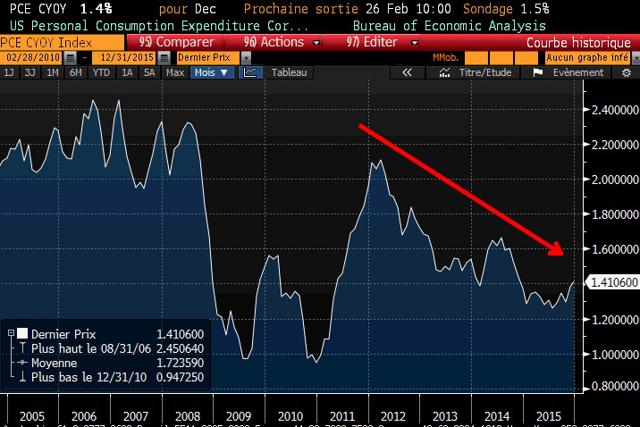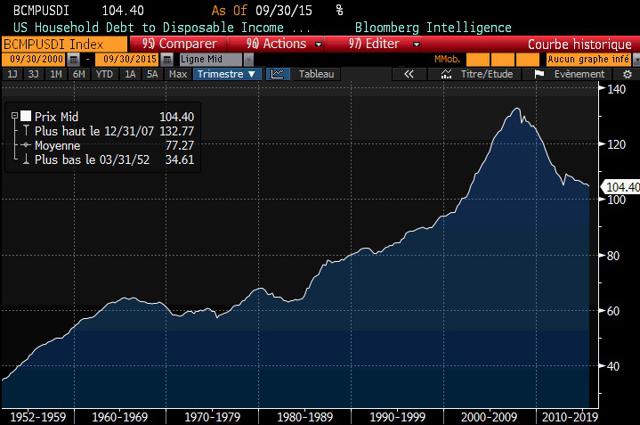 Yet ostensibly, U.S. firms have still been producing sufficient earnings such that the run-up in share prices does not appear horribly expensive versus earnings, using a traditional P/E ratio. However, it also seems incongruous that, in a subpar economic expansion with weak consumer demand, earnings somehow remained comparable to those seen in prior, healthy expansionary cycles. Well, not surprisingly, companies have always had tactics to boost earnings, even in the face of anemic sales (this is why C-suite managers receive multi-million dollar contracts). "Earnings production" may come from many sources. Operationally, from cutting the workforce and squeezing more productivity out of remaining labour. Financially, through share buy-backs which reduce shares outstanding and boost earnings per share (EPS). Or from accounting manipulations, such methods of reporting costs and extraordinary items. A firm's pro forma earnings figure can be (and often is) higher than earnings defined by generally accepted accounting principles (GAAP).
The degree to which firms have "stretched" earnings over this cycle seems to be unusually high. A report out of Bank of America recently cited that "the proportion of companies beating on EPS (60%) was the highest since 3Q10, while the proportion missing on sales (59%) was the highest since 3Q12." Missing on sales yet still beating on earnings sounds like a game of smoke and mirrors in which the average investor is left wondering how he lost investment money in such great conditions. The report also stated that for the past year, "pro forma S&P 500 EPS has exceeded reported (GAAP) EPS by more than 30%. This is well above the 10% gap for most of 2013 and 2014 and the widest gap since the Financial Crisis."
In sum, "earning quality" is quite poor. Investing in a buy-and-hold portfolio of equities in this environment is once again indicative of value agnostic investors. A strong bull market should be predicated on high quality earnings stemming from strong demand and sales growth, not accounting adjustments nor debt-financed share buy-backs. We continue to assert that the earnings / valuation argument in favour of sustained higher equity prices is null and void. Betting on equities today is, more than ever, a test of the "greater idiot theory".
Disclosure: I/we have no positions in any stocks mentioned, and no plans to initiate any positions within the next 72 hours.
I wrote this article myself, and it expresses my own opinions. I am not receiving compensation for it (other than from Seeking Alpha). I have no business relationship with any company whose stock is mentioned in this article.