Almost a year ago analysts of the Deutsche Bank wrote a bearish report on ASML (NASDAQ:ASML). I wrote an article about it and now "revisit" the subject to see whether you really had to sell.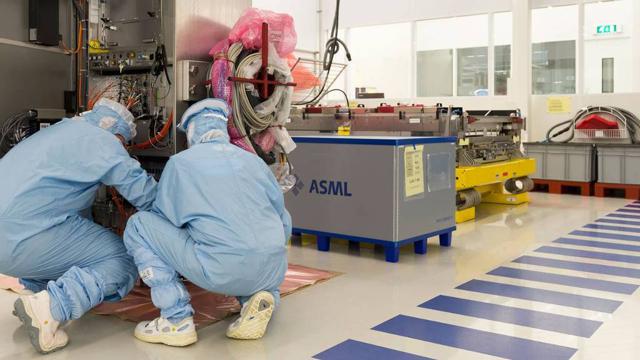 Image Courtesy of fd.nl
First of all, let's summarize why Deutsche Bank told you to sell ASML shares:
Share prices rose too much.
EUV is still far away from HVM (high volume manufacturing).
The EUV technology is a hype.
Share prices
It has to be admitted that ASML shares rose quite a bit over the last few years. Reason for this is the progress ASML is making on their EUV technology combined with solid earnings. The EUV technology is key to ASML's future earnings and therefore news and progress on the technology is priced in almost directly. Looking at the performance of the Nasdaq Composite, the AMEX Semiconductor Index and ASML, one could say Deutsche Bank was right when it told you to sell ASML shares. ASML lost 11% while the AMEX Semiconductor Index remains almost unchanged and the Nasdaq lost 7% since Deutsche Bank published the bearish report. However, given the huge ride up in share prices that ASML shares enjoyed I think that an 11% drop is minor and in no way supports Deutsche Bank's view on EUV technology.
Hype
One of the main conclusions from Deutsche Bank's report was that EUV is still far away from high-volume manufacturing. To me this was and still is kicking in an open door. Analysts noted that chances are slim the technology will be ready to be used for the 7nm node. They even told investors "not to believe in the hype." However, given the progress of the EUV technology, Intel's (NASDAQ:INTC) order for EUV machines and TSMC's (NYSE:TSM) plan to use the technology for the 5nm node production, the technology can hardly be called a hype. Intel still has not decided about a possible insertion of EUV technology for the 7nm node - a decision about that will likely follow this year.
Advice and Price targets
From the points that Deutsche Bank tried to make, none seemed valid to me a year ago and none seem valid to me now. So in order to get a clue on why their analysts would write such a report I had a look at the price target and rating history Deutsche Bank had for ASML shares in a time frame of a year.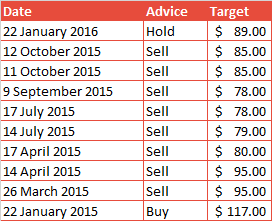 What has to be noted is that Deutsche Bank had been bullish on ASML for a while before 2015 it was not until the stock reached the €100 level that analysts started questioning the EUV technology. So to me it seems that Deutsche Bank has never been skeptical of the EUV technology itself, but used the maturing process of the technology to justify turning bearish on the stock. This also shows in the latest advice analysts issued: If they were truly "bearish" on the EUV technology, they would not have iterated a hold rating. It seems Deutsche Bank just needed to talk the stock down and offer itself a nice entry point.
Conclusion
To me it seems Deutsche Bank used the EUV technology to iterate a sell rating and push shares down.
An order from Intel for the EUV machines proved Deutsche Bank's negativity about EUV wrong.
ASML dipped over the past 12 months, but given the strong run it had this was to be expected. Additionally, the semiconductor industry saw a few sell-offs, which caused ASML shares to drop as well.
Contrary to Deutsche Bank, I remain bullish on ASML with the side note that the stock involves some risk due to the fact that its targets are geared toward the success of EUV technology. Small disruptions in the maturing process of this technology are likely to reflect in ASML's share prices. So far, however, the maturing process is heading on schedule and big customers such as Intel and TSMC are more than willing to implement the technology in their production process.
The only valid point that Deutsche Bank made is that the EUV technology might not be mature enough to implement for the 7nm node production.
Disclosure: I am/we are long ASML.
I wrote this article myself, and it expresses my own opinions. I am not receiving compensation for it (other than from Seeking Alpha). I have no business relationship with any company whose stock is mentioned in this article.