Introduction
Recently, I wrote an article on Why Opec Will Cut Production. In the midst, of widely fluctuating oil prices caused by various news circulations talking about an OPEC meeting, the goal of the article was to shed some light on the difficulties faced by OPEC and its incentive to cut production.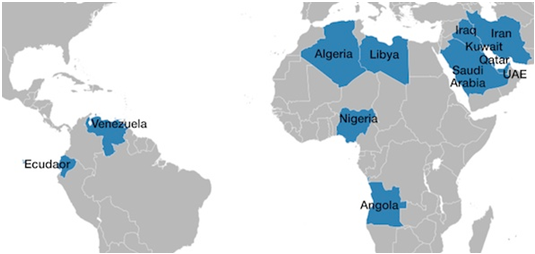 With more than 25,000 views, it was clear many of you liked this article. As a result, the goal of the present article is to provide an update on the actions OPEC along with my personal speculation as to the direction OPEC will choose to head in.
OPEC Meeting Results
To begin, let us start by summarizing the latest OPEC results from the latest production halt. To start, let us discuss the deal. Saudi Arabia, Russia, Venezuela, and Qatar all agreed to halt production at their January 2016 levels. While the deal was not the production cut many were hoping for, it still represents a significant accomplishment.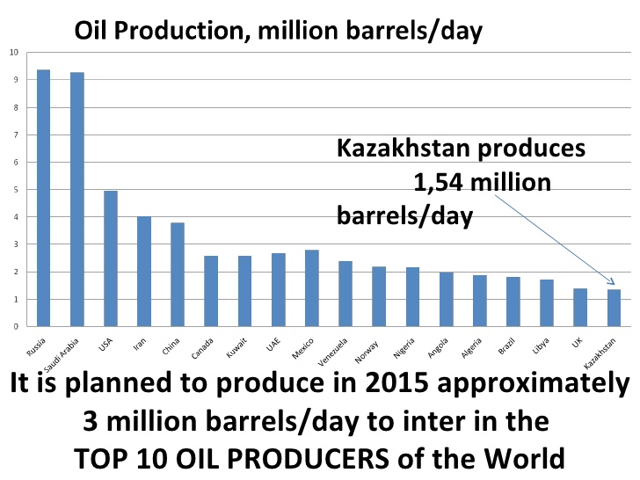 The above image shows the top oil producers in the world. You can see the companies that took part in the production cut with the exception of Qatar. Russia, Saudi Arabia, and Venezuela together produced almost 25 million barrels of daily production in January 2016. This represents almost 30% of the world's annual production, production which has increased by several million barrels in recent years.
At the same time, their is talk about Iran joining in the production deal, a country which produced almost 4 million barrels per day before sanctions. The country will want time to ramp up its production but should join within the deal. Beyond this, this deal between OPEC and Russia points to the chance of a future production cut.
Oil Markets
Now that we have an overview of the meeting results, let us talk about the overall OPEC demand growth.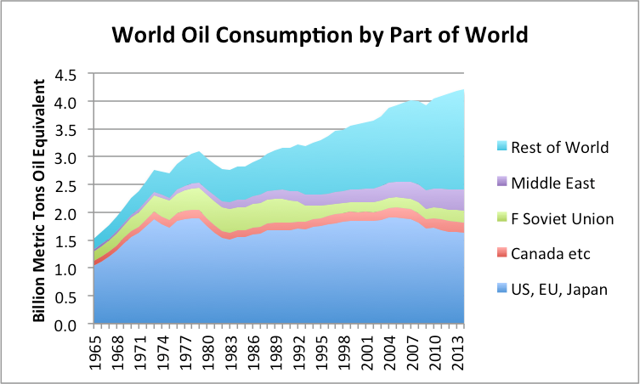 World Oil Consumption - Gail The Actuary
The above image shows how the worldwide oil consumption has been increasing in recent years. Worldwide oil consumption is expected to continue growing and despite difficulties from China, worldwide oil consumption is expected to continue increasing. While their are concern over United States consumption decreasing, overall worldwide production is still rapidly growing.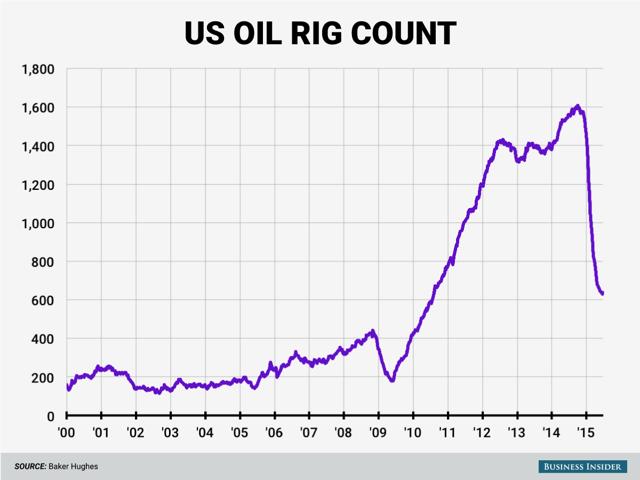 U.S. Rig Count - Business Insider
At the same time, while consumption has been increasing, the oil rig count has been decreasing rapidly. In fact, oil rig count has decreased from 1600 in mid-2014 down to just over 600 in recent weeks. At the same time, oil rig count is expected to continue decreasing which should put further strains on production. It is well established that the current oil crash was caused by a rapid increase in U.S. production, and a decrease in rig count will hurt U.S. production.
Iran and Libya
Now that we have talked about the OPEC meeting and the overall Oil markets, it is now time to talk about the Iran and Libya situation.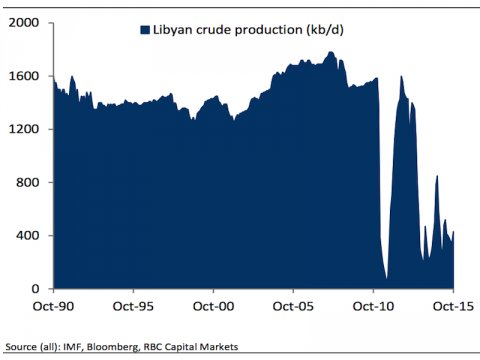 Libyan Crude Production - Business Insider
The above image shows Libyan crude production and how the country's production has rapidly dropped from 1.6 million barrels per day down to approximately 0.4 million barrels per day a significant drop of 1.2 million barrels. Further instability could significantly hurt production. However, should the country become stable again, this production could jump up.
Iran production was more than 4 million barrels per day before sanctions and is currently expected to be a few million barrels per day depending on how much the country went around sanctions. The country originally refused to be a part of the production freeze with the other OPEC countries.
The countries reluctance to cut production is in line with the sanctions just being released allowing the country to subsequently increase its production. When the country's production gets back up to speed - which has been priced into oil prices - it will be more interested in halting production.
Production Cut
So far, we have talked about the OPEC meeting results followed by the oil markets. We subsequently talked about Iran and Libya and their influence on the oil markets. Now let us talk about the reality of a production cut.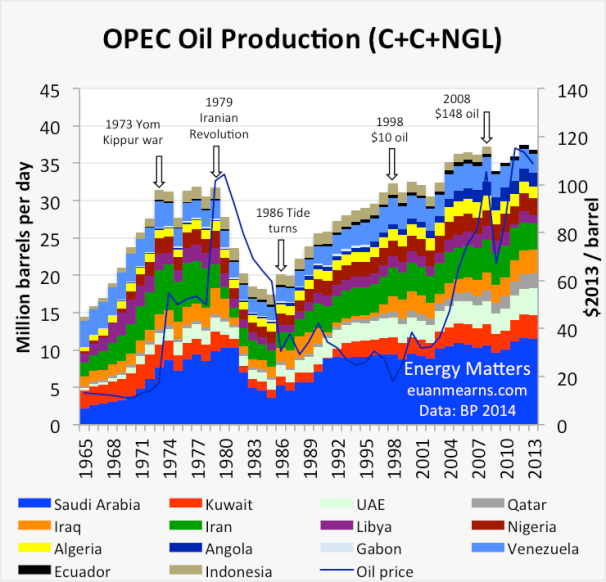 OPEC Oil Production - Oil Price
The above image shows a history of OPEC's production including its production from 1965 - 2013. The organization has regularly dramatically cut production during major oversupplies such as in the early 1980s, late 1990s, and 2008. However, in an attempt to keep market share from American companies, the organization has refused to cut during the current oversupply.
Despite that, Saudi Arabia has publicly stated it would be willing to cut production as long as the cut came part of a cooperation with other major oil producers, including those who aren't necessarily a part of OPEC. The major other producer, who OPEC needs to cooperate with is Russia, the others like United States don't have centralized production.
Should Iran stabilize to the point that it is willing to consider a production cut, with decreasing production from Libya, Iraq, and other unstable countries, there is a chance that a production cut will be coordinated with Russia. Even a simple 2.5% production cut which represents just a 1 million bpd decrease in production will make great strides towards resolving the supply and demand imbalance.
Currently, the oversupply is considered to be almost 2 million bpd. With a production cut of almost 1 million bpd followed by a subsequent increase in production coming from industrialized economies, the oil supply and demand imbalance should correct itself.
Conclusion
So far, we have talked about all of the aspects of the oil production cut along with the different potential results. As has been talked about before, the production cost wasn't as high as many were expecting.
Despite that, the production halt has strong potential in the future. With a historic deal made with Russia, the production halt could lead to a future production cut. Such a production cut will lead to the oil markets recovering bringing strong results to investors.
Disclosure: I/we have no positions in any stocks mentioned, and no plans to initiate any positions within the next 72 hours.
I wrote this article myself, and it expresses my own opinions. I am not receiving compensation for it (other than from Seeking Alpha). I have no business relationship with any company whose stock is mentioned in this article.