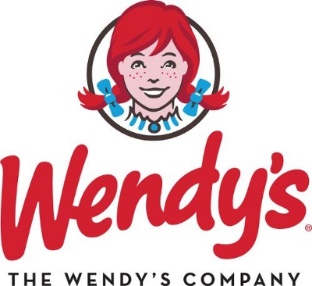 Wendy's (NYSE:WEN) is a stock I've been critical of in the past as I've felt the company's turnaround - while successful - is being priced into the stock and more. Most recently, back in December, I said that at $10.41, the stock was at a nosebleed valuation and that regardless of how successful the transformation was, Wendy's couldn't hope to grow into its valuation anytime soon. The company reported preliminary Q4 results recently but for all intents and purposes, this is the Q4 announcement. And with shares down since the report, is the revalued Wendy's worth a look or is it still expensive?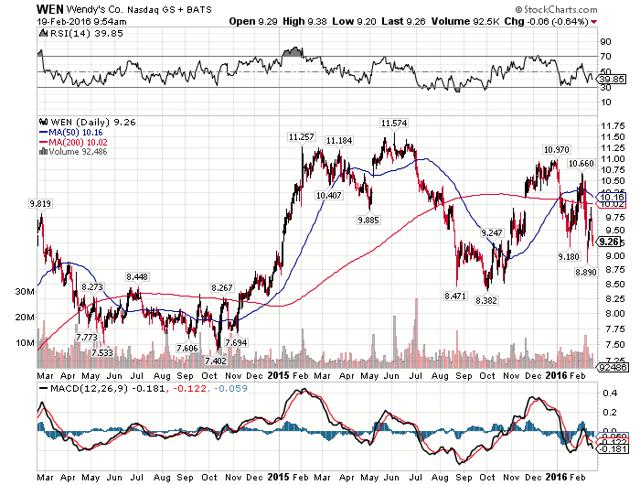 My bearishness on Wendy's has certainly not been based upon anything the company is doing wrong. Wendy's is undergoing a radical transformation where it is not only re-imaging its stores but selling off hundreds of them to franchisees. This is a gargantuan effort that seems to be working very well but the reality is that shares are pricing in a lot. Even great businesses - or ones that are becoming great - can be assigned unfavorable prices and that's what I'm afraid of with Wendy's.
Q4 comp sales rose 4.8% in Q4, continuing the excellent work Wendy's has been doing to drive traffic into its stores. The 4-for-$4 promotion is one way the company is driving people to the stores and its marketing is focusing on freshness and quality. The transformation in the business has been tremendous and Wendy's isn't done. Average unit volume is at an all-time high and it appears we'll see another record set in 2016.
In addition, the refranchising model and productivity gains continue to boost operating margins. This is the biggest source of future growth for Wendy's as it continues to become a model that is weighted more towards franchises as that revenue is much higher margin than company-owned stores. Even at company-owned stores - which benefit solely from higher comp sales and productivity gains - operating margins flew 190bps higher to 17.7% Y/Y. WEN's margins are getting much better and I suspect that is a large portion of the bullishness from investors.
WEN is also using its significant FCF to repurchase a lot of shares as it also puts to work the proceeds from its restaurant sales. WEN repurchased $1.1 billion worth of shares in 2015 and considering the company's current market cap is $2.54 billion, that's an extraordinary amount of capital returned to shareholders. I always love a buyback and I applaud management's efforts to put excess cash to work but it isn't moving the share price higher just yet. WEN is going to continue to buy back lots of stock for the foreseeable future so it will be interesting to see what kind of impact the effort has on the share count this year.
In addition to a nice Q4, the company's guidance for 2016 and beyond was very bullish. North American comp sales are expected to be 3% for the foreseeable future and commodity deflation of 2% to 3% should aid in Wendy's hitting its unit-level operating margin goal of 18.5% to 19%. These are ambitious goals to be sure but WEN's recent momentum would suggest that it has a sizable chance at hitting them. If it does so, profitability will move higher over time and EPS will rise despite falling revenue.
In fact, WEN said it expects adjusted EPS growth in excess of 20% starting in 2018. These targets exceed analyst estimates so WEN is quite bullish on its own future. However, the stock failed to react positively to such bullish guidance, a condition I find interesting and more evidence that perhaps WEN is overpriced.
There is no doubting WEN's momentum but it still faces challenges. There are untold competitors in the space WEN competes in and more recently, success from McDonald's and its all-day breakfast push has apparently taken traffic at lunch time. With lunch being critical to the fast food business, it is critical that WEN maintain its momentum. But MCD's size and scale dictates that if it is gaining traffic, someone else is probably losing it. It does seem that Wendy's is holding up just fine but it is certainly something to keep an eye on as 2016 progresses. If MCD continues to gain momentum, it may come from WEN, among others.
At 26 times this year's earnings, WEN is hardly cheap. It is much cheaper than it was last time I wrote about it as the stock has traded down but still, you're buying a lot of faith that management can execute at this valuation. The plan to transform Wendy's from its old, less productive self to a fresh, new franchise-heavy model is certainly working but the fact that investors didn't respond positively to extremely bullish long term guidance is an indication that the valuation is too high. If WEN were trading for a more reasonable valuation - say, under 20 times this year's earnings - I'm confident the reaction in the stock would have been different. But WEN has been bid up so far that there is no reasonable scenario where it can grow into its valuation. That condition has eased somewhat since December but it is still very much present and that means I'm still not interested.
If long term comp sales gains and enormous increases in operating margins aren't enough to get the stock moving, something is wrong. The only thing wrong with this stock is the price; the fundamentals are terrific but investors are expecting so much that even long term bullish guidance sent the stock lower. WEN is going to either trade sideways or go lower from here as it is simply too expensive, even after hitting the low $9s. If it does move lower, I'll be interested in buying but for now, the risk/reward setup is skewed the wrong way.
Disclosure: I/we have no positions in any stocks mentioned, and no plans to initiate any positions within the next 72 hours.
I wrote this article myself, and it expresses my own opinions. I am not receiving compensation for it (other than from Seeking Alpha). I have no business relationship with any company whose stock is mentioned in this article.