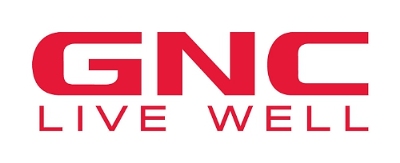 GNC Holdings (NYSE:GNC) is just another retail stock that has been taken to the cleaners in the past few months. The market in general has not been kind and as some retailers have reported disappointing outlooks to the Street, mercy from sellers has been hard to come by. GNC reported its Q4 earnings a couple of weeks ago and the stock has reacted somewhat favorably to the news. It is still down an enormous amount since its August high of $51 but are things finally looking up for this beaten down retailer?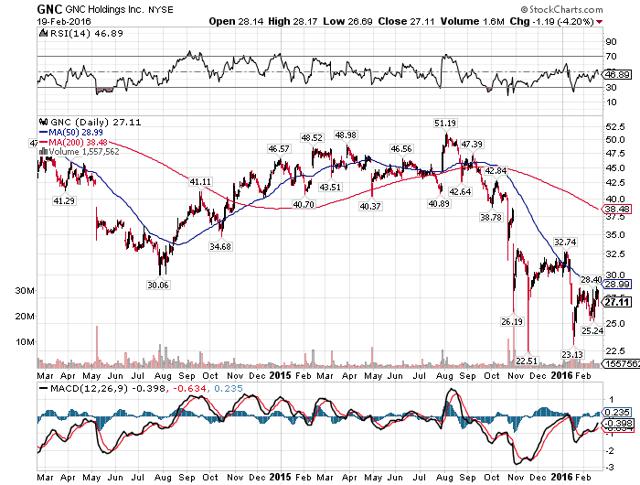 GNC's Q4 revenue rose just under 2% for Q4 as it reported mixed comp sales results. The company's stores saw a gain in comps of 80bps but franchised stores fared much worse, seeing a 3.2% decline in comp sales. This is fairly consistent with what GNC produced for 2015 as it continues to try and transform its customer base. This process is painful but necessary if GNC is to move forward and comp sales struggles illustrate that point.
The lower comp sales for franchise stores is also interesting in light of the company's plans to refranchise a significant portion of its portfolio from company-owned stores to franchised units as the company is targeting 1,000 conversions over the next few years. This conversion will be productive over the long term as the company's margins will be higher as the mix of franchised locations moves higher. But GNC also needs to pick up the sales for franchisees in order for franchisees to want the stores to be converted. I like the move to franchised units but GNC has some kinks to work out as well.
One of the best things about GNC shares is the company's commitment to buying back its own stock. For the full year 2015, the company repurchased 14% of the float that was outstanding at the beginning of the year. That's an extraordinary buyback to repurchase one in seven shares in just one year. And GNC is poised to continue that effort as the company guided for repurchasing 6% to 8% of the float in 2016. GNC's remaining $427 million on its share repurchase program is good for about 21% of the float at current prices so I wouldn't be surprised if GNC blows past its guidance for buybacks this year.
Gross margins also moved up about 60bps in Q4 as the company's cost of sales moved down nicely. However, SG&A costs deleveraged about 90bps and resulted in lower operating margins during Q4. Even excluding asset impairment charges, the full year operating margin number was lower than 2014 despite slightly higher revenue. This is a normal condition of a company that is struggling with comp sales but GNC - if it wants to shed its trough earnings multiple - needs to get costs under control for its new revenue base. It cannot simply rely on hoping for comp sales growth if it is to grow earnings appreciably and the market knows that. This is certainly a big part of the reason why the company's shares have sold off so abruptly. GNC's operating margins are still in the low to mid-teens so we aren't talking about a weak business model here but if the company wants to maintain those margins, it has some work to do.
Speaking of trough multiples, the stock is now trading for just 8.4 times 2016 estimates and under 8 times 2017's estimates. The funny thing is that analysts have been raising their respective EPS targets of late, not cutting them, as the stock has fallen. GNC's stabilization of its comp sales and its plan to refranchise hundreds upon hundreds of stores is great for the long term assuming GNC can execute. In addition, it has the firepower to repurchase roughly a quarter of the currently outstanding shares after buying back 14% of the float last year. Above all, GNC is a capital return story right now.
I think the company's issues surrounding comp sales and margins are real ones and they require attention. However, company-owned stores are still producing slightly positive comps so there is some hope. In addition, one of the easiest line items to trim on the income statement is SG&A and hopefully GNC is looking for ways to save money. It cannot afford to continuously spend freely while its revenue base is flat and it certainly cannot continue to cede operating margins. GNC's robust repurchase program is only possible because it generates lots of cash from its high margins so if those begin to falter, there isn't much of an investment case here; GNC isn't there yet but it is getting closer.
However, I still think that the valuation is so low at this point that investors are being compensated for the risk that GNC completely forgets how to be a retailer. The stock is very cheap at this point and even if you assume the company spends the next few years with flat revenue and flat margins, it will see robust EPS growth simply from the repurchase program. That's the margin of safety here; GNC's willingness and ability to buy its own stock is the backstop here and for that reason, I like GNC. The risk/reward is skewed nicely towards the bulls.
Disclosure: I am/we are long GNC.
I wrote this article myself, and it expresses my own opinions. I am not receiving compensation for it (other than from Seeking Alpha). I have no business relationship with any company whose stock is mentioned in this article.