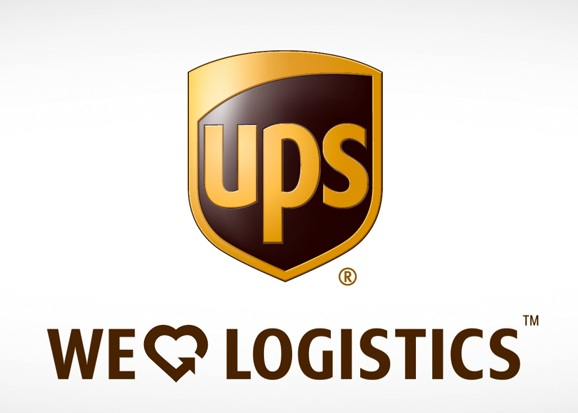 It's not often that you see an evolution that upends a traditional "old-school" business and transforms it into a business of the future, but that's exactly what's happening with the transportation and logistics industry. And one of the front-runners of that massive shift is United Parcel Service (NYSE:UPS), which is seeing a shift in its basic business model as it rides the wave of e-commerce explosion over the next several years.
Excerpts from a recent report by Technavio on the prospects of e-commerce on the logistics industry:
Global e-commerce logistics market expected to grow at 9.69%
Vendors are developing facilities in city centers to cater to last-mile deliveries for e-commerce companies
Increasing investments in technology a key trend expected to drive innovation in the global e-commerce logistics market
UPS is one of the very few stocks that has managed to keep its head above the water in an otherwise gloomy market where nobody is certain what the GDP growth will be like even over the next three months. Though they're still $10 below 2015 highs, the stock is definitely showing signs of getting ready to move higher. With a stellar 2015 behind them and optimistic guidance for 2016, I believe two key drivers will spur their performance into the rest of this decade.
The first is Europe, and the second is e-commerce.
UPS has been investing in the billions in Europe as the company strives to strengthen its network in a bid to catch up with market leader DHL.
On the homefront, e-commerce/retail shipments have been steadily increasing and now account for a major portion of the delivery business. Lets us analyze these two revenue drivers and their impact on the future growth of the company.
UPS on a High in Europe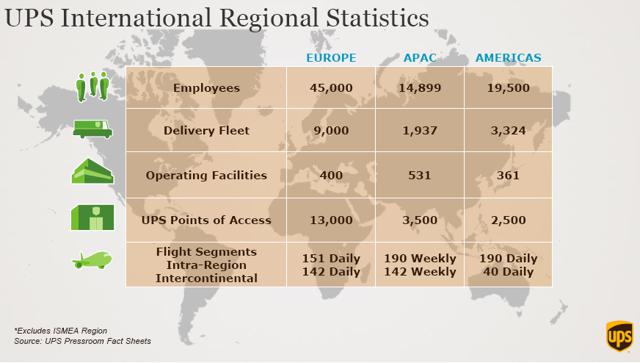 Europe now accounts for nearly 50% of UPS's International business and, despite the slow growth in the region, UPS has been steadily investing in the business. The impact of those investments are finally starting to show.
From their 4Q Press Release:
International adjusted operating profit was up 16%, to $624 million, in the fourth quarter, led by strong performance in Europe. Disciplined pricing, favorable customer and product mix, combined with improved operational performance, drove increased profitability. For the first time, the International segment surpassed $2 billion in annual adjusted operating profit.
Last year it was reported that UPS would invest over $1 billion in Europe to expand its network in Germany and other countries in the EU.
With the FedEx (NYSE:FDX) acquisition of TNT, UPS knows the urgency of increasing its position in this lucrative market.
For more information on how the acquisition will bring FedEx up to UPS's revenue levels, please read Why Is Fedex Stock In A Slump Despite Several Positives?
UPS is already seeing stronger performance in Europe with the $2 billion in adjusted operating profit, and they will leave no stone unturned to ensure that this trend continues. Their recent investment in technology will further benefit their Europe operations.
The second - and hugely more significant one - is the rapid growth of the e-commerce industry.
UPS Rides E-Comm Growth Wave
In 2015, e-commerce substantially increased the company's residential shipments. During the peak season, UPS delivered more than 612 million packages. In December 2015, more than 60% of deliveries were to consumers, which means more than half of UPS' business in the U.S. was from to retail e-commerce during that month. Since seasonality is a major factor in e-commerce, the success of companies during peak season will indirectly benefit their logistics partners - and UPS is a primary beneficiary of those gains.
As you can see from the chart below, the company expects the B2C contribution to its growth to continue. As we all know, e-commerce is growing all over the world, and will continue to grow as access to the internet increases by leaps and bounds.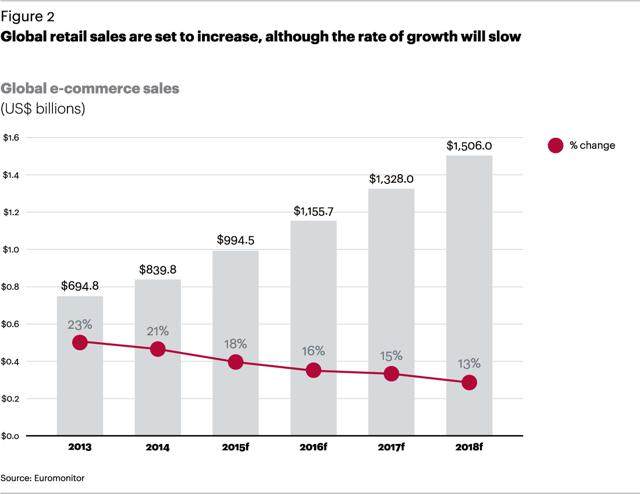 Source: ATKearney
UPS expects online retail to grow five times faster than the economy - and if UPS can capture some of that growth, the company looks set for the next five years.

UPS has been introducing a slew of measures that is aimed at helping the company keep pace with the e-commerce explosion, while also keeping a tight rein on costs.

Current Guidance for 2016 From UPS 4Q Earnings Call (Text bolded for reader convenience and relevance to article):
We expect 2016 to be another good year at UPS. Revenue should increase between 6% and 8%. Looking more closely at the segments, in the U.S., the domestic segment average daily volume should increase about 2% to 4%, driving revenue up 4% to 6%. Operating margin is forecasted to expand and operating profit should grow 5% to 9%. In the International business, shipments per day are projected to increase 2% to 4%. Growth rates will be held down during the first half of the year due to the revenue management actions we discussed earlier. We anticipate a drag of about 150 basis points from non-hedged currencies and lower fuel surcharges. As a result, revenue will grow at a similar pace as volume. Operating profit is expected to be up 8% to 12% with some margin expansion. In the Supply Chain & Freight segment, revenue should be up 15% to 20% with Coyote adding for the full year. The segment's organic revenue growth is projected between 3% and 5%.
Investor-speak: Odds of Success High
In my last article, The Real Threat To UPS Is UPS, I spoke about how they were exploring niche markets and how there were still opportunities for improvement in their supply chain and freight operations.
As UPS continues to explore technology leverage and network expansion in an aggressive manner, I believe they are repositioning their brand to exploit what will be a $1.5 trillion e-commerce market by 2018.
All their investment and expansion activities point to the fact that retail e-commerce is going to be the mainstay of their bread and butter over the next few years.
Despite the tension with Amazon (NASDAQ:AMZN) and the fact that they may lose a billion dollars in business from the king of e-commerce over a period of time, I believe UPS is ready to handle the loss of any client - even one as big as Amazon.
UPS is reliant more on its technology and infrastructure backbone than any particular market segment or customer, and I think that's the way it will stay for the foreseeable future. I also think one of UPS' biggest strengths is its ability to be nimble and change with the times, yet maintain the broad appeal that has made it the Number One logistics expert in the world.
This is a strong company, folks, and it's going to stay that way no matter what comes in the way - FedEx acquiring TNT, Amazon doing the bulk of its own shipping or even threats from within (which the company is now addressing in a major way.)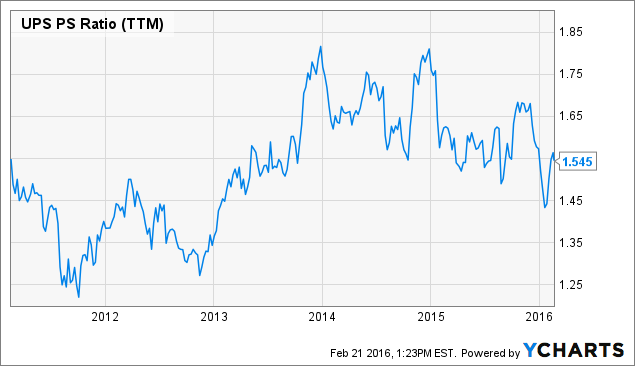 UPS PS Ratio (TTM) data by YCharts
Nearly every year since 2012 there have been opportunities to add UPS to your portfolio, which you can see in their price to sales ratio chart above. Those opportunities will keep presenting themselves as long as you're patient and you know what to look for. The market is so sensitive now that missing an estimate or guidance by a hair can have disastrous effects on a company's stock, whether that's justified or not. We've seen it happen time and time again, and it will happen again for sure.
If you want to add to your position or get in on UPS, bide your time and wait for those moments when the market is ruthless and won't listen to reason.
I invite you to follow me for timely updates and insightful commentary on e-commerce and other industries like automobile, retail, technology and more.
Disclosure: I/we have no positions in any stocks mentioned, and no plans to initiate any positions within the next 72 hours.
I wrote this article myself, and it expresses my own opinions. I am not receiving compensation for it (other than from Seeking Alpha). I have no business relationship with any company whose stock is mentioned in this article.