By the Valuentum Team
Chipotle's Investment Considerations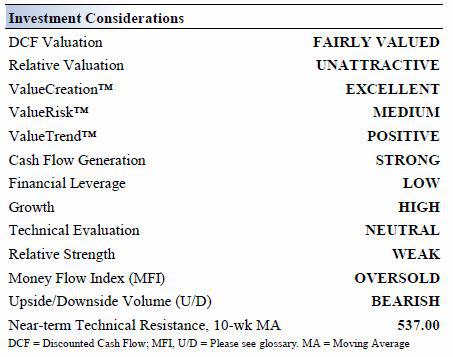 Investment Highlights
• Chipotle (NYSE:CMG) serves a focused menu of burritos, tacos, burrito bowls (a burrito without the tortilla) and salads, made using fresh ingredients. It prides itself on trying to find the highest-quality ingredients ('Food With Integrity') and providing an exceptional restaurant experience. The company was founded in 1993 and is based in Denver, Colorado.
• Chipotle continues to expand its restaurant count. As of the end of fiscal 2015, the firm's total restaurant count was 2,010. The food safety scandal that has surrounded the company recently will impact near-term growth, but we expect the firm to return to significant growth eventually.
• Chipotle has been on a rollercoaster ride during the past few years. The restaurant is facing strengthening competition from Yum! Brands' (NYSE:YUM) Taco Bell and even Jack's (NASDAQ:JACK) Qdoba. Same-store sales performance has finally come back to earth. The recent food safety scandal caused a monumental drop in same-store sales in the fourth quarter of 2015.
• Chipotle earns a rating of EXCELLENT, the highest possible mark on our scale. The firm has been generating economic value for shareholders for the past few years, a track record we view very positively. Return on invested capital (excluding goodwill) has averaged 48.2% during the past three years.
• The fast-casual burrito-maker's fourth-quarter performance, released February 2, was a doozy. Revenue fell ~7% as comparable restaurant sales dropped almost 15% in the quarter (it still opened up 79 new restaurants, however). Chipotle's restaurant level operating margin cratered 700 basis points, while net income fell 44%, driving earnings per share down by a similar margin during the period. All of this may have been expected, but it is still quite shocking to witness these "terrible" numbers by the fast-casual giant. Management indicated that January comparable store sales were down 36%, so things may get worse before they get better.
• Concurrent with its quarterly release, the burrito-making giant announced a "probe originally linked to just one food-safety incident at a California restaurant had widened into a national investigation." The latest information is that Chipotle received a new subpoena at the end of last month that superseded an earlier one that had been limited to just one restaurant in Simi Valley. At this point, nobody can truly handicap the outcome of the investigation, and we'd be guessing whether there was any real wrongdoing and what the fines, if any, may be. With all of the food-quality "scares" across its restaurants in various parts of the country, one could probably have assumed that such a probe would grow, but was there something particularly unusual that they found in the initial review? We're certainly curious, and we're starting to think that the conclusion of the CDC investigation may not be the end of Chipotle's woes.
• Chipotle is a fantastic company and a great concept with tons of potential growth ahead of it. However, consumer confidence has been shattered in the wake of food safety issues. We think Chipotle will eventually survive, though it may not come out of this unscathed.
Business Quality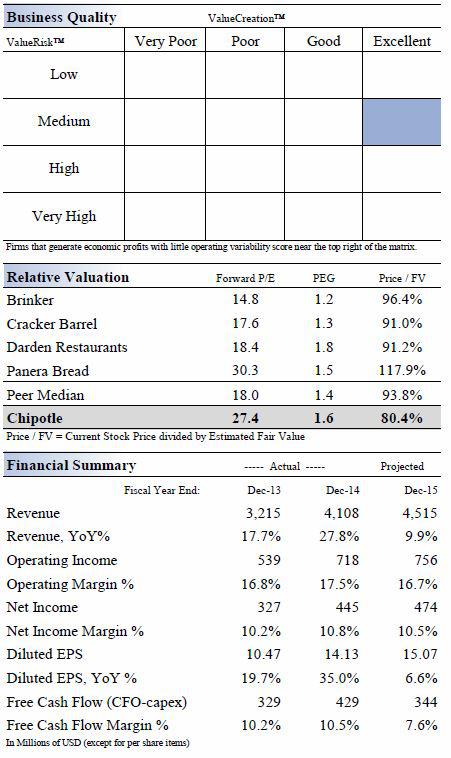 Economic Profit Analysis
In our opinion, the best measure of a firm's ability to create value for shareholders is expressed by comparing its return on invested capital with its weighted average cost of capital.
The gap or difference between ROIC and WACC is called the firm's economic profit spread. Chipotle's 3-year historical return on invested capital (without goodwill) is 48.2%, which is above the estimate of its cost of capital of 10.8%. As such, we assign the firm a rating of EXCELLENT.
In the chart below, we show the probable path of ROIC in the years ahead based on the estimated volatility of key drivers behind the measure. The solid grey line reflects the most likely outcome, in our opinion, and represents the scenario that results in our fair value estimate.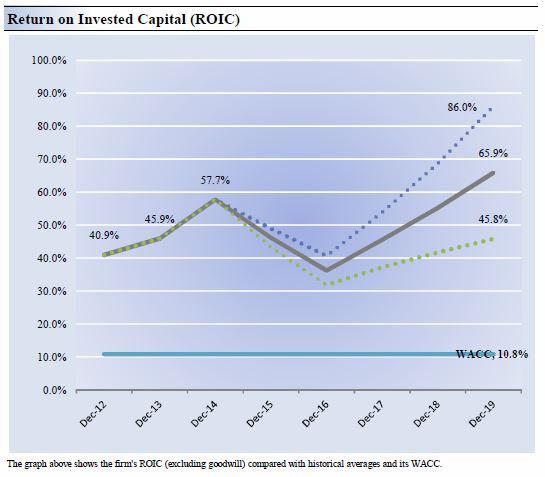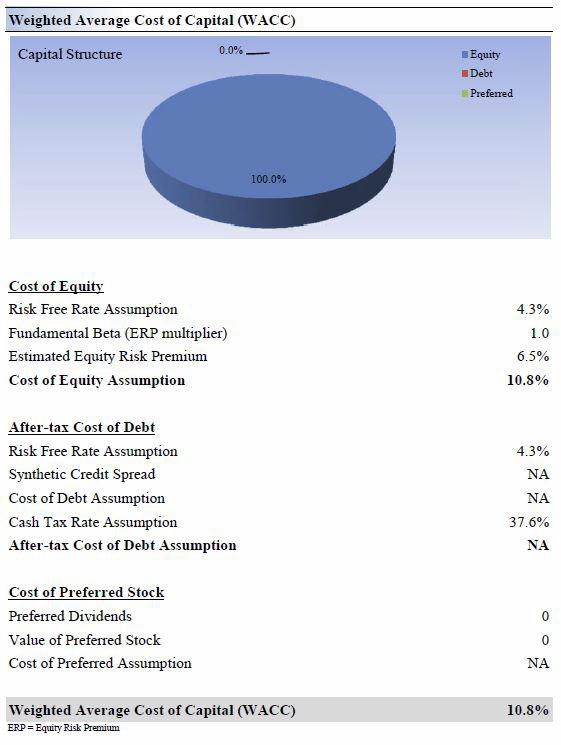 Cash Flow Analysis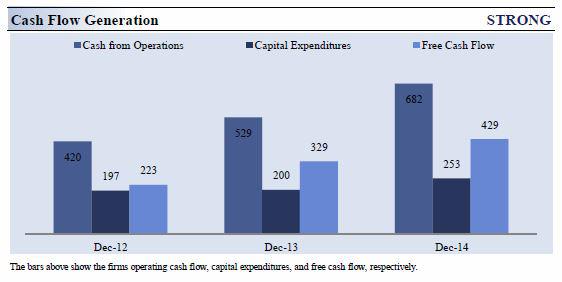 Firms that generate a free cash flow margin (free cash flow divided by total revenue) above 5% are usually considered cash cows. Chipotle's free cash flow margin has averaged about 9.6% during the past 3 years. As such, we think the firm's cash flow generation is relatively STRONG.
The free cash flow measure shown above is derived by taking cash flow from operations less capital expenditures and differs from enterprise free cash flow (FCFF), which we use in deriving our fair value estimate for the company. At Chipotle, cash flow from operations increased about 62% from levels registered two years ago, while capital expenditures expanded about 28% over the same time period.
In fiscal 2015, Chipotle reported net cash provided by operating activities of ~$683 million and capital expenditures of ~$257 million, resulting in free cash flow of ~$426 million, a fall of less than 1% from fiscal 2014.
Valuation Analysis
This is the most important portion of our analysis. Below we outline our valuation assumptions and derive a fair value estimate for shares.
Our discounted cash flow model indicates that Chipotle's shares are worth between $360-$668 each. Shares are currently trading for ~$515, very close to our fair value estimate. This indicates that there is a similar amount of upside potential and downside risk associated with shares at this time.
The margin of safety around our fair value estimate is derived from the historical volatility of key valuation drivers. The estimated fair value of $514 per share represents a price-to-earnings (P/E) ratio of about 36.4 times last year's earnings and an implied EV/EBITDA multiple of about 18.6 times last year's EBITDA.
Our model reflects a compound annual revenue growth rate of 13.8% during the next five years, a pace that is lower than the firm's 3-year historical compound annual growth rate of 21.9%. Our model reflects a 5-year projected average operating margin of 17.6%, which is above Chipotle's trailing 3-year average.
Beyond year 5, we assume free cash flow will grow at an annual rate of 8% for the next 15 years and 3% in perpetuity. For Chipotle, we use a 10.8% weighted average cost of capital to discount future free cash flows.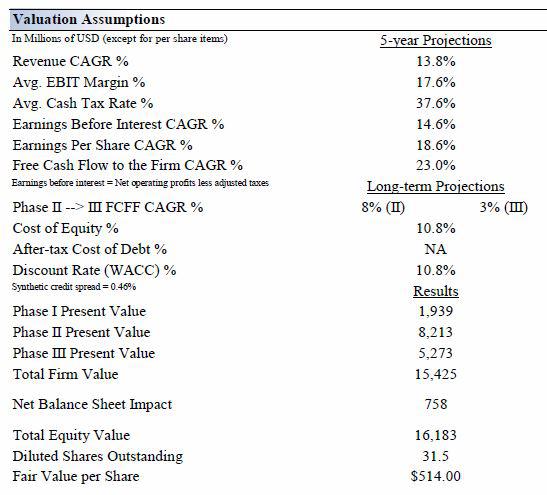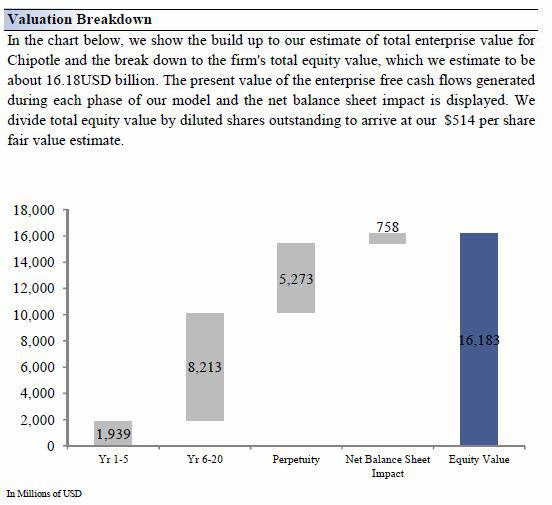 Margin of Safety Analysis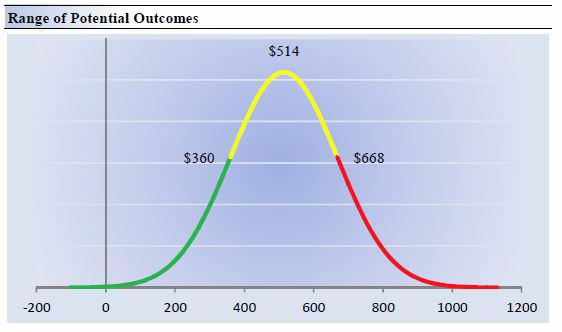 Our discounted cash flow process values each firm on the basis of the present value of all future free cash flows. Although we estimate the firm's fair value at about $514 per share, every company has a range of probable fair values that's created by the uncertainty of key valuation drivers (like future revenue or earnings, for example). After all, if the future was known with certainty, we wouldn't see much volatility in the markets as stocks would trade precisely at their known fair values.
In the graph above, we show this probable range of fair values for Chipotle. We think the firm is attractive below $360 per share (the green line), but quite expensive above $668 per share (the red line). The prices that fall along the yellow line, which includes our fair value estimate, represent a reasonable valuation for the firm, in our opinion.
Future Path of Fair Value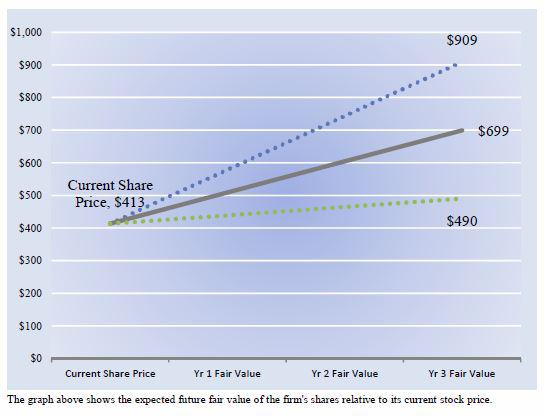 We estimate Chipotle's fair value at this point in time to be about $514 per share. As time passes, however, companies generate cash flow and pay out cash to shareholders in the form of dividends. The chart above compares the firm's current share price with the path of Chipotle's expected equity value per share over the next three years, assuming our long-term projections prove accurate.
The range between the resulting downside fair value and upside fair value in Year 3 represents our best estimate of the value of the firm's shares three years hence. This range of potential outcomes is also subject to change over time, should our views on the firm's future cash flow potential change.
The expected fair value of $699 per share in Year 3 represents our existing fair value per share of $514 increased at an annual rate of the firm's cost of equity less its dividend yield. The upside and downside ranges are derived in the same way, but from the upper and lower bounds of our fair value estimate range.
Wrapping Things Up
Chipotle has been on a roller coaster ride as of late.
Though the company's "food scares" have been a public relations nightmare, we don't believe the recent wave of bad press will fully unravel Chipotle's long-term growth potential, even if they test the firm's resiliency and challenge the executive team's ability to handle adversity. In many ways, the events of 2015 may make Chipotle a stronger organization over the long haul, as it improves sourcing practices, builds better oversight on the ground, and adds a deeper executive team with greater accountability.
Despite the slide in shares that has taken place since November, on traditional metrics, shares aren't yet attractive on a discounted cash flow basis, with the company trading at nearly 30 times fiscal 2016 earnings estimates. That said, there may be few chances to buy a truly fantastic franchise at a "fair" price (i.e. at fair value), and sometimes doing so is far better than buying a mediocre franchise at a discount to intrinsic value. Shares have also started to turn upward, and with the market getting behind Chipotle again, a recovery could be around the corner. Shares are getting interesting.
Disclaimer: This article or report and any links within are for information purposes only and should not be considered a solicitation to buy or sell any security. Valuentum is not responsible for any errors or omissions or for results obtained from the use of this article and accepts no liability for how readers may choose to utilize the content. Assumptions, opinions, and estimates are based on our judgment as of the date of the article and are subject to change without notice.
Disclosure: I/we have no positions in any stocks mentioned, and no plans to initiate any positions within the next 72 hours.
I wrote this article myself, and it expresses my own opinions. I am not receiving compensation for it (other than from Seeking Alpha). I have no business relationship with any company whose stock is mentioned in this article.