Crude oil is the perfect trade from a long-term perspective. The risk reward is heavily skewed towards the upside compared to the downside. Buying crude oil from a one to two-year perspective will earn you more than 50-70 percent return on your investment. The risk on the downside is minimal.
Why did crude oil fall?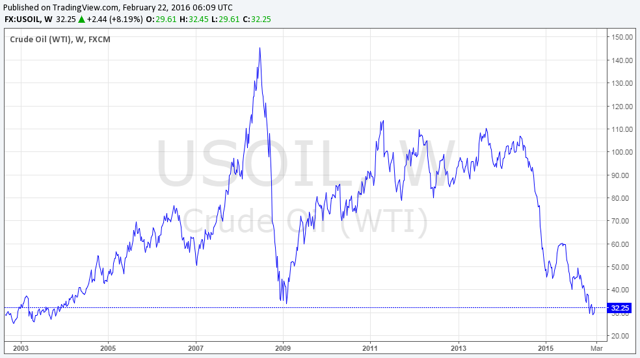 Crude oil is down a staggering 71% from its highs in 2014, as shown in the graph above. The reason for the decline is a mixture of a supply glut and a slowing global economy. With supply exceeding demand and oil storage at record highs, oil prices dropped sharply. However, things have started looking better after the massive decline.
First signs of a production cut being planned between OPEC and Russia
The recent 16 February 2016 meeting of the energy ministers from Saudi Arabia, Qatar and Russia didn't yield any production cuts, but it was a step in the right direction, as far as crude oil prices are concerned. It indicated the pain all these oil-dependent economies are facing, it's only a matter of time before they agree to a production cut, which will put a floor under the crude oil prices.
World's largest trader forecasts a price of $45 to $50 by the year end
Ian Taylor, CEO of Vitol, the largest oil trader in the world has forecast a price of $45 to $50 per barrel in an interview with Bloomberg. Though he isn't sure of the bottom, his upside target is more than 50% from the current level of crude oil.
Top analysts are also predicting a similar rise Ivan Szpakowski, a Citigroup analyst in Hong Kong termed oil as "the trade of the year". He predicted a bottom for oil within one to three months, in January. He is predicting a target price of $52 in the last quarter of this year.
Goldman Sachs analysts Jeff Currie and Damien Courvalin, expect the markets to bottom out and start a new bull leg this year. They predict a price of $40 in the first half of the year, a good 30 percent gain from the current levels. They expect a supply deficit by the year end due to a drop in U.S. production by 575,000 barrels.
Dominic Schnider, head of commodities at UBS Wealth Management advises a trade on oil with an expected gain of 32-42% by the end of the year.
STEO report by the Energy Information Administration
The Short-Term Energy Outlook by the U.S. Energy Information Administration forecasts a price of $38 for 2016 and $50 for 2017.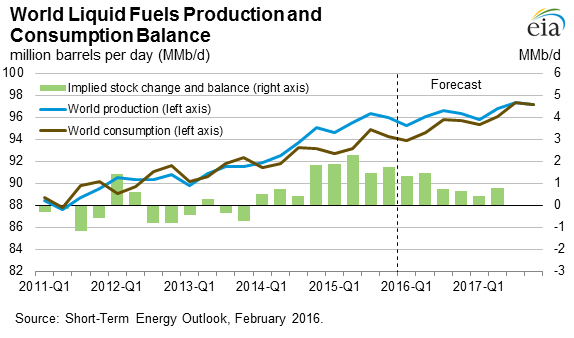 According to their forecast, in 2017, the supply glut will be over, due to fall in US Shale oil production. However, if OPEC and Russia soon decide on reducing output, the gap between demand and supply will tighten earlier.
Conclusion
Though crude oil will remain volatile in the near-term due to various news-based events, we believe that crude oil has commenced a bottom forming process. The various targets projected by renowned analysts and traders predict a 50% rise from current levels in 2016. A 50% gain in one calendar year is an outstanding return, choose the right instrument and buy oil from a one to two-year perspective.
Disclosure: I/we have no positions in any stocks mentioned, and no plans to initiate any positions within the next 72 hours.
I wrote this article myself, and it expresses my own opinions. I am not receiving compensation for it (other than from Seeking Alpha). I have no business relationship with any company whose stock is mentioned in this article.