Commercial real estate investment trust Realty Income Corp. (NYSE:O) is off to a good start this year: The REIT's stock is up ~17% (!) year-to-date, a handsome return by any standards. The price return is even more remarkable considering that the S&P 500 has shed ~6% of its value over the same time. This means that an investment in Realty Income has produced an excess return of ~23% YTD compared to the S&P 500 benchmark index. Consider also that Realty Income has delighted investors with a ~4% dividend hike in January, and it is easy to see why Realty Income is one of the most revered income stocks on the street.
Realty Income's strong year-to-date performance is easily explained by two factors:
1. Realty Income is a "safe harbor" stock. Investors rush into quality income stocks when they think the road ahead will be bumpy.
2. Realty Income released robust fourth quarter results that were yet again defined by strong FFO growth.
The turbulence in the stock market in the first six weeks of the new year, and the growing demand for Realty Income, however, have made the commercial real estate investment trust quite expensive.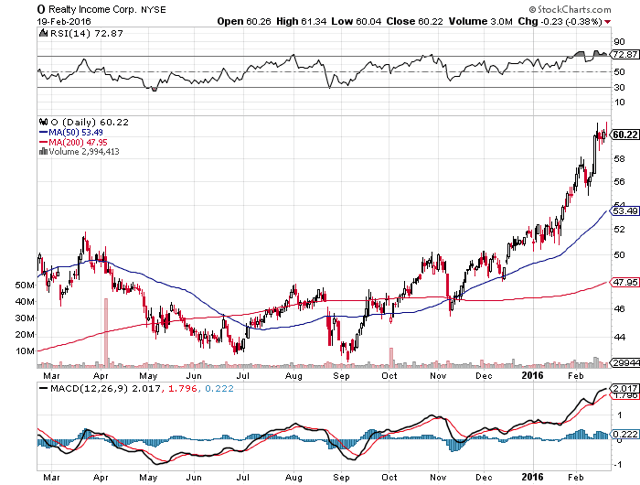 Source: StockCharts.com
With Realty Income shooting to new highs this year, the question for income investors inevitably is whether they should sell the stock and realize a (taxable) capital gain, or do nothing at all. As a matter of fact, Wunderlich Securities downgraded Realty Income from "Hold" to "Sell" last week, but hiked its price target to $53. Wunderlich's new price target, theoretically, implies ~12% correction potential.
So, what's the best course of action to take here with the stock sitting near its latest 52-week high? Should income investors that are trying to build lasting wealth buy, hold, or sell the stock?
Truth of the matter is that Realty Income is, in fact, rather expensive now. The REIT sells for ~21x AFFO based on its 2016 AFFO guidance of $2.85-2.90/share. This is historically expensive. The stock has for the most part sold for 17-19x AFFO in recent years. That being said, I would not want to be a buyer at this point since there's a high chance that the stock has become overvalued.
But I wouldn't want to be a seller either. Why?
Because as an income investor trying to build a nest egg to live off of, I don't like to adopt a trading mentality when it comes to my dividend portfolio. Importantly, a lot of income investors that hold Realty Income for a longer period of time will have locked in a substantially lower cost basis, which I wouldn't want to give up at this point either.
Realty Income does appear to be overbought right now, but the REIT remains a "Hold" nonetheless. A pullback will be a nice enough opportunity to add to an existing Realty Income holding, but liquidating it for a short-term capital gain is probably not in the best interest of income investors whose primary objectives are to create recurring income and to compound over time.
Your Takeaway
Realty Income has widely outperformed the S&P 500, creating excess returns north of 20%. Though Realty Income is overbought and expensive today, selling for short-term profits and losing out on income as a result is not a viable strategy for income investors.
The best way to build wealth over time is to follow an investment plan that relies on producing recurring income, reinvesting, and compounding. Selling for a quick profit and surrendering one's low cost basis is not in the interest of income investors. Realty Income is a "Hold."
Disclosure: I am/we are long O.
I wrote this article myself, and it expresses my own opinions. I am not receiving compensation for it (other than from Seeking Alpha). I have no business relationship with any company whose stock is mentioned in this article.