Immune Pharmaceuticals (NASDAQ:IMNP) has a terrific story. Its drug bertilimumab inhibits eotaxin-1, a protein that regulates allergic responses, and thus has the potential to be an effective treatment for an array of inflammatory diseases including ulcerative colitis, atopic dermatitis, nonalcoholic steatohepatitis, severe asthma, and Alzheimer's disease.
However a mystery surrounds the two ongoing phase 2 trials: why is progress so slow? In this article I explore hypotheses that might answer this question. I also look at additional warning signs for Immune.
Bertilimumab
Bertilimumab is the lead drug in Immune Pharmaceuticals' pipeline. This drug was called CAT-213 when it was developed by Cambridge Antibody Technologies. In 2007 Ico Therapeutics (OTCQX:ICOTF) paid $400K plus a potential $7M in future milestone payments for an exclusive license and renamed the drug Ico-008. In 2011 Ico licensed non-ocular indications of the drug to Immune for $500K, 600K shares, and 200K warrants plus a potential $32 in future milestone payments as well as future royalties.
To learn more about Immune's rationale for their research and development programs you can review corporate presentations linked in this article or visit the Immune Pharmaceuticals website.
In 2015 Immune initiated two phase 2a trials for intravenous bertilimumab. The bullous pemphigoid or "BP" trial began in July 2015 and is recruiting at two sites in Israel. The ulcerative colitis or "UC" trial began in July 2015 and is recruiting at five sites in Israel. A November 2015 press release announced the enrollment in the UC trial of the first patient out of 42 planned. No first patient enrollment has been announced in the BP trial.
Immune announced a strategy is to increase enrollment by adding trial sites in the US and Europe for both trials. In November 2015 a press release announced FDA acceptance of an Investigational New Drug or "IND" application, allowing sites to open in the United States. Three months have passed and no US sites have opened. For comparison, Zogenix (NASDAQ:ZGNX) announced an IND application acceptance in December and then initiated the trial within one month.
Immune also said they planned to submit an IND application to the FDA for the UC trial. To date the company has not announced that this application has been submitted.
Prior to the February 8, 2016, presentation a press release promised that the presentation would contain "updates on the advancement of the two Phase 2 clinical trials with bertilimumab." During the presentation CEO Daniel Teper cited the previously mentioned enrollment of the first patient in the UC trial and "continued enrollment" for the two trials. He did not provide the promised update on the advancement of the trials. The message seems clear: no additional patients have enrolled and no sites have opened in the US.
Bertilimumab's safety record
In this section I explore hypotheses that the enrollment difficulties may be related to an insufficient safety record for bertilimumab. The causes for the enrollment, IND, and trial site issues have not been disclosed by Immune Pharmaceuticals but questions about patient safety are capable of delaying clinical trials.
Note: By definition a hypothesis may be incorrect! News could come at anytime refuting these hypotheses. The actual causes could turn out to be more benign or more dire than the hypotheses discussed here.
The open BP and UC phase 2a trials use weight-based dosing: a 10 mg/kg intravenous infusion over 30 minutes administered three times over a span of four weeks.
Compare this dosing to the doses used in completed clinical trials. One phase 1 and two phase 2 clinical trials were conducted in Europe by Cambridge Antibody Technologies prior to outlicensing bertilimumab:
The phase 1 trial was a weight-based, single-dose trial and included only healthy males. Four participants were dosed intravenously with 10 mg/kg. Four more were at each of these doses: 5 mg/kg, 1 mg/kg, 0.1 mg/kg, and 0.01 mg/kg. Two participants experienced eight drug-related adverse events. The adverse events were not serious or severe.
One of the phase 2 trials used intravenous dosing. This trial involved patients with seasonal allergic rhinitis. Dosing was fixed, not weight-based. Approximately nine patients were in each dosing group: 50 mg intravenous, 200 mg intravenous, 500 mg intravenous, and 10 mg intranasal.
The other phase 2 trial used topical ocular administration of bertilimumab so is not directly informative for intravenous dosing.
Demographics (such as sex, age, race, and weight) in clinical trials should match the demographics of the target population for the drug. FDA guidelines provide examples that emphasize the importance of demographic differences:
Older people are more likely to have decreased renal function, which may cause drugs excreted by the kidney to accumulate.
Younger people metabolize theophylline more rapidly.
Ethnic groups differ in the prevalence of metabolic abnormalities such as slow acetylation and G6PD deficiency.
Women metabolize certain substances at rates different from men.
Small body size or muscle mass may lead to higher blood concentrations after a given dose.
Approval is needed from an institutional review board or "IRB" before a clinical trial can begin at a US site. As the FDA explains:
The purpose of an IRB review is to ensure that appropriate steps are taken to protect the rights and welfare of participants as subjects of research. If the risks to participants are found to be too great, the IRB will not approve the research, or it will specify changes that must be made before the research can be done.
Patients must be at least 60 years old to participate in the BP trial. My first hypothesis is that an IRB may have determined that the targeted ages or other demographics of the BP trial are not well-represented by the volunteers and patients who have been infused with bertilimumab in previous trials. If this is the case, then additional phase 1 safety testing might be required before a US site is allowed to start. This hypothesis would explain why US sites have not been added to the BP trial and would also explain a delay in an IND application for the UC trial.
In other words, bertilimumab's safety record may not be acceptable to an IRB at this time. This is not to say that bertilimumab is unsafe. Data from current and future clinical trials would be needed to determine the drug's safety profile.
My second hypothesis is that the IND application for the BP trial may have contained a mistake. For example, company presentations show that the dosing in this trial is 10 mg/kg, the same as in the UC trial. However, the online clinical trial record for the BP trial shows dosing as 1 mg/kg:

If a mistake such as this had been included in the BP IND application then Immune would need to return to the FDA to change it, possibly prompting a review of bertilimumab's safety record. This hypothesis provides an alternative explanation for why the US trials have not advanced.
Note again: These hypotheses may be incorrect. They fit available public information however much information is confidential.
If you find these hypotheses to be unbelievable then I invite you to propose other explanations for the issues with the clinical trials.
Bertilimumab's value
Beyond the current difficulties with clinical trials, bertilimumab's value is dimmed by patent protection set to expire by August 2022 in the US and by March 2021 outside the US. Bertilimumab's composition patent was filed March 2, 2001, and covers a range of claims. Immune Pharmaceuticals still may attempt to extend patent coverage.
This 2021 to 2022 time frame corresponds to the potential time frame for launching bertilimumab for UC and Crohn's disease shown in a slide from November 2015: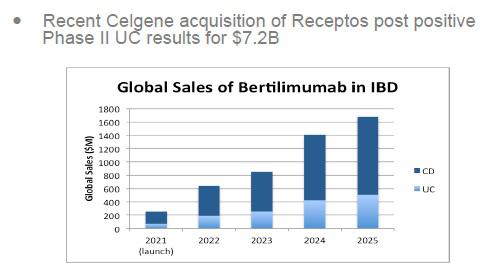 [Correction: see comments for discussion that biologics exclusivity is applicable, not small molecule exclusivity.] The FDA may grant 5 years (new chemical entity) or 3 years (other) of exclusivity protection to a newly approved drug. An additional 7 years is granted for orphan drugs which would likely be applicable if bertilimumab were to be approved for BP.
Patent expiration dates of 2021 and 2022 will not provide marketing protection beyond what is granted by the FDA. After patent expiration, if bertilimumab has shown positive results, competitors will be able to leverage those results to develop the drug for new indications.
The image above references Celgene's acquisition of Receptos as a guide to the potential value of bertilimumab. This acquisition followed positive phase 2 results for ozanimod. There are notable differences between these drugs:
Ozanimod patent protection extends to 2029 compared to 2022 for Bertilimumab.
Ozanimod had positive results in a phase 2 trial. Bertilimumab trials are phase 2a trials that are looking for an efficacy signal, rather than statistical significance, in order to advance to phase 2b trials.
Ozanimod is taken orally. Bertilimumab is infused intravenously.
These differences are key in a fair comparison of bertilimumab to ozanimod.
One additional observation: if Immune believes bertilimumab's valuation to be in the billions of dollars then why not go all out to realize this value? Instead Immune is putting resources into dermatology and oncology efforts unrelated to bertilimumab.
Speaking of which...
Cash
Immune Pharmaceuticals' February 8 presentation lists "one year cash with multiple partnering revenue opportunities" as one of its 2016 investor highlights. In his remarks CEO Daniel Teper explained this "one year of cash" applies to the bertilimumab phase 2 trials:
We do have, in the current environment, we do have one year of cash to get to our key clinical milestones with bertilimumab but, obviously, we'll be creative in terms of partnering and other types of non-dilutive financing for the shareholders of the public company.
Immune is considering forming a private subsidiary to fund the company's immuno-oncology development. This type of creative financing is a potential warning sign. Investors will need to study the details of any such arrangement.
Dr. Teper's February comments are an update from the November 2015 conference call when the CFO said: "I would like to confirm that due to the recent financing, we have at least 12 months of operating cash before any potential partnering revenues and any non-dilutive financing."
As of September 30, 2015, Immune reported current assets of $9.3M and current liabilities of $3.4M, resulting in working capital of $6M. The cash burn for the first three quarters of 2015 was $9.9M. Using a burn rate of $3.3M per quarter for the fourth quarter of 2015 and the first quarter of 2016 yields an estimated $2.7M in cash at the end of March 2016, with the possibility of negative working capital. This is a rough estimate since many factors affect cash burn.
The July 2015 $4.5M loan agreement with Hercules specifies a 10% interest rate and provides for interest-only monthly payments ($37.5K) for the initial period of the load. Monthly payments of principal plus interest ($171K) will begin on April 1, 2016, unless Immune completes a $10M equity raise before this date.
Immune has access to a $5M revolving line of credit at a 12% interest rate. Amounts borrowed from this line of credit have a repayment deadline of April 7, 2017, under the terms of the agreement reported in the 10-Q filing for the third quarter of 2015.
With the cash position estimated above I expect new financing before the end of March 2016. If this financing is drawn from the line of credit then additional financing would be needed in the following months.
AmiKet partnering efforts
Immune Pharmaceuticals suggests that a potential AmiKet partnership could provide non-dilutive funding for the company. In a December 2015 article I explored possible obstacles to an AmiKet partnership. Since that publication I have found an additional reason to doubt that there will be a significant AmiKet partnership: the "new" AmiKet Nano formulation has been offered to potential partners for nearly one year and still a deal has not been reached.
A March 2015 press release announced the new AmiKet Nano "formulation will likely increase the patent exclusivity of AmiKet by more than 10 years" and said the new formulation "will be part of the AmiKet commercialization agreement." That press release also said "the Company expects to select a partner and secure a licensing agreement by the second quarter of 2015."
A June 2015 press release said that the AmiKet Nano formulation has potential exclusivity to 2036 and that talks including this formulation "are advancing to the due diligence stage and terms negotiations."
After failing to find a partner, in August 2015 the CEO explained that AmiKet's "short regional patent life up to 2024 and the reliance on the seven years of the PHN orphan indication led to term sheets [that were] not fully satisfactory to Immune Pharma."
It may be contradictory to cite a patent life to 2036 when attempting to find a partner and then use 2024 as an explanation for not reaching a deal but the main point is clear: the failure to partner AmiKet Nano in 2015 is bad sign for the prospects of partnering the same formulation in 2016.
Management turnover
Presentations from 2013 to 2016 depict rapid management turnover at Immune Pharmaceuticals. In particular, notice that each slide shows a different chief medical officer, an individual who would be very familiar with drugs under development: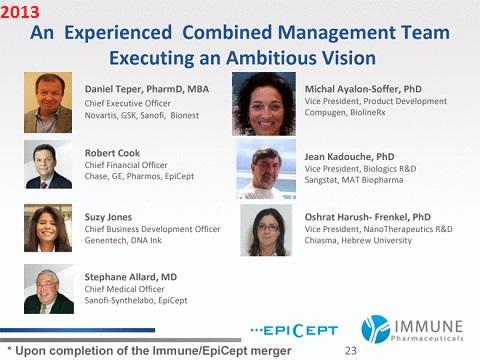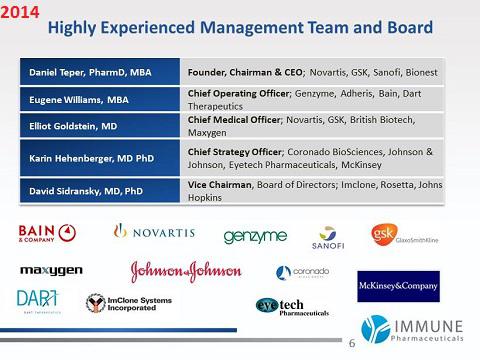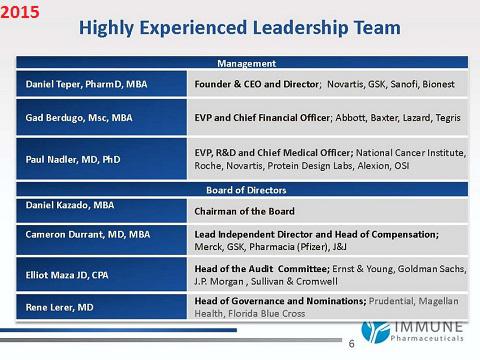 Personnel turnover would be expected following the 2013 merger but it's apparent that the composition of the management team has been unstable. The departures of so many talented people are a warning that Immune's prospects are dim.
Director departures
A similar story of turnover unfolded in 2015 among the Immune Pharmaceuticals board of directors. Four directors departed, with three expressing disagreement with management:
January 2015: David Sidransky, MD, and Ana Stancic resigned as independent board members. They "expressed disagreement with the focus and direction of the Company and internal management of the Company."
April 2015: Rene Lerer resigned as an independent board member. "His resignation was not due to any disagreement with the Company."
December 2015: Rene-Pierre Azria resigned as an independent board member "due to divergence of views with the Company's management." Mr. Azria was one of the three insiders who purchased shares in September 2015.
Immune claims that insider buying shows the confidence of management and the board. The many management and board departures paint a different picture.
Summary
The Immune Pharmaceuticals story continues but the outlook is gloomy. The bertilimumab trials appear to be stalled, perhaps due to an inadequate safety record for the drug. The company will need additional financing, due in part to failing to partner the "new" AmiKet Nano formulation. Insider departures signal a lack of confidence in the company.
Due to these warning signs, I don't see Immune as worthy of an investment at this time. The company is worth watching since it could become a good investment if Immune makes significant progress on its goals for bertilimumab.
Disclosure: I/we have no positions in any stocks mentioned, and no plans to initiate any positions within the next 72 hours.
I wrote this article myself, and it expresses my own opinions. I am not receiving compensation for it (other than from Seeking Alpha). I have no business relationship with any company whose stock is mentioned in this article.
Editor's Note: This article covers one or more stocks trading at less than $1 per share and/or with less than a $100 million market cap. Please be aware of the risks associated with these stocks.