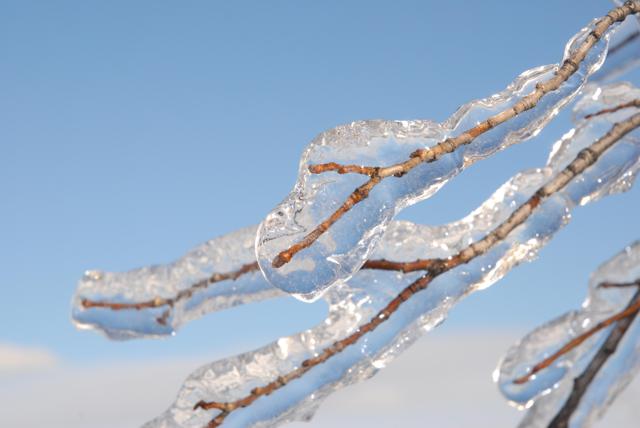 After what has been a very bearish 2016, mid-February ushered in a 'Rip Your Face Off' rally on the back of an oil rebound.
Now that, ladies and gentlemen, is a very accurate crystal ball. Kudos to fellow contributor Hawkinvest for calling that one a few days beforehand.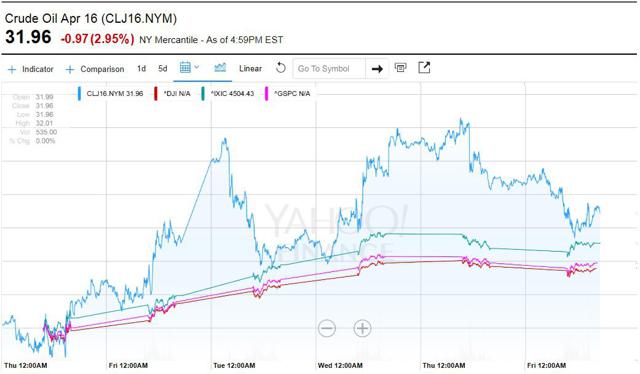 And what a rally it has been. From February 11th's closing price to February 18th's closing price, we have witnessed:
The S&P 500 (NYSEARCA:SPY) is up 4.85%.
The NASDAQ (NASDAQ:QQQ) is up 5.57%.
The DOW Jones Industrial Average (NYSEARCA:DIA) is up 4.81%.
This rally was fueled by a surge in WTI crude prices, which have blasted off from a February 11th closing price of $26.21 (where an intraday low of $26.05/barrel was made) to a February 18th closing price of $30.77, a 17.40% rally. Bullish oil ETF's (NYSEARCA:USO), (NYSEARCA:UCO) and (NYSEARCA:UWTI) have seen their biggest gains in months, while for a change of pace, the shorts (NYSEARCA:SZO), (NYSEARCA:SCO) and (NYSEARCA:DWTI) have been hammered.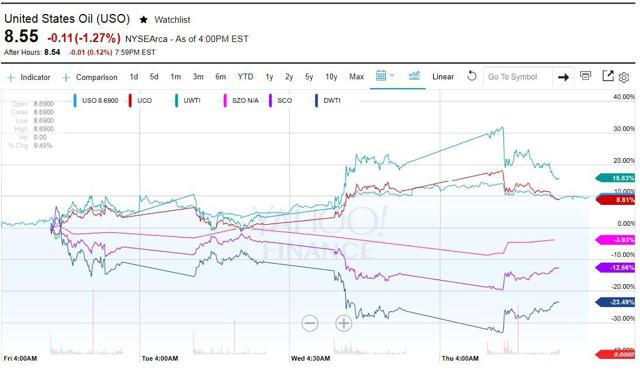 While oil isn't perfectly correlated with the major market indexes - it is much more volatile - the sentiment is highly correlated. If oil spikes, the market tends to gain. If oil falls, the market tends to track lower. According to economist Jeremy L. Hill, out of the first 31 trading days of 2016, oil and stocks have traded in the same direction 22 times, implying the market is tracking oil's direction about 71% of the time. While oil may not be the only force at play driving the market, it certainly is one of the most prominent. Since February 12, it has been the driving force behind the market rally.
Friday, February 19 was an important day because oil finally reversed its course, with WTI crude shedding over -3.1% and indexes trading mostly flat. Monday, February 22 will be an equally important day as it may foretell where the markets will head after the recent rally. Will we see the infamous bull market continue, or will the correction resume?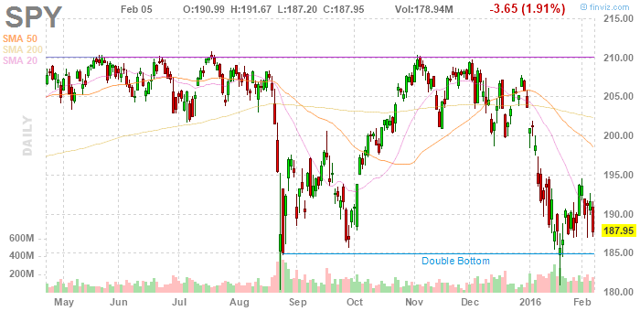 In Hawkinvest's article, he believes the S&P 500's failure to break through the lows set by the August 2015 "Flash Crash" has created a bullish double-bottom in the chart - the above image has been borrowed from his linked article. He uses similar charts from Exxon Mobil (NYSE:XOM) and Chevron (NYSE:CVX), which show similar patterns of strong resistance to form new bottoms, as further ammunition for the bull case.
I Remain Pessimistic
I remain very pessimistic to the bull case for three major reasons.
1. The oil output freeze isn't good news, it's bad news.
The rally in oil prices, and the ensuing market rally, was triggerd by news that Saudi Arabia and Russia had reached an agreement for a production freeze.
Saudi Arabia and Russia agreed to freeze oil output at near-record levels, the first coordinated move by the world's two largest producers to counter a slump that has pummeled economies, markets and companies.

While the deal is preliminary and doesn't include Iran, it's the first significant cooperation between OPEC and non-OPEC producers in 15 years and Saudi Arabia said it's open to further action. Oil pared gains after the accord was announced, signaling traders see no immediate end to the global supply glut.
Oil spiked again on February 17 on "shocking" news that Iran approved of the oil output freeze.
This has been heralded by the markets as terrific news for the oil bulls. I disagree and I believe this is bad news. The driving force behind oil's price collapse has been at its core a simple supply-and-demand issue. The worldwide economy has slowed, and simultaneously, OPEC has been producing oil at record levels. It is a simple math problem:
(More Supply) - (Less Demand) = Surplus Cheap Crude Oil
There is no news of a production cut that will rebalance the supply-and-demand equation. All Saudi Arabia and Russia have said is that they will continue pumping record levels of oil into a market that doesn't need it. The supply-and-demand problem will continue to get worse before it gets better.
2. We've seen this movie before.
In Hawkinvest's article, he believes oil is destined to rally $10-15 above its $26 low, which would have oil ending somewhere in the $36-41/barrel range in the near-term. I think this is very plausible. Maybe even probable. We saw this exact same scene play out several months ago.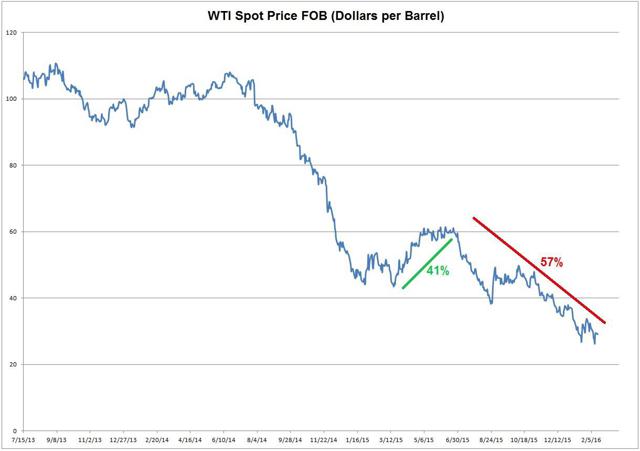 After closing at a low of $43.39/barrel on March 17, 2015, oil prices rallied 41.4% to close at $61.36/barrel on June 10, 2015. This three-month rally was met with similar levels of resistance in the stock prices of the oil majors.
Things quickly reversed, and oil found itself collapsing another -57.3%. The US oil majors hit new lows in the summer of 2015, and WTI crude continued its slide to close at a low of $26.19/barrel on February 11, 2016.
3. We are running out of room to store all this oil.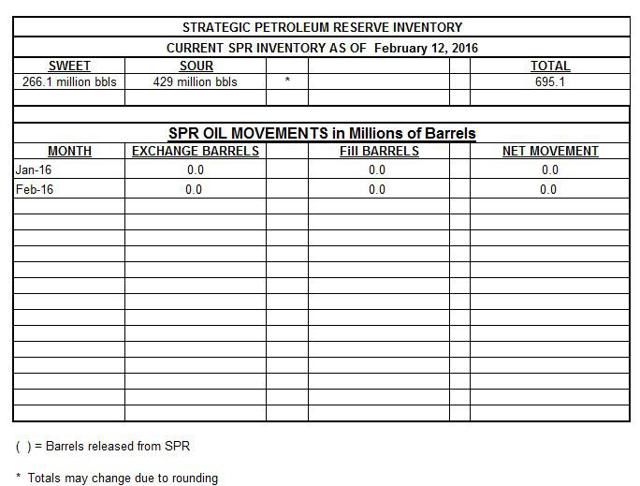 The Strategic Petroleum Reserve has the capacity to store 714 million barrels of crude oil. Current inventory shows the SPR at 97.4% capacity with 695.1 million barrels in storage. The SPR has been trending up for quite some time.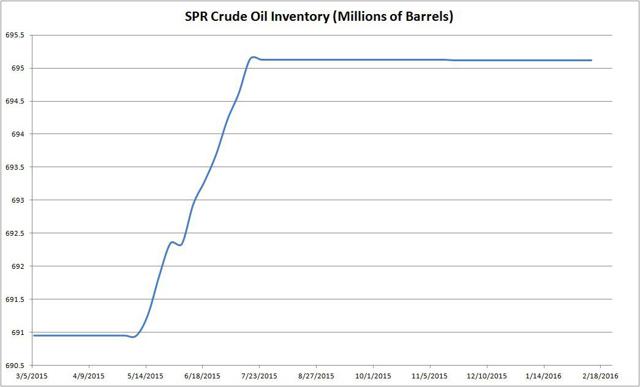 Storage capacity at Cushing, OK has also reached all-time highs. According to the EIA's data released on February 12, 2015, 64.733 million of Cushing's total storage capacity of 73.014 million barrels is being utilized, for a total utilization of 88.7%. Total US crude oil inventories have reached 504.1 million barrels, he highest levels in over 80 years.
While oil prices are low due to a supply-and-demand imbalance, all that the excess crude oil flooding the market is still being purchased by someone. At this pace, the day may come when we can no longer purchase crude at any cost because we are simply out of room to store it. If the day comes where these reserves fill and there is no one on the other end to buy the excess crude oil being produced, we will see a chaotic descent in crude prices that will send nuclear shockwaves through the market.
Key Takeaways
I believe that the recent news of an oil price freeze was initially taken as good news by the market simply because it was completely unexpected. Investors have been mired in losses and bad news for so long, they equated the phrase "output freeze" with "no increases in production." The reality is that "output freeze" truly means "record production will remain with no cuts in sight," and the flood of cheap oil will continue.
While the past week and a half has restored some investor confidence in the market, proceed with caution. The recent rally in the major indexes has been overwhelmingly driven by bullish oil sentiment, which means the rally is very fragile and superficial. Just as rising crude could incite strong rally, falling crude could just as easily reverse the course. As outlined above, I believe the overall market conditions remain strongly bearish for oil, and if the market is going to continue to prefer moving in the commodity's direction, further declines are likely to continue.
Disclaimer: All information found herein, including any ideas, opinions, views, predictions, commentaries, forecasts, suggestions or stock picks, expressed or implied, are for informational, entertainment or educational purposes only and should not be construed as personal investment advice. I am not a licensed investment adviser.
Disclosure: I am/we are long CVX, XOM.
I wrote this article myself, and it expresses my own opinions. I am not receiving compensation for it (other than from Seeking Alpha). I have no business relationship with any company whose stock is mentioned in this article.