Apple's (NASDAQ:AAPL) stand against the FBI's All Writs Act request for a version of iOS that would bypass security encryption isn't new to most shareholders. While it remains a divisive issue for many, my goal here isn't to debate the merits of that decision. What I will say is that I've always been of the opinion that any press is good press, and this entire situation gives Apple an opportunity to forcefully propel itself into a new multi-billion-dollar business opportunity: data security.
Such a move, targeted towards enterprise clients, could mean the current case in San Bernardino could provide Apple a monetary boost rather than simply being yet another instance of a company taking a stance on governmental policies and procedures.
Market Opportunity In Enterprise Clients
I can draw parallels of Apple's stance here to the position of Swiss banks over the 20th century. Swiss law made it a criminal offense to reveal a client's identity in 1934, and in the following years, Switzerland quickly came to be known as the safest place to park your money offshore, ill-gotten or otherwise. If you wanted to keep your accounts safe, secret and away from prying eyes, Switzerland was the place to be for nearly one hundred years. Not one to miss an opportunity, Swiss banks fostered this relationship, and as a result of the implicit backing of the Swiss government that led to repeatedly denied requests for account holder information, deposits soared. This privacy above all else viewpoint lasted for decades, and did nothing but increase the allure of Swiss banking accounts to the world's wealthy. It wasn't until the United States put its foot down in recent years through FATCA and other heavy-hitting regulations that the government was able to claw the information out of bankers' hands - very unwillingly I might add.
Now why did so many of the world's affluent park their money offshore in Switzerland? Because they felt both the banks and the government had their backs, and would fight tooth-and-nail for their privacy. Once those expectations were crushed, client money outflows began to the next best places where clients could find that secrecy: Singapore, Hong Kong, Luxembourg.
Shift back to mobile data and we can draw some parallels. Apple's quest for privacy isn't inherently different than that of the public and large corporations. Market perception now is that Apple has its users' backs when it comes to the safety and privacy of their data - even if the mighty U.S. Government comes calling, looking for incriminating information. Who wouldn't want the world's largest company on their side with respect to security? It took a once-in-a-lifetime situation for Swiss banks, decimated by the global financial crisis, to cave on client confidentiality. Apple's financial position makes it even more unlikely than the Swiss to break its stance - today, tomorrow or 20 years from now.
Apple's current pro-privacy stance runs directly against public perception of other players in the industry. As a whole, consumers remain deeply suspicious of technology companies. Google (NASDAQ:GOOG) (NASDAQ:GOOGL) for instance does not sell personal user information, but it does collect, analyze and monetize non-personal information. For some consumers, the concept of even non-personal information, like their recent browsing history, being used to help better target advertisements is almost as unsettling as a company selling their name and birth date.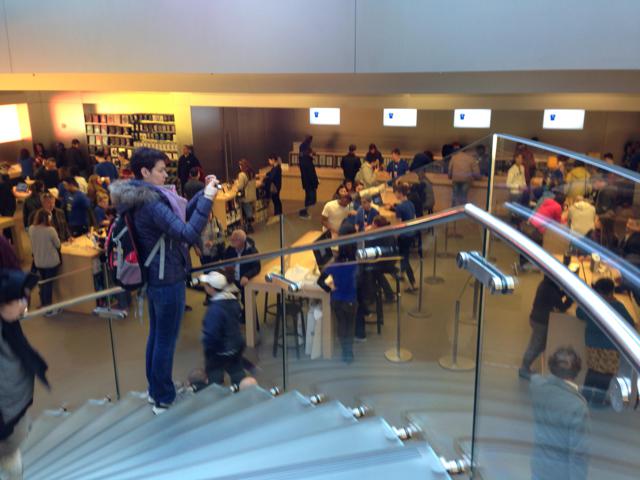 Apple Store, Fifth Avenue, Manhattan
A Means To Finish Off BlackBerry?
BlackBerry (NASDAQ:BBRY) has managed to maintain a small foothold in the enterprise device markets despite Apple making significant inroads and companies increasingly shifting towards bring-your-own device (BYOD) policies. With that said, BYOD, pushed for extensively by employees, can significantly complicate how enterprises deal with data and security issues. This creates market opportunity.
BlackBerry Enterprise Server 12 (BES12), a cloud-based software offering for device management that is available across multiple operating systems, was a great step by BlackBerry to help stem the tide of client outflows driven by BYOD, but it won't be enough in my opinion. The offering simply isn't good enough in its current form to tempt business clients using non-BlackBerry devices. AAPL, given its already immense smartphone penetration with workers, could significantly benefit from expanded privacy offerings targeted towards protecting and managing iPhone (and other Apple product) data through a similar cloud-based software network.
We all know that Apple needs huge, growing markets to make investment worthwhile. Make no mistake, data security is a humongous market. Gartner believes that worldwide information security spending will have reached $75.4B in 2015. This is lower than some estimates, with some forecasting the market will reach $170B by 2020 at a CAGR of 10% from 2015 to 2020. While these numbers are staggering, in reality, this is just a fraction of the damage cybersecurity attacks cost businesses yearly. These breaches continue as a result of weak links in the security chain, which include employees falling for age-old phishing tricks, malware and other common methods of attack. As such, most companies are willing to fork out large sums of money (meaning big margins for competing companies) for the best and most user-friendly data security solutions.
This is a space Apple has not currently invested heavily in. Acquisitions in the security space make sense to me as a means to both expand revenue, enter high-growth businesses and make Apple's devices more palatable to enterprise clients.
Apple has shown some interest in acquiring companies in this sector before. It paid $356M for AuthenTec in 2012, but I suspect this was mainly for its NFC and fingerprint-sensing technology, not its computer and mobile security offerings. Nonetheless, that technology still is held within Apple. The company also recently announced the acquisition of LegbaCore in November 2015, a firmware security consultancy firm. Details remain thin, but this acquisition was likely done to acquire talent in fleshing out security offerings given the company's prior work. A team at LegbaCore built Thunderstrike 2, the first worm that was able to infect Mac computers at the firmware level, which makes the malware highly difficult to remove from infected computers.
While many publicly-traded data security firms are not profitable, in many cases, this is an issue of scale. From a business model perspective, security is now in the industry shakeout stage. As growth rates start to moderate, we will enter the "survival of the fittest" portion of the business cycle. Competition is intense and some businesses will exit the market. This is the prime time for AAPL to make some targeted purchases in the market by being a leading consolidator: Buy the cream of the crop, consolidate operations into a strong suite of product offerings and push out the rest of the competition. This business strategy isn't foreign to Apple.
Conclusion
This is a multi-billion-dollar industry that Apple has not really targeted, and we are now at a great position in the business cycle for the company to make some moves in the space. I've always been one that advocated for companies to not lose focus of their core product and vision. I don't believe a move into security would hurt Apple in the long term or spread company assets too thin. An Apple expansion into the data/cybersecurity space would in fact be complementary to its current business lines. Enterprise clients are just as valuable for Apple to win over with its product offerings. A stronger, more visible security offering could help boost sales of its core products while also contributing to the bottom line. The current situation with the U.S. Government just makes the timing all the better as the case plays out over the coming months.
"Peak iPhone" is a tiring argument, but it is one that needs to be had. Sales growth among consumers is slowing, but as the slow-moving corporate world continues to come around to mobile devices, Apple can and should expand its product offerings beyond fit and function to attract enterprise clients. Expansion into security is a perfect means of doing that, and the timing couldn't be better.
Disclosure: I am/we are long AAPL.
I wrote this article myself, and it expresses my own opinions. I am not receiving compensation for it (other than from Seeking Alpha). I have no business relationship with any company whose stock is mentioned in this article.