Yes, the title is sensationalist. How can one of the greatest growth stocks of recent times, Apple (NASDAQ:AAPL), be compared to a boring utility like AT&T (NYSE:T)? One word: ecosystem.
Apple has shown us the benefits of having a strong ecosystem and leveraging the existing customer base. AT&T has never been short of customers, but it has never really had multiple ways of leveraging its customer base to bring in more revenue. Now with the acquisition of DIRECTV, AT&T suddenly has become the owner of content as well as most of the platforms for using the content. Think about it. When you have unlimited data on your phone, you stream more. When you have no-buffering Internet, you download/stream more. Does anyone else believe this is becoming a nice little ecosystem? The recent move to provide unlimited data adds credence to this strategy. Data and phone services have been the bread and butter of the company, but now the existing assets are perhaps just "a means to an end."
While encouraging mobile users to stream more content, AT&T is also focusing on Internet customers. GigaPower, AT&T's 1Gbps Internet package, is starting to gain traction. At $70 to $110, this service is priced at least 30% higher than the standard Internet service AT&T provides. This should lead to higher margins eventually. As shown in the map below, GigaPower is now available in many major cities and is being introduced to many more. AT&T is also playing it smart when it comes to pricing. The price is on the lower end in cities where Google (NASDAQ:GOOG) (NASDAQ:GOOGL) Fiber is available and on the higher side where Fiber isn't available.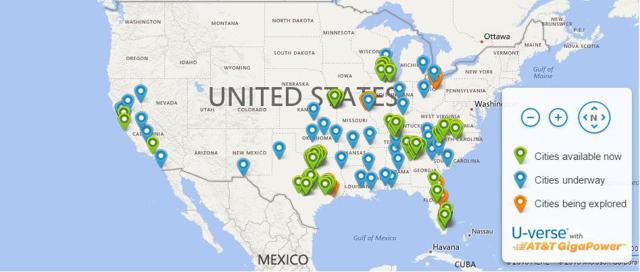 Source: Att.com
In addition, existing customers (be it U-verse or phone services) are made to feel special by targeted offers like the one below. Agreed, these aren't new initiatives per se, but the chances of "cross selling" your services are exponentially higher when you provide multiple related services that can be packaged together.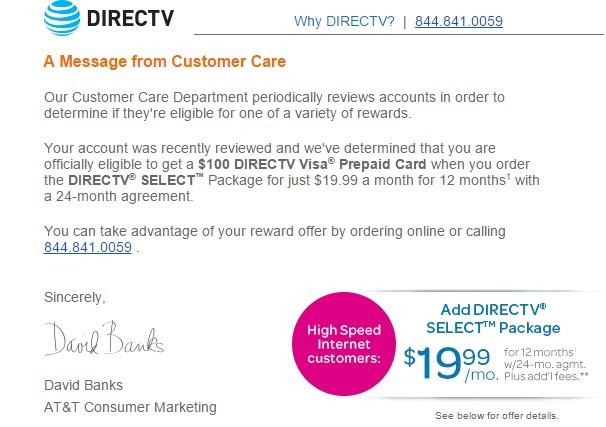 Source: A family member's email!
AT&T's name has been floated around as a potential bidder for Yahoo's (YHOO) core business units. If at all AT&T goes for it, this would give the company more avenues to market and sell its own core products and services. For example, the online search and news businesses could be tailored to revolve around the company's main offerings. Also, as Verizon (NYSE:VZ) proved by going after AOL, digital content is lucrative as well and that's where Yahoo gets attractive for the bidders. Digital content and online advertisements obviously lower the marketing cost for companies by selling directly to consumers. This was noted as the key reason VZ went after AOL, as telecom companies generally have a high attrition rate and continuous marketing is required to snatch customers from the competitors. The same logic applies to AT&T if it goes after Yahoo. This is just speculation at this point, but the picture below shows AT&T's ecosystem if this happens.
Interpret the sketch like this: digital content (Yahoo's core) will drive users to one of AT&T's core units: Mobile/wireless/content. These units are well connected and will encourage usage of one or more of AT&T's other services. Ultimately, this has the potential to become a well-oiled standalone ecosystem.

Fun-Fact
Speaking of Apple and AT&T together, it has been nearly a year since AAPL replaced T in the Dow Jones Industrial Average. The general theory is that being added to Dow is positive for a stock, but in this one year time period, AT&T is up about 6% while Apple is down 25%. If we include the dividend payments, the difference gets larger. As we own both stocks, these numbers are bittersweet.
In hindsight, we are wondering if the inclusion of Apple meant a top for it and the exclusion of AT&T meant a turnaround for it. Again, this has no fundamental link, but AT&T's management has indeed been making the right strategic moves as described above.
Conclusion
AT&T's prowess as a reliable dividend stock is well documented. We've already looked at the fact that DIRECTV is having a positive impact on the cash flow and dividends. But the steps taken by the company in streamlining its services and locking in customers augur well for the growth aspects as well. Realistically, AT&T is unlikely to double or triple in a short time span, but the seeds are in place for becoming a much stronger cash cow.
Disclosure: I am/we are long T, AAPL.
I wrote this article myself, and it expresses my own opinions. I am not receiving compensation for it (other than from Seeking Alpha). I have no business relationship with any company whose stock is mentioned in this article.