The story of Ted and Mary has appealed to countless readers and given those who are retired or considering retirement soon an idea of what factors they may want to consider and how they might want to design their portfolio.
I'm going to put a new twist on the piece this week by incorporating further diversification and discussing some of the alternative stocks that could be used as one part for Ted and Mary.
Ted and Mary
The goal here is to make this hypothetical couple face situations that my readers may face.
It is important to recognize that, in many cases, this will require some generalizations about situations. However, I will attempt to make Ted and Mary a very realistic couple.
For this week, my hypothetical couple faces the following challenges.
They are entering retirement and live in a higher-cost city, but they intend to stay there because they have three sets of grandchildren within a 45-minute drive. They just can't imagine moving somewhere that they wouldn't get to see their children and grandchildren.
They are certain that they will only live to the year 2046. This seems strangely specific, but I want to incorporate some unusual situations.
They already own a house precisely where they want to live, and they have 5 years left on their mortgage at 4%. The outstanding balance of that mortgage is $175,000.
The market is facing weaker total returns due to a combination of relatively high P/E ratios and an expected decline in corporate earnings which hampers growth in share prices and dividends.
The couple has $890,000 to use prior to paying down the mortgage. They have $715,000 after paying it off.
They have not started to receive social security, and they will not receive it for a few years.
In the 31st year, their portfolio value comes in at $338,358, adjusted for inflation. If they ran into unexpected costs, this would be most of their buffer. Theoretically, they could use a reverse mortgage at that point. However, I feel compelled to point out that I see it as an absolute last resort.
First Steps
Ted and Mary should really be looking for a personal financial advisor they can trust to go over their plan. However, that would be a fairly poor end to the article. So, I'm going to go over several things they would expect to find.
The first thing they are going to do is pay off the mortgage. The reason for paying the mortgage off immediately is not because there is something that is absolutely and inherently wrong about having a mortgage in retirement. In some situations, it could be an intelligent thing to do. In my opinion, the majority of situations will favor paying off the mortgage.
The biggest scenario where an investor may want to consider a mortgage is when it would influence how long they could delay taking social security. If the investor expected to live for a few decades, the expected return on delaying the benefits from social security could outweigh the cost of paying the interest on the mortgage. This would be a very important decision, so anyone contemplating it should look at the costs for competent personal financial counseling.
In this case, Ted and Mary are planning to delay taking social security and have enough resources to pay down the mortgage without major concerns. The choice to pay down the mortgage will reduce the amount they have available for investing, but paying 4% is simply too high when they will need to use cash and bank CDs to cover part of the cash outflows in the first several years.
The Social Security Chart
I'm including this chart because it is important for retirees and those soon to be retired to see it. You can also see the original source page.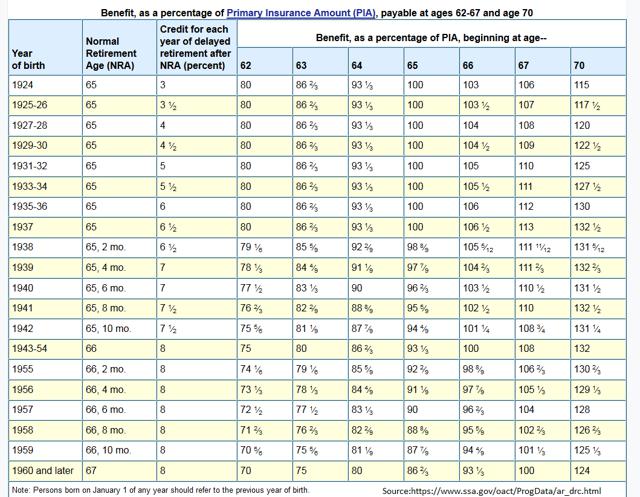 CPI
If you're already retired, you may have some fairly strong feelings about the adequacy of the CPI (consumer price index) in measuring your costs. So far, I haven't found a better method for modeling cost inflation. At the same time, I believe the CPI may materially underperform the costs retirees will be facing in retirement. Therefore, investors should be planning to have more cash than they would otherwise need.
Allocation of Wealth in Dollars

Because they are both going to be fully retired within 6 years, I can stick to using bank CDs instead of working in the Treasury strips. However, they are also going to be having fairly high costs each year, and I will be projecting that they are forced to draw down principal to sustain their chosen standard of living. Therefore, this article will demonstrate a portfolio that is incorporating some bond allocations.
The argument for retirement portfolios that go light on bond allocations requires the retiree to be primarily covering their living expenses with social security and only supplementing that income with dividends. In this case, we know the portfolio plan includes drawing down the principal balance, because Ted and Mary have chosen to remain in a higher-cost area and accept higher annual expenses.
The Champions
The investor would be searching for stocks such as the following. Most companies on this list have over 40 years of dividend increases. Most have strong dividend yields. My screening criteria ensured that all except for one have a trailing yield over 2% and at least 20 consecutive years of dividend increases.
| | | | |
| --- | --- | --- | --- |
| Company | Ticker | Yield | Years |
| Northwest Natural Gas | (NYSE:NWN) | 3.56% | 60 |
| Procter & Gamble Co. | (NYSE:PG) | 3.27% | 59 |
| Emerson Electric | (NYSE:EMR) | 4.13% | 58 |
| 3M Company | (NYSE:MMM) | 2.88% | 57 |
| Vectren Corp. | (NYSE:VVC) | 3.63% | 55 |
| Cincinnati Financial | (NASDAQ:CINF) | 3.11% | 55 |
| Coca-Cola Company | (NYSE:KO) | 3.06% | 53 |
| Johnson & Johnson | (NYSE:JNJ) | 2.95% | 53 |
| California Water Service | (NYSE:CWT) | 2.75% | 48 |
| Target Corp. | (NYSE:TGT) | 3.20% | 48 |
| Stanley Black & Decker | (NYSE:SWK) | 2.40% | 48 |
| Altria Group Inc. | (NYSE:MO) | 3.77% | 46 |
| Sysco Corp. | (NYSE:SYY) | 2.87% | 45 |
| Black Hills Corp. | (NYSE:BKH) | 3.09% | 45 |
| Universal Corp. | (NYSE:UVV) | 3.96% | 44 |
| Helmerich & Payne Inc. | (NYSE:HP) | 5.80% | 43 |
| Wal-Mart Stores Inc. | (NYSE:WMT) | 2.96% | 42 |
| PepsiCo Inc. | (NYSE:PEP) | 2.85% | 43 |
| Exxon Mobil Corp. | (NYSE:XOM) | 3.60% | 33 |
| McDonald's Corp. | (NYSE:MCD) | 3.02% | 39 |
| National Retail Properties | (NYSE:NNN) | 3.89% | 26 |
| Realty Income Corp. | (NYSE:O) | 3.94% | 22 |
| Apple | (NASDAQ:AAPL) | 2.21% | 4 |
| Average | | 3.34% | 44.61 |
Overall, this portfolio is designed to be more defensive than a broad market ETF and to offer a higher dividend yield. However, the yield on an equal weighted portfolio here would only be 3.34%, and the goal for Ted and Mary is going to be a 3.65% yield.
Getting Diversification
Since the portfolio above may be a little too concentrated, I like to work in some ETF exposure. Ted and Mary will use the following 10 ETFs, but they won't get equal weighting.
| | | | |
| --- | --- | --- | --- |
| Ticker | Name | Div. Yield | Expense Ratio |
| (NYSEARCA:VIG) | Vanguard Dividend Appreciation ETF | 2.29% | 0.10% |
| (NYSEARCA:VYM) | Vanguard High Dividend Yield ETF | 3.11% | 0.10% |
| (NYSEARCA:DVY) | iShares Select Dividend ETF | 3.28% | 0.39% |
| (NYSEARCA:HDV) | iShares Core High Dividend ETF | 3.76% | 0.12% |
| (NYSEARCA:PFF) | iShares U.S. Preferred Stock ETF | 5.84% | 0.47% |
| (NYSEARCA:SDOG) | ALPS Sector Dividend Dogs ETF | 3.57% | 0.40% |
| (NASDAQ:VCLT) | Vanguard Long-Term Corporate Bond Index ETF | 4.69% | 0.10% |
| (NYSEARCA:TLT) | iShares 20+ Year Treasury Bond ETF | 2.37% | 0.15% |
| (NYSEARCA:HYG) | iShares iBoxx $ High Yield Corporate Bond ETF | 6.16% | 0.50% |
| (NYSEARCA:SPHD) | PowerShares S&P 500 High Dividend Portfolio ETF | 3.45% | 0.30% |
Within these holdings, I used the following weights to reach the 3.65% yield: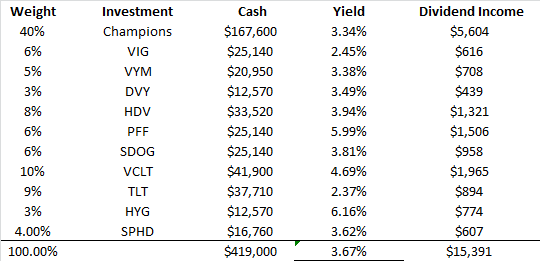 This brought us to a 3.67% yield, so it is just above the 3.65% goal that was used in planning the portfolio. It is important to recognize that some of these investments should not been as a source of growing dividends. While this portfolio is heavy on equity, the positions in VCLT, TLT, and HYG are all bond ETFs. This represents 22% of the portfolio in bonds.
Cash Flows
The following table demonstrates the cash flows: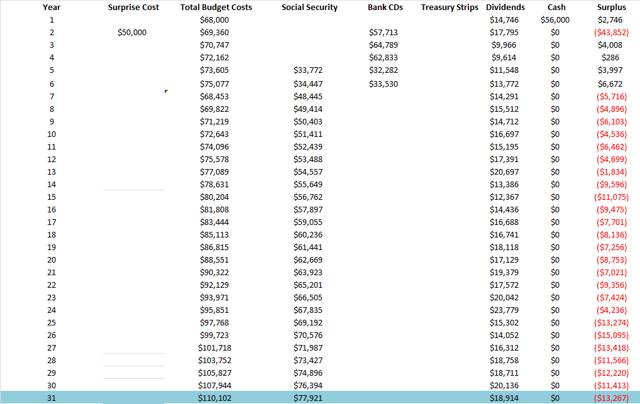 In the second year, I've added a surprise cost that Ted and Mary were unable to plan for. Fortunately for them, this is the only surprise cost in the model. Unfortunately for them, it occurs in the second year while stocks are falling hard. By the time they pull out the cash to deal with the cost, the portfolio has fallen by 35%. The timing of this cost makes it more damaging to their long-term picture.
Portfolio Values
The model I built for these articles also works out the portfolio value in each year. Estimates on fair values for Bank CDs are a little rough, since it requires estimating the appropriate discount rate.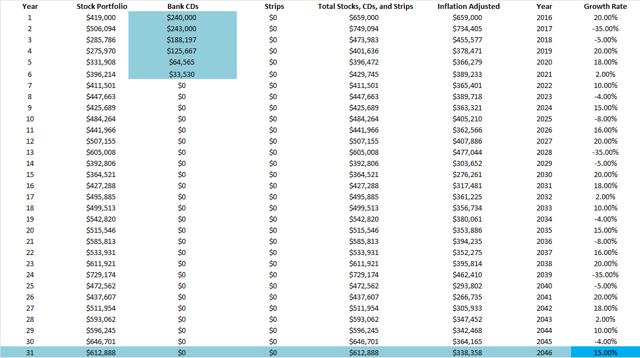 Note that the "Stock Portfolio" value is recording the value at the start of the year rather than at the end of the year. From the second year to the third year, the combination of a major market crash and the $50,000 expense have slashed the stock and bond portfolio value from about $506k to a mere $286k. Fortunately, that does not include the value of the CDs, which was unscathed.
For the growth rate, I've created an 11-year cycle of returns, and Ted and Mary are not trying to time this cycle. The cycle looks like this:
| | |
| --- | --- |
| Year | Return |
| 1 | 20.00% |
| 2 | -35.00% |
| 3 | -5.00% |
| 4 | 20.00% |
| 5 | 18.00% |
| 6 | 2.00% |
| 7 | 10.00% |
| 8 | -4.00% |
| 9 | 15.00% |
| 10 | -8.00% |
| 11 | 16.00% |
| Average | 4.45% |
| Geometric Average | 1.61% |
The average price return is a fairly solid 4.45%, which would be fine for a portfolio with a 3.65% yield. However, the geometric average is materially lower as a result of the volatility. The geometric average is a better indicator for how fast the portfolio would grow over the long term.
The Investments in CDs
The following table shows the rates I used for the CDs, the amount invested, and the amount harvested.

You can check rates on certificates of deposit here.
The Headwind for Returns
I don't expect the market to keep up with historical averages for returns. While long-duration Treasury bonds and equity securities generally have an inverse correlation, both were rallying substantially over the last several years. As a result of that rally, the bonds have limited additional upside, unless we are going to see substantially negative interest rates. On the other hand, the P/E ratios across the market are also on the high side despite some headwinds for corporate earnings, which suggests that the "E" in that ratio is going to decline.
Some Alternative Candidates
There are a few other companies that might merit a place in Ted and Mary's portfolio that didn't get mentioned:
| | | |
| --- | --- | --- |
| Name | Ticker | Yield |
| General Electric Company | (NYSE:GE) | 3.17% |
| Ford Motor Company | (NYSE:F) | 4.96% |
| AT&T Inc. | (NYSE:T) | 5.25% |
| Intel Corporation | (NASDAQ:INTC) | 3.62% |
| Exxon Mobil Corporation | | 3.54% |
| Verizon Communications | (NYSE:VZ) | 4.44% |
These companies have enormous size, which can provide some shelter in tough periods, strong dividend yields, and are often suggested for dividend growth portfolios. There are a few headwinds here that held me back from suggesting them originally. Exxon Mobil is usually a great choice for this kind of portfolio, but oil prices don't seem to have found a bottom. I wouldn't be surprised if that happens within the next year or two as the bankruptcies start to work their way out of the system.
AT&T and Verizon are both huge market leaders and common favorites for dividend growth investors, but I see the competition in the sector and it reminds me of the mining sector. Companies willfully expanded production with no regard for global commodity prices. Each pretended that its goal was simply to lower its own cost of production without recognizing the global impact. That is a substantial headwind.
Ford could be fairly interesting. I see some changes to the economy coming that should help the middle class and the working poor. It's been a long time since those words could be uttered. Among those changes are higher wages from traditionally low wage employers such as WMT and TGT. The potential elimination of strategies to classify employees as "exempt" when their job duties and pay do not reflect the original meaning of "exempt" is another potential factor to encourage stronger wages.
Very Worthy of Consideration
I'm expecting interest rates to remain lower for longer. That would be a potential positive factor for utility companies, and I should probably work more of them into the portfolio. A few of the larger options that would make sense for this portfolio are:
| | | |
| --- | --- | --- |
| Name | Ticker | Yield |
| Consolidated Edison Inc. | (NYSE:ED) | 3.78% |
| Duke Energy Corporation | (NYSE:DUK) | 4.43% |
| Dominion Resources | (NYSE:D) | 4.03% |
Huge utility companies often make sense for this kind of portfolio because they have a fairly steady business model and strong yields. Their product, in my opinion, is unlikely to become obsolete. Solar power could be a headwind, but domestic resistance has been strong enough to surprise me. I lost some money betting on Chinese solar panel producers a few years ago when I tried to grab a falling knife. The fall of the companies was not, in my opinion, a function of the tariffs on imported solar panels. The companies simply did not understand how to get their product to home owners. If they had set up distribution agreements with Costco (NASDAQ:COST), Lowe's (NYSE:LOW), or Home Depot (NYSE:HD), they would've had a much better chance. The major problem with the business model was the high cost of professional installation, which drove the total cost of the system substantially higher. If they designed the product so a DIYer (Do it Yourself-er) could handle the task over the weekend, I think it would've been a great hit.
The solar companies kept building better and better panels, but none of them focused on building an easier way for customers to install the product.
Speaking of Lowe's and Home Depot, I see some companies that continue to look attractive. Share prices have pulled back a bit, but the expectation for stronger wages should be positive for allowing the home improvement stores to grow sales. On the other hand, I'm not thrilled about the relatively weak yields or high P/E ratios.
Don't Keep It To Yourself
If you found this article helpful, e-mail it to someone you think might enjoy it or tell me what you liked in the comments. From my research on what investors were reading and appreciating, I got the feeling the hypothetical story of Ted and Mary would be precisely what many retirees wanted.
The Strangest Scenario
The strangest situation I covered for picking stocks was looking at stocks for a literal zombie apocalypse.
Disclosure: I am/we are long MO, NNN.
I wrote this article myself, and it expresses my own opinions. I am not receiving compensation for it (other than from Seeking Alpha). I have no business relationship with any company whose stock is mentioned in this article.
Additional disclosure: Information in this article represents the opinion of the analyst. All statements are represented as opinions, rather than facts, and should not be construed as advice to buy or sell a security. Ratings of "outperform" and "underperform" reflect the analyst's estimation of a divergence between the market value for a security and the price that would be appropriate given the potential for risks and returns relative to other securities. The analyst does not know your particular objectives for returns or constraints upon investing. All investors are encouraged to do their own research before making any investment decision. Information is regularly obtained from Yahoo Finance, Google Finance, and SEC Database. If Yahoo, Google, or the SEC database contained faulty or old information it could be incorporated into my analysis.