The last exports and imports data, which came from Asia in January 2016, does not contribute any positive to the investors' view on the region. On the contrary, it gives one more reason investors should be cautious about the stocks with a high exposure to the Asian markets. As shown in the charts below, a dramatic decline was reported in both exports and imports in some of the main Asian economies, which are China, Japan, South Korea and India.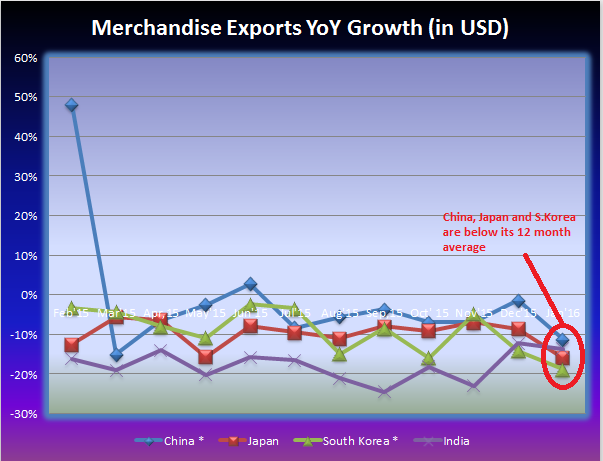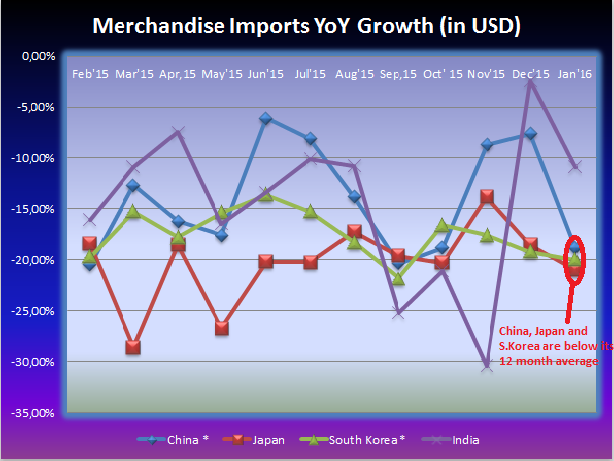 Source: Investing.com, own graphics
The reported exports growth rates fell below their 12-month average in China, Japan and South Korea, and the same picture was down looking at the imports data. Both metrics decreased by more than 10% on a yearly basis in all the countries mentioned in the article when calculating in USD. Moreover, exports and imports have also declined on a local currency basis as presented in the charts below: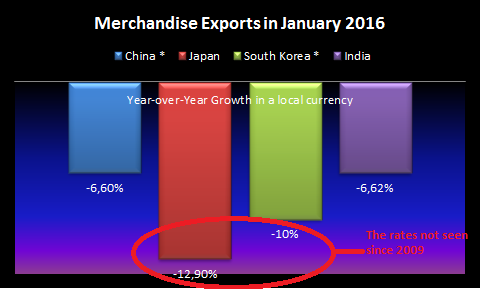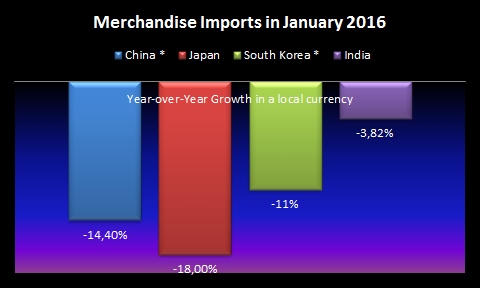 *Services are included
Source: Investing.com, own graphics
The fastest rates of fall in over six years were seen in South Korea and Japan.
Having put this all together, we could make some following assumptions. First, deflationary pressure is obviously growing throughout the region, lowering the import and export prices across the board. Secondly, while the region's currencies keep on depreciating against the dollar, imports continue to slump on a local currency basis. In my opinion, this phenomenon may have been coming from the significant decrease in domestic consumption. Third, weakness seems to be spreading into the broad economy and now it is becoming clear that it is not only about commodities. According to Trading Economics, besides commodities, many of the exported product groups in the consumer segment were down in China.
Sales dropped for: Chinese herbal medicine and Chinese medicine (-21.2 percent), plastic products (-3.9 percent), clothing (-7.2%), footwear (-11.9 percent), ceramic (-25 percent), LCD panel (-18.5 percent), furniture and parts (-9.9 percent) and lamps, lighting fixtures (-5.3 percent).
The same data for Japan follows below:
It is the biggest drop since October of 2009 and the fourth straight decline. Shipments to the United States went down 5.3 percent, to China fell 17.5 percent, to South Korea declined 17.4 percent and to Taiwan decreased 8.6 percent. By product, sales declined the most for machinery (-17 percent), manufactured goods (-22 percent) and electrical machinery (-11.7 percent).
As for Chinese imports, a big decline was observed in purchases from most of the country's key partners except Hong Kong, Vietnam and New Zealand.
Those from the U.S. declined by 26.7 percent, India (-24.8 percent), Japan (-15.9 percent), South Korea (-14.5 percent), Taiwan (-18.5 percent), ASEAN countries (-10.8 percent), Russia (-18.9 percent), South Africa (-17.9 percent) and Australia (-31.2 percent).
This uncertainty forces investors to be taking money out of the region, putting pressure on China's foreign exchange reserves.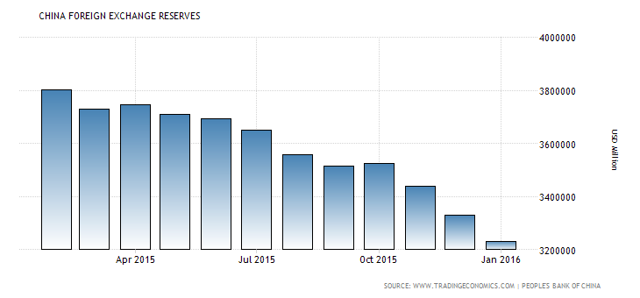 Foreign exchange reserves in China decreased by $99.5bn to $3.23bn in January of 2016, slightly lower than the monthly fall of $107.9bn in December, that was the biggest on record.
Finally, the last PMI data does not provide investors with bullish support as seen in the chart below: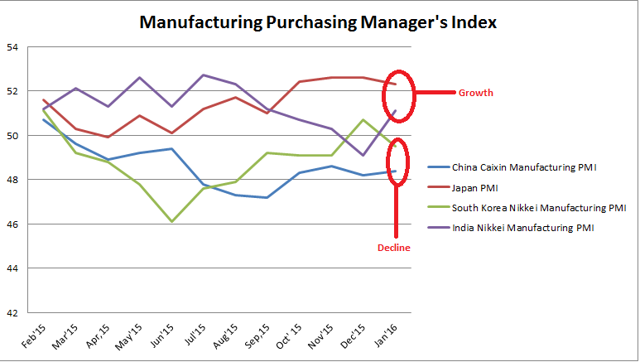 Source: Investing.com, own graphics
Both South Korea and China PMIs were in a decline territory in January 2016 and did not show any signs of improvement. Japan PMI was closer to the contraction zone and did not improve either.
Opinion
Apparently, the industrial sector in Asia does not seem to be improving; it appears to be getting worse instead. The ongoing weakness was reflected in trading metrics across the board when digesting January's data set, and it is becoming clear that it is spreading beyond commodities. For that reason, I advise staying away from the stocks with a great exposure to the Asia-Pacific region unless numbers begin turning in the opposite direction.
Disclosure: I/we have no positions in any stocks mentioned, and no plans to initiate any positions within the next 72 hours.
I wrote this article myself, and it expresses my own opinions. I am not receiving compensation for it (other than from Seeking Alpha). I have no business relationship with any company whose stock is mentioned in this article.