Overview
Too often, investors think of electricity when they hear the word utilities. In this article, we will concentrate solely on utilities dealing with water, more particularly the three largest water utilities in the USA. These are, from largest to smallest: American Water Works Company (NYSE:AWK), Aqua America (NYSE:WTR) and American States Water Company (NYSE:AWR). Why water? For one, in my opinion, it's as safe as it gets. Everyone needs water, and everyone is ready to pay to have running water in the house. And maybe most importantly, there simply is no way now or in the future to transport water more effectively than through pipes. Those facts combined with the monopoly nature of this business guarantees that these companies will keep making a profit now and in the future. The downside here is that this monopoly position means that the prices are regulated, so organic growth is limited. These companies counter this problem of organic growth by making significant acquisitions, often on a yearly basis.
Comparison
After the recent rally in utilities, all three water utilities have gained significantly in price and are hovering very close to their all-time highs. One explanation for this is what I mentioned above - the stability of these companies is seen as a significant strength during these volatile times. Keep in mind that water utilities in general are valued with a higher P/E than most other utilities. Right now, the average P/E for the utilities sector is 16.60, while the average for water utilities is 19.90. As you can see from the chart below, the P/E ratio for all these companies is high, both relative to water utilities as a sector as well as their respective historical values.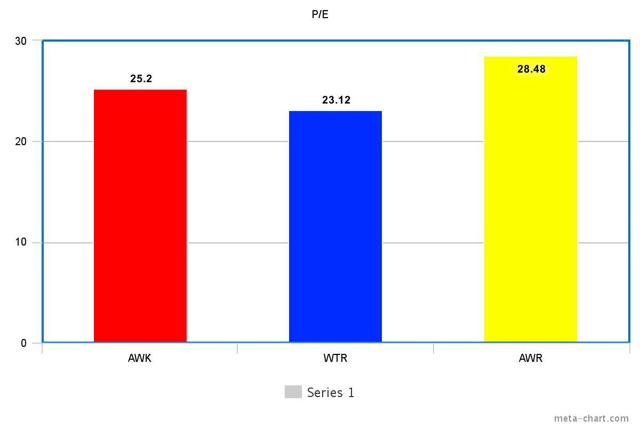 (Data from Yahoo Finance)
Talking about growth potential, let's take a look at their historical 5-year EPS growth. The chart below is made out of the average EPS growth from 2010 to 2015. For the Q4 2015 EPS, I've used the average estimate from analysts, since none of the companies have released their full-year 2015 results yet.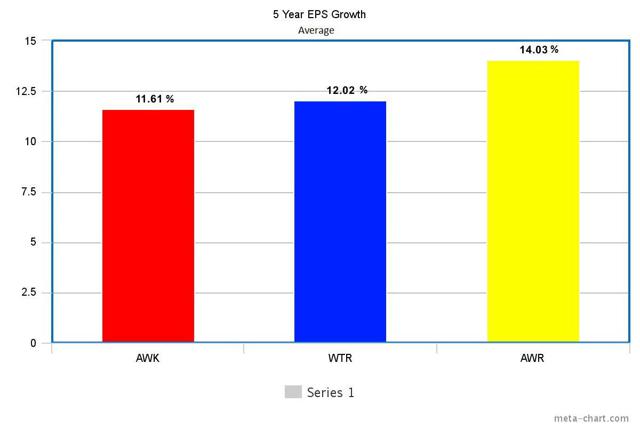 (Data from Nasdaq.com)
The Dividends
As a dividend growth investor, I'm always very interested in how capable these companies are in paying and growing their dividend in a sustainable manner. I've created charts showing how these companies compare when looking at the current yield, the 5-year dividend growth rate and their current payout ratios.
As can be expected, due to the recent increase in valuation, the yields have fallen behind from their historical values - though they are still pretty well in line with the average yield of S&P 500, which is right around the 2% mark.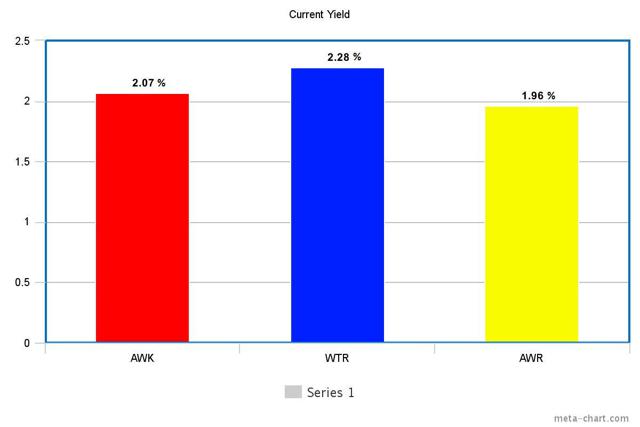 I'm sure many of you aren't impressed with those yields, especially since we are talking about utilities. Therefore, we should be expecting some good dividend growth to justify the high valuation. In the chart below, I've compared the dividend growth percentage from their first payment in 2011 to their first payment in 2016. I was pleasantly surprised to see that EPS growth is higher than dividend growth for all of these stocks.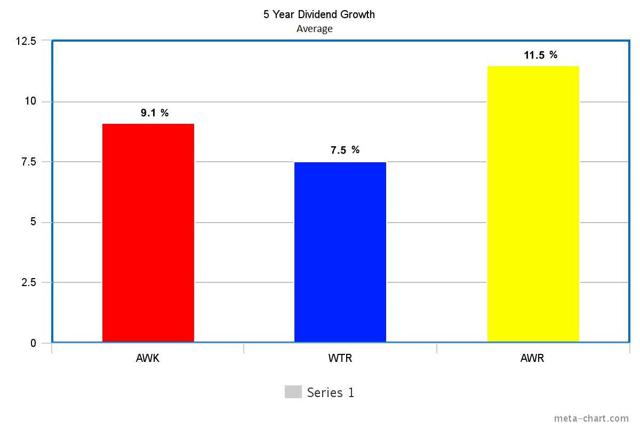 (Data from Dividend Channel)
Last, but not the least, let's take a look at the payout ratios. Normally, this ratio is used to determine the sustainability of the dividend, and that, of course, works here too. However, in this case, I would urge you to particularly pay attention to what the payout ratios mean for future EPS and dividend growth, as these companies in general seek to expand through acquisitions to fuel growth despite price regulation.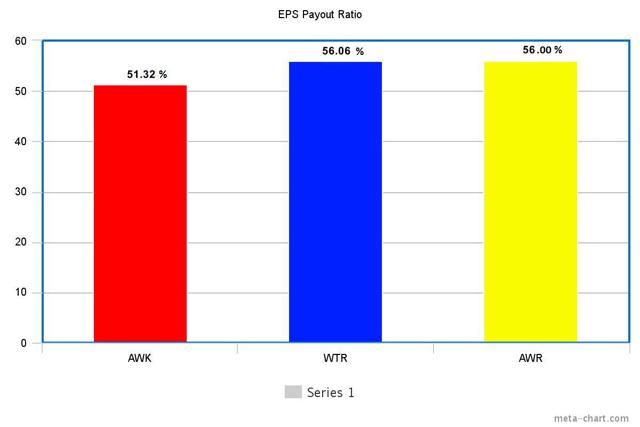 (Data compiled from estimated 2015 EPS and current quarterly dividend payments)
Risks
While water utilities in general have steady and predictable earnings, it's important to look at the possible downsides. These companies aren't going out of business, nor will they be making a loss. Those are facts guaranteed by the monopolistic nature of their business. However, currently these companies are trading at a historically high valuation in a volatile market. The high valuation and limited growth prospects could also lead to investors dumping these stocks in favor of companies with better growth possibilities. I see these risks as short-term ones. For a long term "buy and hold" investor, these scenarios where the share price would drop due to reasons that have very little to do with the company's financial performance are nothing to lose sleep over.
Conclusion
Quite frankly, all of these stocks seem like solid and safe additions to a long-term dividend growth portfolio with their surprisingly good growth rates and payout ratios around 50%. Good financials, coupled with a stable business sector leads me to believe that these companies will easily keep raising both their earnings and dividends year after year. And as proven by their past growth, these raises are quite significant. In the shorter term, I am quite worried about the current valuation, and as such, I would suggest that investors wait for better entry points, especially if investing for a time frame of less than 5 years.
While I like all of these companies for their safe business model and their proven track record, the issue is that there are many companies from other sectors with similar growth prospects and a significantly lower valuation. Therefore, I encourage investors to actively search for alternatives and to revisit the water utilities sector from time to time to see if the valuations have come down to a more reasonable level. While I will not be initiating any new positions at this time, I would rank WTR as the best choice out of the three. This is because its lower valuation significantly limits the downside, while the EPS and dividend growth are still at desirable levels for a long-term investment.
Disclosure: I am/we are long WTR.
I wrote this article myself, and it expresses my own opinions. I am not receiving compensation for it (other than from Seeking Alpha). I have no business relationship with any company whose stock is mentioned in this article.