In my most recent article (February 10), I wrote that the biotech sector was due for a bounce. Since that time, the biotech sector has risen 5%. As expected, the drug companies developing CAR-T treatments have reversed volatility. ZIOPHARM (NASDAQ:ZIOP) is up 12%, Juno Therapeutics (NASDAQ:JUNO) is up a whopping 32%, and Kite Pharma (NASDAQ:KITE) is up 19%.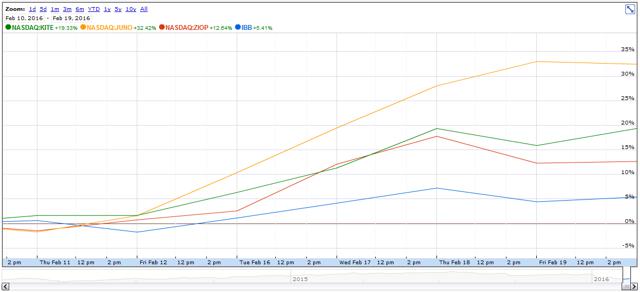 Juno's strength is very impressive, rising from a close below $25 on February 2nd to a close on Friday (the 19th of February) above $35. Contrary to my prediction, ZIOPHARM has been a relative laggard, closing at $5.03 on February 2nd, and most recently ending the session at $6.15. I intend to continue my research in the CAR-T area of the biotech sector and publish reports on Kite Pharma and Juno Therapeutics in the coming weeks. This article will take a detailed look at ZIOPHARM's pipeline. The article's thesis is that ZIOPHARM's access to Intrexon's (NYSE:XON) RheoSwitch technology provides ZIOPHARM with the potential to disrupt the CAR-T field. Thus, while other companies are further along in their testing, it would be a mistake to not give ZIOPHARM special consideration.
The pipeline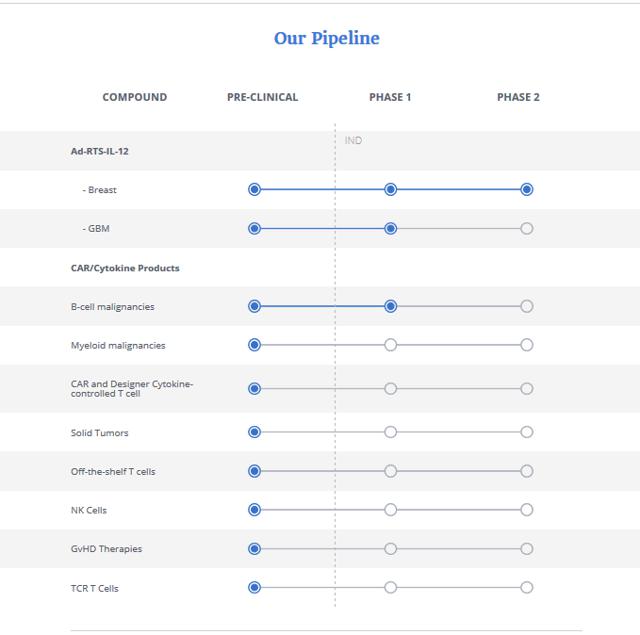 Source: ZIOPHARM website
Ad-RTS-IL-12
ZIOPHARM's pipeline is limited to two compounds. The first is Ad-RTS-IL-12, which is a gene therapy treatment in phase 2 testing for breast cancer and phase 1 testing for GBM, or glioblastoma; tumors formed in the supportive tissue of the brain. (The same treatment was also tested on advanced melanoma. It appears no new trials have been initiated for this application.) The technology of this treatment involves use of the RheoSwitch to produce IL-12, an anti-cancer protein. According to the company's profile on Reuters, Ad-RTS-IL-12 is used in combination with veledimex. It is the synthetic biology platform (gene-delivery system) to produce Interleukin-12, or IL-12, a potent, naturally occurring anti-cancer protein. Veledimex is referred to as an "oral activator" because it triggers the expression of the genetically modified cells. "This strategy makes it feasible to control the gene therapy in vivo and to lower or terminate IL-12 expression in the event of severe or unexpected toxicities" (ZIOPHARM Announces Initiation of Phase 1 Study of Ad-RTS-IL-12 Gene Therapy in Patients With Brain Cancer, PR). So far, the compound has proven to demonstrate "anti-cancer activity, as well as safety and control of both immune- and IL-12-mediated toxicity with use of the RTS gene switch" (Reuters).
In case this is new to you, here's another explanation of how Intrexon's RheoSwitch is used to produce and administer genes that help patients fight cancer. It comes as courtesy from a press report published in Fierce Biotech.
Through intratumoral injection, Ad-RTS-IL-12 employs an adenoviral vector (Ad)[*] to deliver directly into the patient's own cells a gene which expresses Interleukin-12 (IL-12), a potent anticancer cytokine. Production of IL-12 within the cell is in turn tightly regulated by the Intrexon RheoSwitch Therapeutic SystemTM (RTSTM), a "gene switch" controlled by an activator ligand taken orally. IL-12 is a naturally occurring regulatory cytokine that has a function central to the initiation and regulation of cellular immune responses.
*An adenoviral vector makes use of the properties of the adenovirus, which do not replicate their DNA when they multiply.
Use of this treatment is not referred to as a CAR-T (chimeric antigen receptors, or artificial T cell receptors) therapy because it is neither allogeneic (donated by a matched donor) or autologous (taken from the patient herself). Instead, this treatment administers genes through the use of an adenoviral vector. It does not introduce modified cells to the patient's system.
CAR/Cytokine Products
ZIOPHARM recently acquired a CAR-T treatment from the University of Texas' MD Anderson Cancer Center. I recently analyzed the deal in a piece for Seeking Alpha, and concluded that the skepticism surrounding the agreement is overdone. Currently, ZIOPHARM is involved in four clinical trials related to Sleeping Beauty and MD Anderson. As I will outline, these studies have been progressing for a number of years. CAR-T treatment is referred to by the Cancer Institute as the "Fifth Pillar" of cancer treatment. CAR-T treatments are either allogeneic or autologous. They involve modifying the genes of human cells and reintroducing them to the body. The altered cells are engineered to target certain proteins associated with different cancers. "'Adoptive cell transfer is like "'giving patients a living drug,' [said] Dr. Brentjens…"
That's because ACT's building blocks are T cells, a type of immune cell collected from the patient's own blood. After collection, the T cells are genetically engineered to produce special receptors on their surface called chimeric antigen receptors (CARs). CARs are proteins that allow the T cells to recognize a specific protein (antigen) on tumor cells. These engineered CAR T cells are then grown in the laboratory until they number in the billions (CAR T-Cell Therapy: Engineering Patients Immune Cells to Treat Their Cancers, National Cancer Institute).
On that note, it seems worthwhile to mention how Sleeping Beauty got its name. (It's not because when ZIOPHARM bought it, its stock price tripled.) Instead, the technology uses a naturally occurring gene and applies it to the treatment of cancer. According to researchers at MD Anderson, "It relies on a reconstructed version of a transposon (a DNA sequence that can change its location within the genome) that was present millions of years ago in the last common vertebrate ancestor. The reconstructed transposon system can integrate DNA into the host genome without a viral vector" ("'Sleeping Beauty' Technique Modifies T Cells to Treat B Cell Malignancies," MD Anderson).
Like Ad-RTS-IL-12, Sleeping Beauty can be used with RheoSwitch technology. This unique production method allows for an unmet advantage to ZIOPHARM's pipeline. While other CAR-T treatments are highly individualized, and thus require intensive involvement (time and money), RheoSwitch allows ZIOPHARM to essentially mass produce genetically modified cancer-fighting cells which can be introduced to patients without intensively matching and modifying cells. In case it bears a little review, here's another excerpt from the company's Reuters profile: "The Company's synthetic immuno-oncology programs, in collaboration with Intrexon Corporation and the MD Anderson Cancer Center, include chimeric antigen receptor T cell (CAR-T) and other cell based approaches that use non-viral gene transfer methods for broad scalability." Many doctors are involved in this research process. Dr. Laurence Cooper has been outspoken about the potential of this combination for a long time - before he was made CEO of ZIOPHARM, and before ZIOPHARM bought the rights to Sleeping Beauty.
Currently, Sleeping Beauty's leading trials are for the treatment of leukemia and lymphoma. There are many other applications for CAR-T therapy. (Please note that in the following table, the column on the right does not necessarily refer to trials related to ZIOPHARM. Sleeping Beauty only targets CD19.)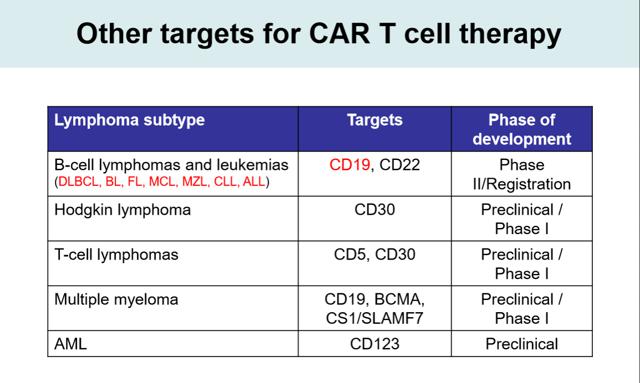 Source: MD Anderson
(Explanation of initialisms: Diffuse large B-cell lymphoma (DLBCL), Burkitt's lymphoma (BL), Follicular Lymphoma (FL), Mantle cell lymphoma (MCL), Marginal zone lymphomaa (MZL), Chronic lymphocytic leukemia (CLL), Acute lymphocytic leukemia (ALL).)
Trial Information
Ad-RTS-IL-12
For more information, visit the corresponding page for each trial. Click on the targeted treatment to link to its page at ClinicalTrial.gov.
| | | | | |
| --- | --- | --- | --- | --- |
| Treatment | Endpoint | Start date | End date | Phase |
| | Safety and tolerability | 5/2015 | 8/2017 | II |
| | Safety study | 12/2013 | 12/2016 | I |
Sleeping Beauty
| | | | | |
| --- | --- | --- | --- | --- |
| Treatment | Primary Endpoint | Start date | End date | Phase |
| Lymphoid malignancies - Leukemia | Maximum tolerated dose | 12/2012 | 12/2021 | I |
| Lymphoma* | | | | |
| | Long-term safety of gene transfer | 12/2011 | 12/2026 | NA |
| | Maximum tolerated dose | 12/2011 | 12/2016 | I |
*Although grouped together, there are separate trials for the treatment of leukemia and lymphoma.
**This study differs slightly from the first two. The distinction is that patients were first treated with an allogeneic therapy.
Boiled down, the list of trials is not impressive. One certainly gets the sense that revenue is a long ways away. To this end, it makes sense that ZIOPHARM recently partnered with Merck Serono. This should save the company millions in expenses each year. A peek at some information from Adis Insight reveals that Merck Serono is licensing the first two trials in the "Sleeping Beauty" table. Regarding Ad-RTS-IL-12, recent news about the company's treatment of breast cancer and GBM has been positive. There has been relatively little news about the effectiveness of Sleeping Beauty, however. It appears it will be quite some time before the phase 1 primary endpoints of safety and dosage are concluded. Time will tell whether a little bit of good news will be enough to keep the company's share price competing with Kite and Juno.
Recent News
Ad-RTS-hIL-12
ZIOPHARM's study of Ad-RTS-hIL-12 and its effects on patients with breast cancer recently began enrolling patients in a phase 1/2 study. Previous results, published in this abstract on September 18, 2015 have shown that the technology works as it should. "Treatment with Ad-RTS-hIL-12 + veledimex resulted in an increase in IL-12 and downstream IFN-gamma production and was followed by a rapid increase in IL-10 and IP-10 (indicating IL-12 biologic activity). Tumor lesion results from these two maximum tolerated dose studies are encouraging." This is good news, and the company is progressing steadily in its development of this important potential treatment.
Enrollment for the new study recently began. Thanks to Daniel Ward, Seeking Alpha contributor, for making this presentation of ZIOPHARM's phase 1/2 study of Ad-RTS-hIL-12 gene therapy in patients with locally advanced or metastatic breast cancer accessible.
As of the presentation, December 10, 2015, there were five patients enrolled in the trial. A maximum of 40 patients will be included. Two stopping rules are listed in the presentation: "Grade 3 or 4 refractory Adverse Event," and "Disease Progression." I wish my best to those women patients.
As for the application of Ad-RTS-hIL-12 for the treatment of GBM, ongoing results are similarly promising. Again, the combination of the oral activator results in IL-12. What's more, the veledimex (the activator) cross beyond the blood brain barrier and activated IL-12 within the tumors. The toxicity from the treatment is low. It is encouraging to see that the treatment is not only safe, but is capable of getting to where the tumors are and attacking them. This is a very intelligent application of ZIOPHARM's technology. It would be fantastic to make progress in treating something that is beyond the reach of surgery or other common treatments.
Sleeping Beauty
The most recent news for Sleeping Beauty has been enrollment in the trials for advanced lymphoid malignancies. This second generation trial will differ from the predecessor in some interesting ways.
In two prior trials the first generation CD19-specific CAR+ T cells, patient-derived (autologous) or donor-derived (allogeneic) T cells were administered to recipients with advanced CD19-expressing leukemias and lymphomas after hematopoietic stem-cell transplantation (HSCT). Results demonstrated an apparent doubling of survivals compared to historical controls.

The second-generation Sleeping Beauty CAR+ T cells employ a revised CAR construct designed to improve persistence and anti-tumor response over the first generation therapy. Additionally, this investigational treatment is independent of HSCT. This trial is being conducted at MD Anderson.
What is most intriguing to me is that the researchers were able to revise the CAR construct. This is an exciting opportunity for Laurence Cooper to realize many of his important ideas about CAR-T therapy. Through use of the RheoSwitch, researchers are able to tune and modify their treatment. We do not yet know all the possibilities of this system. It's possible that the RheoSwitch CAR-T combination could be used to treat a multitude of cancer targets. Even if the system is limited, it still offers a very important edge on other CAR-T therapies. The company's wild-card is its disruptive ability to create the genetically modified T-cells with minimal ex-vivo processing and lower cost. This would make it preferable, if all else is equal.
Disclaimer: Do you own due diligence. I am not an investment advisor.
Disclosure: I/we have no positions in any stocks mentioned, and no plans to initiate any positions within the next 72 hours.
I wrote this article myself, and it expresses my own opinions. I am not receiving compensation for it (other than from Seeking Alpha). I have no business relationship with any company whose stock is mentioned in this article.