Executive Summary
On Thursday, February 18th, Cabela's (NYSE:CAB) reported earnings for 4Q15. In the quarter, total revenue increased 10.5% y/y to $1.408B. Retail store revenue increased 14.3% y/y to $926.5M and Direct revenue increased 0.5% to $351.5M. Financial Services revenue increased 15.7% y/y to $131.1M.
For the quarter, Cabela's adjusted net income increased 9.5% y/y to $86.8M vs. $79.3M in the year ago quarter, and adjusted earnings per diluted share were $1.26 compared to $1.11 in the year ago quarter. Cabela's reported GAAP net income of $78.8M and earnings per diluted share of $1.14 vs. GAAP net income of $78.6 million and earnings per diluted share of $1.10 in 4Q14. The Wall Street consensus was for $1.22 of adjusted earnings per share with revenue of $1.365B. Forward View was forecasting $1.19 of adjusted earnings per share on revenue of $1.346B.
Guidance: "For full-year 2016, we expect a high-single-digit growth rate in revenue and a high-single-digit or low-double-digit growth rate in earnings per diluted share." - CEO Thomas L. Millner
Best News
Strength in the firearms and ammunition category continued for Cabela's. This is a core Cabela's market, and we're pleased to see consumers still buying their guns and bullets from the company. Other analysts had predicted softness in firearms sales once the mad rush of 2013 and early 2014 faded, but Cabela's had positive comps in weapons and ammunition for 4Q15. The softness in apparel that Cabela's reported is likely to have been weather-related as a warm beginning to the winter for much of the U.S. dampened demand for clothing made for frigid temperatures. This weakness in apparel sales should thus be temporary and transitory. We're not worried about that at all. Cabela's efforts to reduce SG&A expenditures are already beginning to show success, with expense leverage of 130 basis points in 4Q15.
Worst News
Although not surprising to us, Cabela's didn't discuss the company's strategic review process at all on the 4Q15 earnings call. To quote CEO Thomas L. Millner:
"I would like to begin by reminding everyone that we issued a press release in December announcing that our board had initiated a process to explore strategic alternatives. That process has continued and is ongoing. I hope you can appreciate that we will have no further comments related to the review unless further disclosure is appropriate or required. The purpose of today's call is to discuss our fourth quarter performance and we ask that you keep your questions focused on the results."
Okay then! We didn't expect to hear juicy boardroom details, but a vague discussion of the ongoing review wouldn't be out of the ordinary for companies in this situation. Every analyst on the earnings call probably had a list of probing questions that were left unused, but the management team's job is to protect the company's business, not satisfy the research community. While we would have loved an update on the strategic review, this "bad news" was anticipated.
Y/Y, consolidated comparable store sales were down 4.9% and U.S. comparable store sales were down 3.5%. That's not good news at all, especially with American consumer spending quite strong during the holiday season. Direct revenue actually increased 0.5% y/y in 4Q15, but that was including the 53rd week. Direct revenue fell 4.3% excluding the 53rd week. In the typically strong Finance business unit, greater than 30-day delinquencies were 0.82% as compared to 0.68% a year ago, greater than 60-day delinquencies were 0.51% as compared to 0.41% a year ago and greater than 90-day delinquencies were 0.26% as compared to 0.22% a year ago. Such an increase in bad debt is a peril of the credit card business and forced Cabela's to add a few million dollars to the company's reserve for loan losses.
The Forward View
Forward View is raising our price target to $49 and moving to a Speculative Buy rating on the stock, up from a $47 target price and a Hold rating. Our valuation model now sets a $35 estimate of the intrinsic value per share of Cabela's stock, and that's actually a $1 reduction from our last report. Nothing in the 4Q15 earnings call makes us more excited about the company's near-term business opportunities. Instead, the reasons for our increased bullishness on the stock are twofold:
Anecdotal evidence, such as Cabela's sudden focus on cost-cutting and the decision by Chairman Jim Cabela to shift all of his shares in the company to a tax-free charitable trust, suggests that a sale of the business is likely.
The sheer lack of discussion of Cabela's strategic review on the conference call is indicative of a management team trying to avoid any discussion of ongoing (and positive) sale negotiations.
We now put the probability of a deal to sell Cabela's to a private equity firm at 70%, up from 60%. Our forecast sale price is $55 a share, so our target price is a weighted average of the probabilities: a 30% chance of no deal with the stock dropping to our $35 intrinsic value per share AND a 70% chance of the business selling for $55 a share.
We believe that a private equity firm would reap value from the company's real estate portfolio, even by closing a few underperforming stores and using the real estate for other purposes, while also boosting the efficiency of the e-commerce business. Cabela's Direct operating segment has been generating lackluster revenue for over a year, but there's no "excuse" for the company's online channel to be struggling. We think Cabela's would benefit from a new social media marketing strategy and a refreshed website with an associated app. The charts below demonstrate weak growth in website traffic and Facebook likes:


(Social media and website traffic data courtesy of Thinknum)
The kind of changes suggested above are exactly the efforts a retail-savvy private equity firm would pursue after buying Cabela's. Overall, we think an acquisition is more likely now, and we suggest buying Cabela's shares in anticipation of a deal. With the market in a difficult period, look for opportunities to earn profits that don't require upward-trending equity indexes.
Earnings Estimates and Valuation Calculations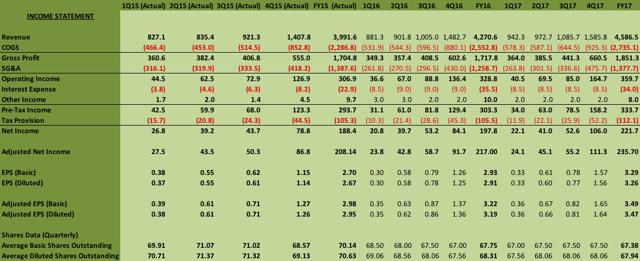 (WACC calculations developed with Finbox.io tools)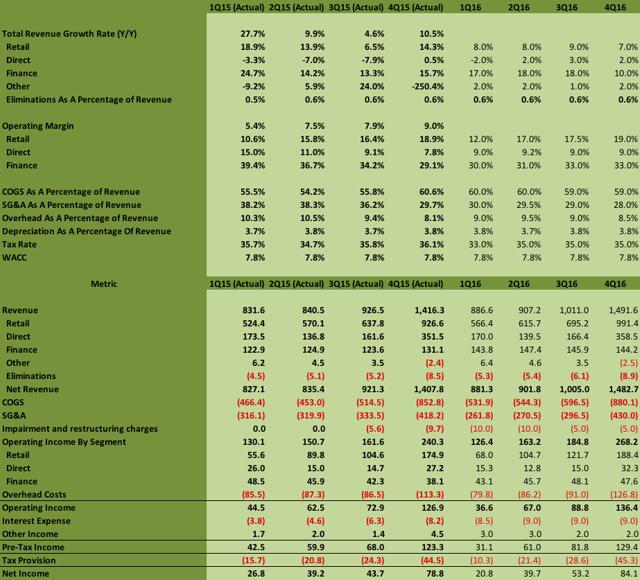 Disclosure: I/we have no positions in any stocks mentioned, and no plans to initiate any positions within the next 72 hours.
I wrote this article myself, and it expresses my own opinions. I am not receiving compensation for it (other than from Seeking Alpha). I have no business relationship with any company whose stock is mentioned in this article.