This is Part 2 of an article I published last Friday entitled: How To Play The Growth In U.S. Oil Exports With Fat Dividends (Part 1).
In my first article, I discussed the following points:
The current excess in oil production in the USA.
Three new possibilities for U.S. oil exporters resulting from the lifting of the ban on U.S. oil exports.
The dynamics playing in favor of U.S. exporters.
The target market destinations for U.S. oil export.
In this article, I will cover the projected increase in U.S. oil exports, who the major beneficiaries will be, and which companies are likely to benefit the most.
How much oil will be exported?
The U.S. exported during 2015 on average around 440 thousand barrels per day, according to the latest data from the Energy Information and Administration (EIA). A joint study published by ICF International (NASDAQ:ICFI) and EnSys Energy projects that U.S. crude oil exports are expected to reach approximately 1.8 million bpd by 2017, a 300% increase from 2015 levels. Meanwhile, the U.S. is expected to import a similar amount of medium and heavy crudes over the same time period, essentially swapping the light crude for heavy. By 2020, the same study projects an additional 0.5 million barrel per day in exports, putting total U.S. exports at around 2.3 million barrel per day, a 500% increase from 2015 levels. By the year 2020, the U.S. will become the 4th largest oil exporter, behind Saudi Arabia, Russia and the United Arab Emirates. The results of the above findings were similar to another study conducted by the Energy Information and Administration (EIA), the top U.S. energy watchdog, in which it projects that U.S. exports will continue increasing after the year 2020 to reach 3.6 million barrels of crude oil per day in 2025. The following is a chart depicting U.S. oil exports based on projections by the EIA, ICF International, and EnSys Energy.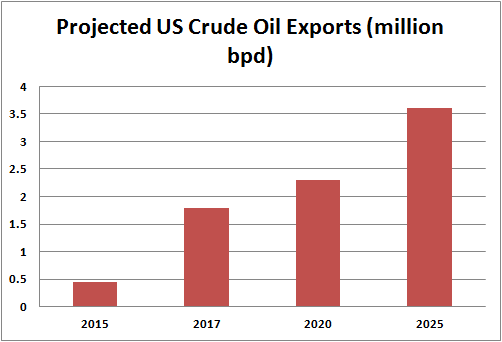 The major beneficiaries
1- Midstream Oil Sectors: This sector will benefit the most from increased U.S. oil exports as more crude oil volumes will run through its pipelines. In order to export oil, producers have to drill more, meaning more gathering lines, storage tanks, processing facilities, and long-haul pipelines. Increasing the need for the build-out of infrastructure is obviously highly beneficial for MLPs, a story that is currently playing out with natural gas as the U.S. is beginning to export LNG. In addition, since many petroleum midstream businesses operate on a price-times-volume revenue model, increased volumes could also benefit existing assets. The incremental costs to run on existing pipelines will be minimal as most of the pipelines are already there. The maintenance cost of these pipelines represents only a small fraction of revenues. Furthermore, new oil exports will generate new investment opportunities for the sector.
While it is difficult to quantify the effect of new oil exports on the volumes of the midstream pipelines, we can reach an approximate figure using a simplistic approach. Based on the above projections, U.S. oil production related to oil export will increase by 14% in 2017, and theoretically should result in around the same percentage increase in volumes flowing through midstream companies' pipelines. Currently, it is estimated that 9.3 billion barrels are being transported and delivered by midstream oil companies through their pipelines every year. The same exercise can be done for the years 2020 and 2025. The following is a table summarizing the impact on volumes transported by midstream companies which I compiled based on rough estimates.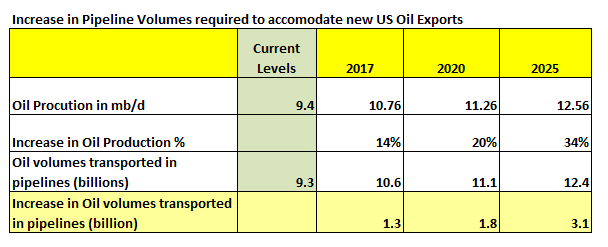 Based on the above, midstream companies will have to transport and deliver an additional 1.3 billion barrel in 2017 and 1.8 billion barrel in 2020. midstream companies will get a boost in volumes transported by 14% in 2017 and by 20% in 2020. Although these numbers do not look big, the impact on the bottom line will be enormous, since a large part of the new oil exported will flow through existing pipelines at minimal extra cost and a significant portion of the new revenues generated will translate into pure profits for these companies. It is also estimated that midstream companies' incremental near-term midstream capital expenditures would total $1.9 billion to $4.5b billion, representing new investment and growth opportunities.
2- Crude Tanker Companies: Since almost all the new oil exports will be transported using oil tankers, these companies will get a large boost in volumes. Already, this industry has benefitted tremendously from declining crude oil prices which have bolstered global oil demand and oil transports around the globe. Crude tankers' profits rely mostly on volumes transported, and are less impacted by the price of crude oil. Operators of smaller tankers are likely to benefit the most because most of the U.S. ports are not well equipped to receive large tankers for oil export. Furthermore, oil tankers will benefit from the expansion of the Panama Canal, scheduled to be completed in June 2016, which will facilitate trade movements between the Atlantic and the Pacific, and increase U.S. exports to Europe and Asia in volumes, which would otherwise not be possible.
3- Oil Producers: The final beneficiaries will be oil drillers and producers who will see their revenues grow; however, profitability is highly linked to the price of crude oil, which is currently at a very low level. Therefore, in the short term, impact on profitability is likely to be small, but as crude prices improve, they will also be clear winners.
This is great news for high-dividend seekers with an investment horizon of 2 years or more, as many of the companies in the industries listed above pay some handsome dividends. Let us have a look at the companies most poised to profit from a boost in U.S. oil exports and the dividends/distributions that they currently yield.
Companies likely to benefit the most
Midstream Sector: The biggest beneficiaries by far from free trade for U.S. crude oil will be midstream MLPs with asset footprints along the Gulf Coast and terminals services for oil export, many of which have already taken initiative to bank on this new lucrative business.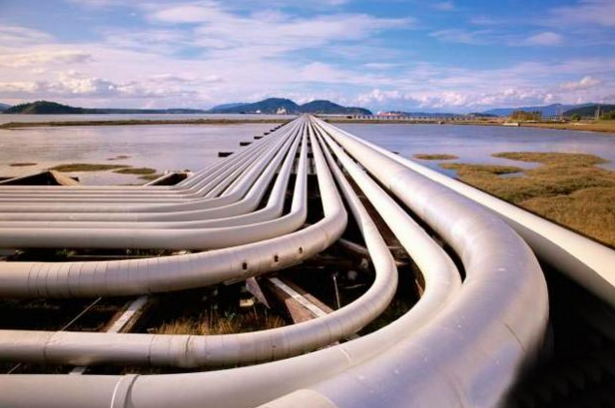 Enterprise Products Partners- EPD pipeline in Eagle Ford, Photo from livemint.com
The following companies, in my opinion, are well positioned to benefit from the growth in crude oil exports:
Tanker Sector
As the U.S. is expected to become the fourth largest oil exporter in the world, U.S. crude exports will result in the development of new trade routes to Europe, Africa and South America. The lift of the export ban is expected to have a huge impact on the oil tanker demand. Since many U.S. ports are not well equipped to export oil, operators of smaller vessels like Aframax and Suezmax are likely to benefit the most in the short run. The following are companies who own the right type of vessels to benefit immediately from the U.S. oil exports in the short term:
Upstream Sector
ConocoPhillips (NYSE:COP) is the world's largest independent exploration and production company based on proven reserves and production of liquids and natural gas. The company has been one of the leaders in persuading the public and the government that exporting American oil makes sense even as the nation continues to buy supplies from abroad. The company sees big profits for its operations through new oil exports. The company currently has a dividend yield of 3%.
In order to narrow down the list, I assessed the companies based on the following criteria:
Low leverage ratio: Currently, one of the biggest strains on earnings in the energy sector is the cost of financing. The cost of financing in the energy business tends to be high and has a high correlation to lower oil prices. So the lower the leverage, the better. I have removed from the above list companies with a high debt-to-equity ratio compared to their current profitability, thus excluding companies who may be experiencing a strain due to a high cost of financing.
Dividend safety: The standard "dividend payout" ratio can be misleading here because most of the companies above are capital intensive. Therefore, I backed out depreciation and non-cash items, and removed companies paying dividends more than they can afford.
Return-on-equity ratio (ROE): I excluded from the list all companies with an ROE ratio lower than 5%. By using this ratio, I am removing all companies who have recently reported negative earnings and those who are not operating efficiently.
Dividends yield: Since the objective is to benefit from exceptional dividends, I excluded companies with dividends lower than 4%.
Top 5 Picks
My list of the top 5 picks: Nustar Energy, Teekay Tankers, Buckeye Partners, Enterprise Product Partners, and Tsakos Navigation.
Below is a table listing these stocks with some additional valuation metrics (data from YCharts and Morningstar).

Notes
In my opinion, all of the above 5 companies are great plays to benefit from the expected growth in the U.S. oil export market.
Despite the fact that NuStar Energy has reported good results and seems to be able to afford its high debt ratio, I view NuStar Energy to be a "high-risk, high-return" play as its debt/equity stands at 1.9. The other 4 are more suited for a conservative high-yield investment.
Join us at High Dividend Opportunities in our journey to uncover high-dividend stocks trading at bargain prices, and benefit in advance from live alerts to pick them up.
The following are the 3 Buy Alerts sent to our subscribers in February, achieving an average capital gain so far of 29.6% and capturing an average dividend of 17%:

Note: While our objective is not to make quick profits, it is to identify and hold dividend securities with a good upside potential in the medium and long run.
High Dividend Opportunities is dedicated to bring you the most profitable and newest high-dividend ideas. For more info, please click here.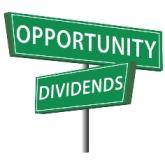 Disclosure: I/we have no positions in any stocks mentioned, but may initiate a long position in THE 5 TOP PICK over the next 72 hours.
I wrote this article myself, and it expresses my own opinions. I am not receiving compensation for it. I have no business relationship with any company whose stock is mentioned in this article.
Editor's Note: This article covers one or more stocks trading at less than $1 per share and/or with less than a $100 million market cap. Please be aware of the risks associated with these stocks.