General Electric Company (NYSE:GE) is a $300 billion industrial behemoth that has roots dating back to 1889. The company has paid dividends every quarter for over 100 years and up until 2009 was a member of the elite group of stocks known as the dividend aristocrats. After the cut of the dividend in 2009, GE broke their streak of 71 consecutive years of annual dividend raises.
General Electric's Dividend
In April of 2015, I wrote an article discussing my displeasure with General Electric's planned freeze of the dividend through 2016. The article, available here, discusses the letdown investors (at least I did) felt regarding the lack of a dividend raise. While I fully understand the magnitude of the events happening in 2009 and the need to cut the dividend, I am not so sure I feel the same about the lack of a dividend raise in 2016, breaking the new streak of 6 years.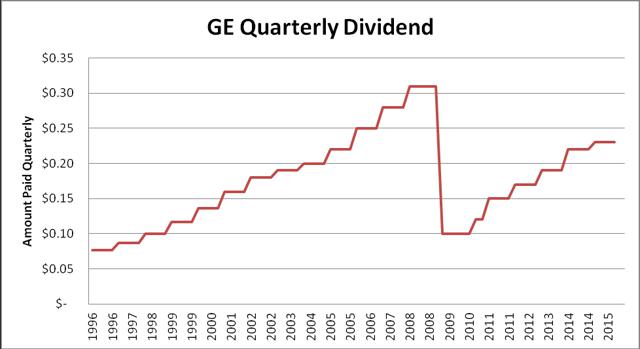 Source: Dividend history from GE's website, chart created by author
One item I highlighted in the article was the company tying CEO Jeff Immelt's pay package to certain benchmarks. As the CEO should be rewarding himself and fellow upper level managers at the same rate as shareholders, I wanted to take a look at Immelt's pay over the last several years and see how it tracked with the dividend.
| | |
| --- | --- |
| Year | Comp (in mil) |
| 2007 | $14.2 |
| 2008 | $5.7 |
| 2009 | $5.5 |
| 2010 | $15.2 |
| 2011 | $11.4 |
| 2012 | $20.6 |
| 2013 | $25.8 |
| 2014 | $18.8 |
While Immelt took a pay cut in 2008 and 2009, he rapidly regained his pre-recession compensation levels in 2010, while the company's stock and dividend have yet to return to pre-recession levels. The values above do not include gains Immelt recorded in his personal pension.
While 2015 was a solid year for GE's stock, up about 24% for the year, plus a nearly 4% yield, the company has a ways to go before long-term shareholders will see returns similar to the CEO's returns. Following the financial crisis in 2008/2009, GE has been laser focused on reducing their exposure to GE Capital.
Transition away from GE Capital
GE's management has taken steps to focus the company on their industrial roots, which should reduce the risk associated with GE Capital. As GE Capital nearly bankrupted the company and led to the dividend cut in 2009, this seems like an appealing transition. As you can see in the following graphs, GE succeeded in 2015 by reducing their dependence on GE Capital. Revenue has decreased from $42.7 billion in 2014 $10.8 billion in 2015. GE's target for GE Capital was around 10% of total revenue, and based on the revenue figures, the company succeeded as GE Capital is making up about 9% of the overall revenue.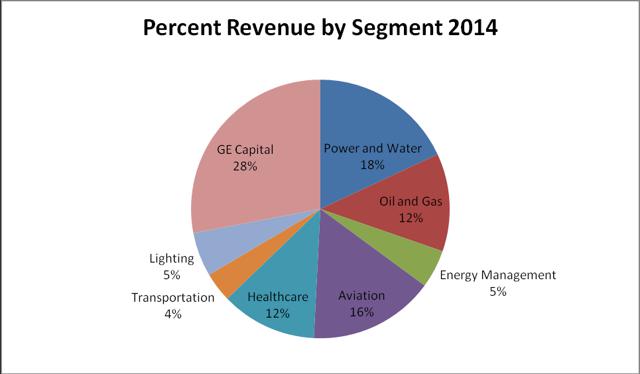 Source: Data from GE's 2104 fourth quarter report, chart created by author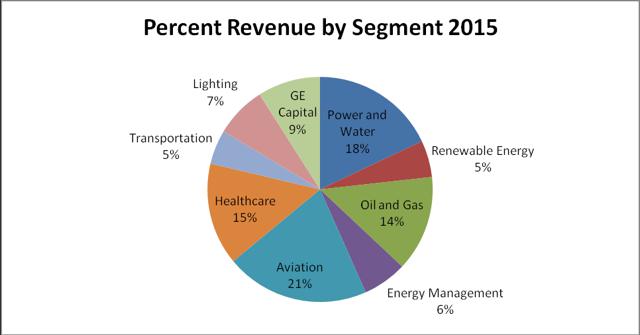 Source: GE's Fourth Quarter 2015 Report, chart created by author
In the process of selling off the various portions of the GE Capital portfolio, GE generated a significant cash hoard. GE plans to buy back a significant portion of stock along with completing bolt-on acquisitions to further bolster their industrial businesses. Shareholders are going to continue being disgruntled while Immelt's compensation package has returned to pre-recession levels and the company's dividend and share price have not.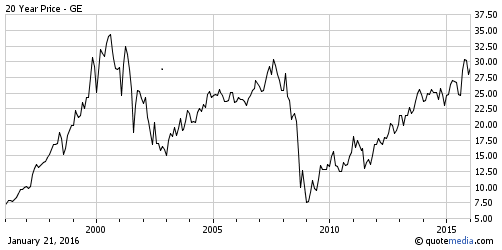 Source: GE Website 20-Year Chart
Covered Call Strategy for GE
As I continue to have a desire to increase my personal dividend from GE to pre-recession levels, I have turned to a covered call strategy. As one can see by my disclosure at the end of the April 2015 article, I was long GE while writing covered calls against my position. In addition, I continue to feel GE is fully valued based on earnings expectations being generally flat for 2016 as the company establishes a new baseline post GE Capital reductions. With GE, I prefer longer-term (6+ months) covered calls to allow me to continue collecting the dividend without dealing with the week to week share price fluctuations. Below is a table of several longer-term covered calls that I am considering at current levels.
| | | | | | | |
| --- | --- | --- | --- | --- | --- | --- |
| Month/Year | Strike Price | Dividend | Option Premium | Premium Yield | Total Return | Annual Return |
| 9/16/2016 | $31.00 | $46 | $85 | 2.93% | 11.40% | 19.50% |
| 9/16/2016 | $32.00 | $46 | $57 | 1.97% | 13.90% | 23.82% |
| 10/21/2016 | $31.00 | $69 | $100 | 3.45% | 12.70% | 19.05% |
| 10/21/2016 | $32.00 | $69 | $70 | 2.41% | 15.14% | 22.71% |
| 1/20/2017 | $32.00 | $92 | $90 | 3.10% | 16.62% | 18.13% |
| 1/20/2017 | $35.00 | $92 | $35 | 1.21% | 25.06% | 27.34% |
The values in the table are based on the 100 share option contract with values as of 2/21/16 when the stock price was at $29/share. The total return and annual return are calculated based on if the shares are called away. If the shares are not called away, the additional income would strictly be the premium yield from the option transaction. As you can see, the option premium in addition to the current GE dividend of $0.23/quarter easily overtakes the previous high of $0.31/quarter dividend prior to the 2009 dividend cut.
Take Home Message
Many long-term shareholders of GE continue to be frustrated with the company's inability to return the dividend to pre-recession levels, while the CEO's compensation has returned to pre-recession levels. I feel the company is fully valued at current levels and is the perfect stock to look at long-term (6+ months) covered calls as a method to generate additional income and mimic the dividend increase that did not occur in 2016.
Disclosure: I am/we are long GE.
I wrote this article myself, and it expresses my own opinions. I am not receiving compensation for it (other than from Seeking Alpha). I have no business relationship with any company whose stock is mentioned in this article.
Additional disclosure: This analysis offers up opinions of the author and are not recommendations to either buy or sell any security. Options carry additional risks, please remember to do your own research prior to making any investment decisions.