On Thursday last week, Yamana Gold (NYSE:AUY) released mixed fourth-quarter results. The company's revenue for the quarter fell close to 15% on a year-over-year basis, driven by the weakness in gold prices in the fourth quarter. However, Yamana posted a smaller-than-expected loss of $0.01 per share while Wall Street was expecting a loss of $0.02 per share.
But, Yamana's revenue of $463 million fell short of analyst estimates by almost $10 million as the drop in gold prices negatively impacted the company's top line by $70 million as compared to the prior-year period. However, despite this weakness in Yamana's top line, there are a number of factors that indicate that Yamana is making operational improvements, while the pick-up in gold prices this year will be another tailwind.
In my opinion, it will be a good idea to remain invested in Yamana Gold as the stock is slated to deliver more upside after gaining over 40% on the stock market this year. Let's see why.
Operational improvements are leading to margin growth
As discussed above, Yamana's revenue in the previous quarter took a hit on the back of low gold prices. However, on account of its core mines that carry robust grades, the company was able to improve its gross margin on a year-over-year basis. In fact, Yamana's gross margin grew 50 basis points on a year-over-year basis last quarter even though the average gold price went down over 8%. This is shown in the chart given below: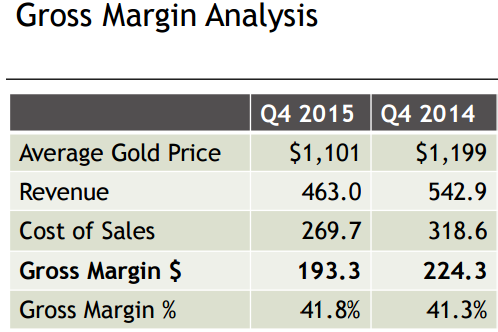 Source: Yamana Gold earnings presentation
Thus, as seen above, Yamana has been able to strengthen its margin profile in an adverse scenario. In fact, if gold prices were constant on a year-over-year basis, Yamana would have posted a gross margin of 49.8%. This strong margin performance is a result of three key factors - an increase in grades, better recovery rates, and higher throughput - that have allowed the company to achieve impressive cost reductions.
For instance, at Chapada, Yamana was able to increase production by 11% in 2015 as compared to last year, but it reduced costs by 20% at the same time. This was driven by an 18% improvement in grades. Similarly, Jacobina delivered a 28% increase in production along with a 27% drop in costs, driven by a 22% increase in grades.
Going forward, this trend of increased production at lower costs is slated to continue as Yamana is gradually moving into areas where it is encountering higher grades. For instance, at the Canavieiras and Bonanza areas, Yamana is at the edge of the high-grade zone. Thus, as Yamana continues to drill deeper into the high-grade zone, it will be able to mine more gold ore and reduce waste tonnage, which will enable it to reduce costs. As a result, it is not surprising to see that Yamana expects to lower its cost profile further this year, as shown in the chart below: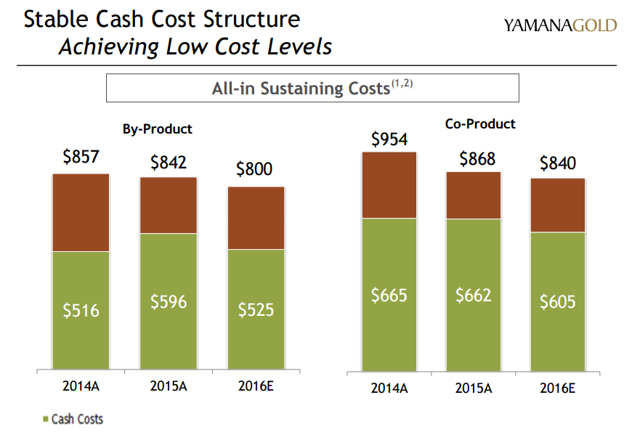 Source: Yamana Gold earnings presentation
Now, as Yamana's costs decline further, the company will be able to record further improvements in the gross margin. But, lower costs will not be the only reason why Yamana will be able to grow its margins, as the recent improvement in gold prices will be another key growth driver for the company.
Better gold prices will drive Yamana higher
As shown in the first image in the article, Yamana's average gold price in the fourth quarter was $1,101 an ounce. However, so far this year, gold prices have made an impressive recovery on the stock market and currently trade at more than $1,220 an ounce. This means that the current level of gold price is almost 11% higher than what Yamana had witnessed in the previous quarter.
Now, looking ahead, I believe that the rally in gold prices will continue due to two factors - increasing demand and lower supply, and volatility in global equity markets. A closer look at the gold market indicates that the dynamics of the yellow metal are improving. In the fourth quarter last year, demand was up 4% from last year to 1117.7 tons, which was the highest in ten quarters. Concurrently, mine production was up just 1% on an annual basis, the slowest in seven years as supply dropped 4%.
Looking ahead, it is likely that mine production will drop further as 2015 was the peak year of gold production. This is because a typical gold discovery takes around 20 years to develop, and 1995 was the year when most gold discoveries took place. Post that, gold discoveries have been declining, and so has gold production. This is shown below: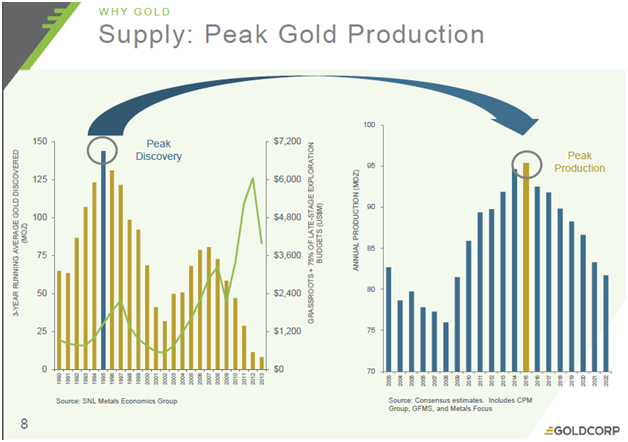 Source: Goldcorp
Thus, it is evident that the production and supply of gold will continue to drop, but at the same time, investment-related buying and central banks are propping up demand. More specifically, last year, demand was driven by a 6% increase in gold buying in India, a 3% increase in China, and a 6% increase in the U.S.
Going forward, I believe that demand will continue to improve as the volatility in the equity markets has increased this year. In fact, ETF Securities' Gold Bullion Securities index fund that tracks gold saw an inflow of 239 million British pounds on February 9, which was the highest in seven years. All in all, the net long position in gold has shot up dramatically so far this year as traders are now more bullish about the yellow metal. This is shown in the table given below:
Thus, on the back of better demand and lower supply, the price of gold will strengthen further going forward and this will enable Yamana Gold to improve its financial performance.
Conclusion
Yamana Gold has delivered impressive gains on the stock market this year, and it is likely that the company will be able to sustain this trend going forward in light of the points discussed above. Hence, even though Yamana's top line performance last quarter was not up to the mark, I believe that investors should continue holding the stock as it can deliver more upside going forward.
Disclosure: I/we have no positions in any stocks mentioned, and no plans to initiate any positions within the next 72 hours.
I wrote this article myself, and it expresses my own opinions. I am not receiving compensation for it (other than from Seeking Alpha). I have no business relationship with any company whose stock is mentioned in this article.