There have been wild swings in copper prices this year and Freeport-McMoRan (NYSE:FCX) has taken full advantage of this. Even if there is a sniff of good news in the copper market, Freeport shares start rising impressively, even if the 'good news' might not last for long and bring an end to Freeport's rally.
For instance, as shown in the chart below, copper prices have recovered in the past week after a steep decline from the beginning of February.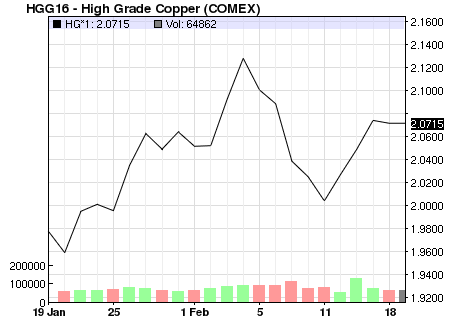 This recent resurgence in copper prices is a result of Chinese loan data, which is not concrete enough to drive an improvement in pricing. According to a press release:
"Copper futures rose Tuesday after Chinese new-loans data triggered hopes of greater demand from the world's biggest metal consumer. This was "probably due to the looser monetary policy" by the People's Bank of China, said Daniel Briesemann, a commodities analyst at Commerzbank AG.

"Nevertheless, if this leads to solid or even higher demand for commodities in general and base metals in particular, then this should also lead to higher metals prices," he said."
However, there are too many ifs and buts over here as copper prices have increased of late in the absence of any fundamental improvement in the market. This means that Freeport's stock price gain of over 43% in the past week is driven by nothing more than speculation. Looking ahead, I won't be surprised if this rally in copper prices comes to an end and brings down Freeport-McMoRan shares as well.
Moreover, a part of this rise has been driven by Freeport's decision of selling a 13% stake in the Morenci mine for $1 billion, which it will use to reduce the debt. Even this is a bad move on Freeport's part as we will shortly discover, but before that, we should take a look at why the rally in copper prices is about to come to an end once again.
Copper prices are not being driven by fundamentals
As mentioned above, copper prices have increased due to speculative reasons of late and not due to fundamental improvements. In my opinion, it is not a good idea to expect a loose monetary policy and new loans to impact the commodity market so soon. In fact, if we look beyond the loan data, we can see that demand from China, which consumes 45% of global copper, is slowing down.
This year, it is estimated that China's copper demand will increase just 2%, which is the slowest rate in the past 18 years. Additionally, Chinese smelters have decided to reduce copper sales by 200,000 metric tons in the first quarter of 2016, which indicates pessimistic sentiment about copper demand in China this year.
This is not surprising as slower economic growth in China is affecting sectors such as construction and housing, which are key users of copper since the metal is used for applications such as plumbing, wiring, etc. In fact, an oversupply in the Chinese construction market will negatively impact the country's copper consumption this year, especially because 60% of global copper consumption is accounted by the real estate market.
For instance, according to the IMF, China's unsold property stretches to more than a billion square meters, which is why it is not surprising to see that "the floor space of residential buildings started in the year amounted to 1.06 billion square meters, down by 14.6 percent." Hence, a decline in construction in China will hurt the copper market and lead to a drop in demand, therefore leading to weakness in copper pricing.
Freeport's Morenci deal might not be a good idea
When Freeport had released its latest results last month, it was confident of achieving an impressive EBITDA performance this year. This is shown in the chart below: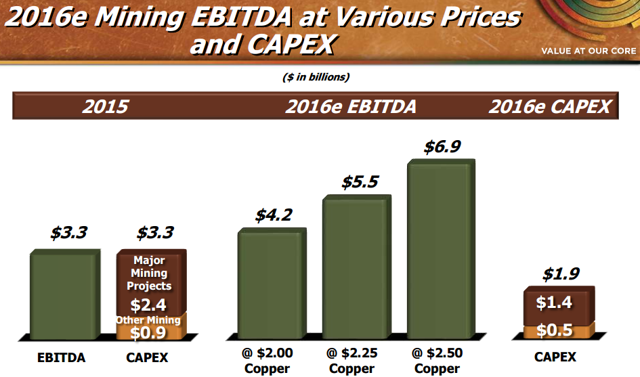 Source: Freeport-McMoRan
Now, as we can see above, Freeport's positive EBITDA outlook from the mining segment is based on the company's forecast of a $2 per pound copper price in 2016. Now, as seen above, copper might find it difficult to hold a $2 per pound price considering the declining demand for the metal in a key market such as China. Additionally, Freeport's positive EBITDA performance is also driven by the company's high-grade mines, one of which is Morenci in Arizona.
Morenci is the largest copper mine in North America with copper reserves of 34 billion pounds. In fact, it is one the most important copper mines of Freeport, not just because of its impressive reserve profile, but also due to higher grades and lower costs. One of the key reasons behind Freeport's increase in copper sales last quarter was an increase in ore grades at Morenci. Additionally, Freeport recently completed an expansion at this mine that increased capacity by 130%, while lowering costs at the same time.
Now, since Freeport has reduced its stake in the mine by another 13% (it held 85% stake before the divestment), its production profile will take a hit as the contribution of production from a high-margin mine will drop. This will have a negative impact on the company's cash flow and margins.
Conclusion
Given the points discussed above, I won't be surprised if Freeport's rally doesn't last long. The dynamics of the copper market will worsen, while Freeport will see a slight decline in its production profile on the back of lower contribution from Morenci. Hence, it will be a good idea to stay away from Freeport-McMoRan since its rally isn't being driven by fundamentals.
Disclosure: I/we have no positions in any stocks mentioned, and no plans to initiate any positions within the next 72 hours.
I wrote this article myself, and it expresses my own opinions. I am not receiving compensation for it (other than from Seeking Alpha). I have no business relationship with any company whose stock is mentioned in this article.