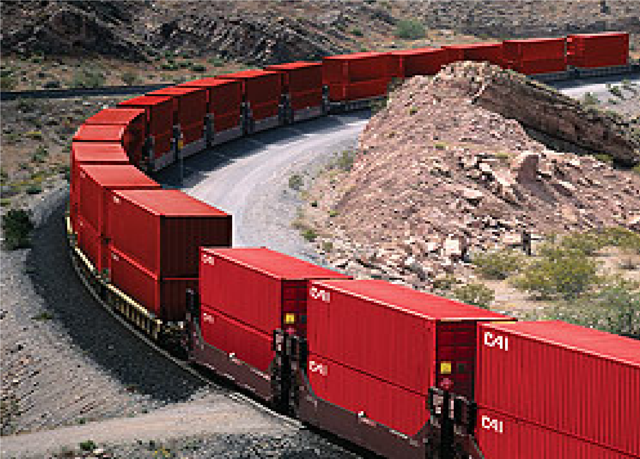 CAI International (NYSE:CAI) previously had a relatively simple business model - it leased shipping containers. "Previously" is the key word. Throughout 2015, the company undertook a diversification of its business. And, now, CAI is a transportation finance and logistics provider. Yes, it still leases shipping containers. And, yes, that business is operating at a snail's pace rather than a thoroughbred. But, it also now leases railcars and offers logistics services - meaning the service of delivering better utilization and better positioning of inventory. Unfortunately, it seems CAI's progress in diversifying its revenue streams has gone all but unnoticed by the market.
The 2015 third quarter was the 23rd consecutive quarter of lease revenue growth - even without the typical, seasonal build of shipping container leases. Lease revenue for shipping containers and railcars in the quarter was $57.5 million. In the third quarter earnings call, CAI estimated full-year revenue at $249 million. After nine months, year-to-date revenue totaled $184 million. Simple math shows CAI expected fourth quarter revenue of $65 million. The remaining question was, of that amount, how much would be generated from leasing-related activity. Interestingly, the answer may be a moot point. If the company were to achieve another quarter of lease revenue growth and push the count to 24, that would be a laudable achievement, considering the industry weakness. On the other hand, if the company trips over its record, it would simply demonstrate CAI's diversification is proving effective.
CAI International reported fourth quarter and full-year revenue on February 16, 2016. Total revenue in the quarter was $65.7 million, exceeding CAI's guidance. It did, however, miss analysts' average estimate of $68.4 million. Lease revenue for container leasing and railcar leasing was $56.6 million which means CAI's track record of consecutive quarters of lease revenue growth ended at 23. And, yet, that certainly did not mean CAI's diversification efforts were not proving effective.
In the third quarter, it was CAI's growth in railcar leasing that sustained the track record. Alas, the same did not carry forward in to the fourth quarter. The following chart depicts the growth in railcar leasing as compared to the slowdown in container leasing. The chart also displays the five months of progress from CAI's acquisition of ClearPointt, a domestic intermodal logistics company.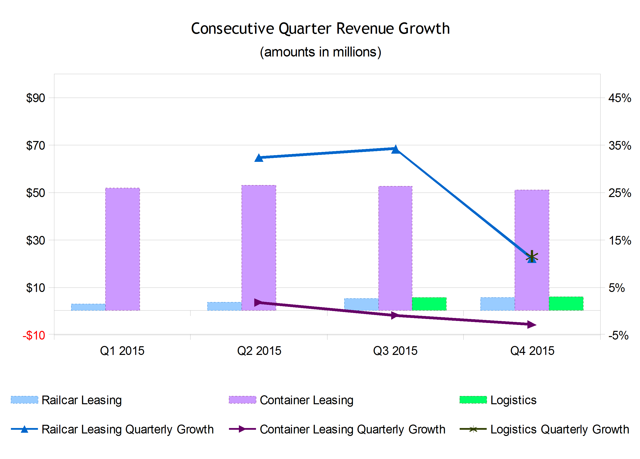 Source: Author-created from company data

Though the fourth quarter did not exhibit the same rate of growth as experienced earlier in 2015, it most certainly does not mean CAI's growth from railcar leasing is decelerating. CAI's inventory build of railcars in 2015 was 116% year over year. However, railcar leasing revenue increased 69% year over year. While the two pieces of data may be disproportionate, it is relevant that 42% of the build in the railcar fleet occurred in the fourth quarter. This means CAI has not yet reaped the benefit of those purchases. The next chart compares the inventory build by quarter to the leasing revenue generated in the subsequent quarter. The chart includes a projection through 2016 based on the projected purchase commitments. On July 1, 2015, CAI announced a commitment to 2,000 newly-manufactured rail cars to be delivered between the 2016 second quarter and 2018. In the fourth quarter, the company agreed to a 300 railcar purchase that will be delivered during the 2016 second and third quarters. In the fourth quarter earnings call, CAI shared it expects its investment for railcars in 2016 will total just under $140 million. The 2016 projection is based on the company's historic 98% utilization rate. As shown, even though the inventory build in 2016 is not likely to double as it did in 2015, leasing revenue should come close to doubling based on the two-year build.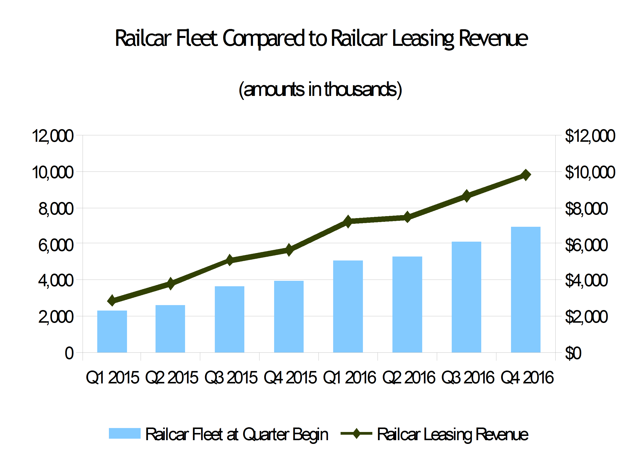 Source: Author-created from company data
The second diversification effort into logistics should also deliver significant growth in 2016. The ClearPointt acquisition will not only contribute a full year of revenue but integration synergies should begin to materialize. CAI expects to add customers, better utilize its container inventory and strategically position inventory into higher-demand markets. In the fourth quarter, CAI acquired New Jersey-based Challenger Overseas.
"We are excited about this acquisition because Challenger complements and extends our logistics strategy and capabilities by bringing together an existing customer base that is shipping product internationally, has over 20 years of commercial relationships with the major shipping lines and a world-wide freight forwarding custom clearance and NVOCC (non-vessel operating common carrier) agency network."
CAI's run rate for logistics revenue based on the fourth quarter is $24 million. Yet, in 2014, ClearPointt generated $32 million. Challenger's annual revenue was approximately $9 million. Benefit from integration and synergies should drive the contribution higher.
CAI's shipping container leasing side of the business is still facing a challenging downturn. In 2016, 13% of the company's long-term leases expire. Long-term leases represent 72% of CAI's leases. Though it is unlikely, a comparable impact to the container leasing revenue would result in a full-year total nearing $190 million. CAI is cautiously optimistic.
"We are anticipating some improvement in utilization as we approach the traditional seasonal upturn around May."
Utilization at the end of 2015 slipped 300 basis points compared to year-end 2014. The next table uses the fourth quarter container leasing revenue of $51 million to estimate 2016. The data assumes a worst-case scenario of no improvement in utilization and incorporates a staggered expiration of long-term leases.
| | | | | | | |
| --- | --- | --- | --- | --- | --- | --- |
| | Q4 2015 | Long-Term Lease Percentage @ 72% | Lease Expiration Percentage | Adjusted Long-Term Leases | Other Leases @ 28% | Quarterly Estimate |
| Q1 2016 | $51M | $36.7M | 3.25% | $35.5M | $14.3M | $49.8M |
| Q2 2016 | $51M | $36.7M | 6.50% | $34.3M | $14.3M | $48.6M |
| Q3 2016 | $51M | $36.7M | 9.75% | $33.1M | $14.3M | $47.4M |
| Q4 2016 | $51M | $36.7M | 13.00% | $31.9M | $14.3M | $46.2M |
The company is not aggressively purchasing new containers. In the fourth quarter, it invested $18 million in container assets. Heading into 2016, it had just $15 million in commitments for specialty containers. It is also pertinent the company elected to record an impairment charge on older assets. These assets are to be sold to eliminate incurring storage costs. The charge, at $24.5 million, was considered a one-off event.
"What I will say is that this was a significant charge for us, and I would not expect that we would have similar charges, but it depends really on where the -- how the market evolves if container prices continue to get -- go lower and our off-leasing equipment continues to increase, we'll have to assess it. But we believe that, this is significant for us."
Using the revenue projections above, CAI's diversification efforts should, minimally, result in high single-digit year-over-year revenue growth. The railcar leasing and logistics services should easily contribute 25% of total revenue in 2016. This more than doubles the 2015 pace of 10.7%.
Yet, CAI, nor any of its peers, are being valued at multiples that exhibit any level of confidence in the leasing industry. Specifically, CAI is valued at less than 4 times analysts' average EPS estimate for 2016. As would be expected in troubled times, mergers in the industry are underway. In November, 2015, Triton and TAL International (NYSE:TAL) announced a "merger of equals." In December, state-owned COSCO and China Shipping announced a merger requested by the Chinese government. As players merge and integrate, some may theorize it could become increasingly difficult for a company the size of CAI to compete. Ironically, CAI actually expects the net effect of purchases and sales to result in its container inventory decreasing in 2016. But, it also expects the M&A activity to cause leasing customers to be wary of granting the whole of their business to a single lessor.
"So, we have the same customers. We have the same cost structure. We actually think that the efforts that we're making in terms of our logistics presence will give us a competitive edge."
CAI's CEO, Victor Garcia, did offer insight on whether the competitive edge is transpiring.
"Our name is out there. We're a recognized player, we continue to see opportunities, we're growing our customer base, we're doing a lot of good things and customers are coming to us and wanting to work with us."
It's also not to be ignored that the railcar leasing segment experienced 98% utilization throughout 2015.
Investors willing to speculate the industry may be nearing a recovery phase are being offered inviting entry prices. For those with more aversion to risk, there are progress points that can be watched in the first half of 2016:
Railcar leasing revenue should grow at least 25% in the first quarter of 2016 when compared to the fourth quarter of 2015.

Logistics revenue should grow at least 33% in the first quarter of 2016 when compared to the fourth quarter of 2015.

A slight uptick in container leasing utilization should appear in the 2016 second quarter if the seasonal upturn materializes in May.
It is pertinent to acknowledge CAI will not pay a dividend during the wait. But, its Board has approved an assertive share repurchase plan. It recently doubled the authorization from one million shares to two million shares. Only 300,000 shares were repurchased leaving the availability to repurchase 1.7 million shares which equates to approximately 8% of the outstanding total.
At year-end 2015, CAI International had lease assets worth $1.75 billion. The book value per share is nearly $23. By year-end 2016, the company's lease assets will have a net positive increase as container inventory decreases minimally and railcar inventory increases significantly. The company has not traded over $20.00 since July 2015. At prices less than $7 per share, the downside risk is far less than the potential rebound.
Disclosure: I/we have no positions in any stocks mentioned, but may initiate a long position in CAI over the next 72 hours.
I wrote this article myself, and it expresses my own opinions. I am not receiving compensation for it (other than from Seeking Alpha). I have no business relationship with any company whose stock is mentioned in this article.