Rio Tinto (NYSE:RIO) has been facing severe pricing pressure over the past few years. Last year was a disastrous time for the company's financial performance and its share price. Metal prices hit bottom in 2015. Iron ore prices fell to multi-year lows, while coal and copper also reached their lowest levels of the past decade. This situation has shaken investors' confidence in mining companies, causing RIO's stock to dip more than 50% in the past eleven months alone.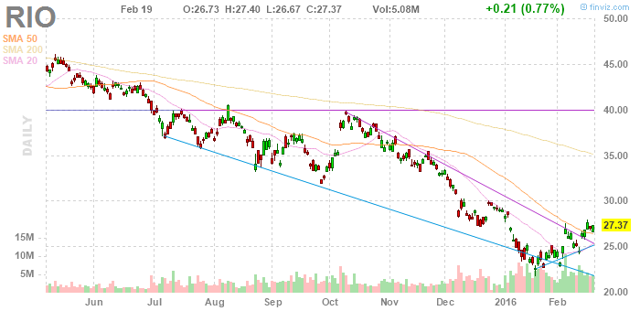 However, its share price has seen some gains after reaching its multi-year low of $22.83 per share on the 25th of January, 2016. Since then, its share price has regained almost 21% of its value, on the back of improvements in iron ore, copper, and platinum prices. In addition to the growing health of its share price, the company is working on a smart strategy that could set up its business model for major profits in the long-run.
The company has suspended half of its dividends for 2016. In addition, it saved more than $1B in 2015 and is anticipating gains from cost savings of almost $2B over the course of the next two years. It is primarily focused on cost-cutting in order to beat slow iron ore prices as well as sluggish performance by other commodities.
Rio has been remarkably successful in the Pilbara. Over the past six months, the company has reduced its C1 costs to $13.80 per tonne. Its aluminum EBITDA margins have shown a 31% expansion over a year ago. RIO is working on further portfolio optimization initiatives and cost reductions. In the last year, its copper and coal business generated over $1 billion of free cash flows, and the company has delivered $1.9 billion in savings in the past three years.
RIO is including each and every business segment in its cost-cutting efforts. Its diamonds and minerals segment reduced its absolute costs by $500 million over the course of fiscal 2014. In addition, the company has been using its cash in a very disciplined way. In the past year, it generated operating cash flows of $9.4 billion. Tight management of working capital generated a further $1.5 billion in cash influx in 2015.
The company has also lowered its capital expenditures by $3.5 billion, showing a total expenditure for the year of $4.7 billion. It is also supporting its cash flows with asset divestments. It is likely to generate $0.8 billion from agreed coal divestments in 2016. I believe the company's disciplined investing strategy, along with a healthy asset portfolio, is laying a solid foundation for future growth. Despite its defensive strategies, the company is not compromising on production. It is now generating greater volumes, yet in a more cost-efficient manner.
Above all, the company's business model is directly correlated with commodity prices, which are now showing signs of improvement. Iron ore prices have gained significant momentum over the last 30 days. Iron ore prices soared to $50 per tonne in the latest trading session, the highest price in the past three months. Other commodities, like copper and aluminum, are also gaining momentum on the back of declining inventories.
In Conclusion
Rio's share price has been soaring over the past few days and I'm anticipating significant upside potential over the long-term. After a significant depression in commodity prices, signs are now improving, thanks to major investment cuts and the suspension of expansion projects by major mining entities. In addition, growing stability in the steel industry is now supporting iron ore prices. RIO is also working on a positive strategy of generating increased volumes by reducing costs. The company is focusing on high-value high-growth assets for long-term success. I suggest investors buy in anticipation of big returns over the coming days.
Disclosure: I/we have no positions in any stocks mentioned, and no plans to initiate any positions within the next 72 hours.
I wrote this article myself, and it expresses my own opinions. I am not receiving compensation for it (other than from Seeking Alpha). I have no business relationship with any company whose stock is mentioned in this article.