Going back to my very first article in Seeking Alpha, I have said that alpha-level results may stem from, "big, developing, scientific, socio-economic, and political patterns and trends that have yet to be reflected in the price of related equities." I call this approach, "strategic investing". Such ideas can arise anytime, anywhere. However, if an investor had only one place to look for them, they could do no better than the World Economic Forum.
The World Economic Forum was established in 1971 by German engineer, economist and visionary Klaus Schwab. It is a non-partisan, public-private, non-profit foundation, "committed to improving the state of the world". The Forum serves its mission by bringing together top leaders - policy-makers, corporate executives, entrepreneurs, academics and others - to influence positive change globally, regionally, and across industry. The Forum's board, executive committee, membership and partners are truly the international Who's Who.
Periodically, the World Economic Forum publishes "Insight Reports" including their "Global Risks 2015" report. By way of background, the Forum defines a global risk as, "an uncertain event or condition that, if it occurs, can cause significant negative impact for several countries or industries within the next 10 years." The data for the report come from a survey of World Economic Forum members. In other words, the published findings rely on a Delphi method drawing on diverse opinions of the best and brightest in the world.
In the very first graphic of their report, the Forum plots the global risks according to two dimensions, impact versus likelihood. As you can see, the risks that rate the highest across both vectors are: a) Water Crises, b) Interstate [geopolitical] Conflicts, c) Failure of Climate / Change Adaptation, d) Unemployment / Underemployment, e) Fiscal Crises, f) Cyber Attacks, g) Asset Bubbles, h) Terrorist Attacks, i) Profound Social Instability, and j) Food Crises.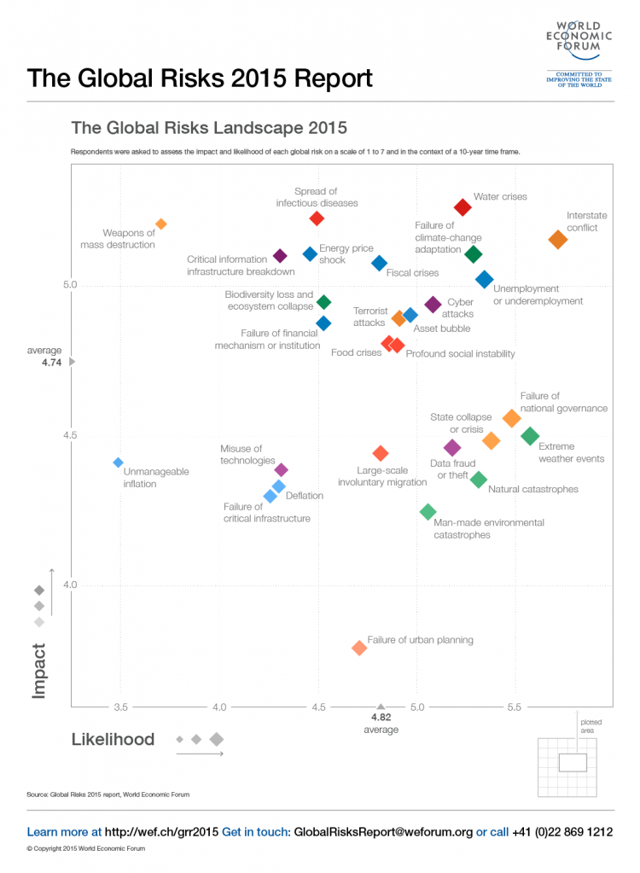 This straightforward analysis can begin to inform your decisions about where to invest. Reflecting my belief that challenges represent opportunities more than they do threats, I used the "Global Risks 2015" report to confirm decisions I had made earlier relying on other sources of information. Specifically:
Executives often begin their annual planning retreats with a presentation / discussion of major environmental factors that are likely to affect their organization, clients, and competitors. Such external information is often critical to what they do internally. It should be no different for individual investors - an approach that begins with an outward focus makes a lot more sense than picking investments by first studying numbers, ratios and so forth. But, as I have said before, this is not to say that fundamental and technical analysis are not also foundational to successful investing.
Disclosure: I am/we are long SZEVY,VEOEY,GSK,MRK,NVS,PFE,SNY,XON,GD,LMT,NOC,RTN,ACN,IBM,GE,BG,INGR, DD.
I wrote this article myself, and it expresses my own opinions. I am not receiving compensation for it. I have no business relationship with any company whose stock is mentioned in this article.
Additional disclosure: As I do, always consult a competent advisor(s) in making your investment decisions. In addition to challenging your assumptions, they can steer you clear of potholes having to do with thinly-trading stocks, foreign tax withholding on dividends, etc.
Editor's Note: This article discusses one or more securities that do not trade on a major U.S. exchange. Please be aware of the risks associated with these stocks.