The worst performing major currency in the world in 2016 happens to be the Russian ruble (or "рубль" as the Russians call it). According to Barchart.com's Forex Year-To-Date Highs/Lows - Major Rates data. It is always a little tricky measuring those performance numbers as the Russian ruble is quoted in rubles per dollar (like the yen) so more rubles per dollar reflects a weaker ruble. Regardless of whether you measure it in rubles per dollar or cents per ruble, it is not a pleasant experience to go from over 3.6 cents per ruble (under 30 rubles per dollar) five years ago to under 1.2 cents (over 85, see chart).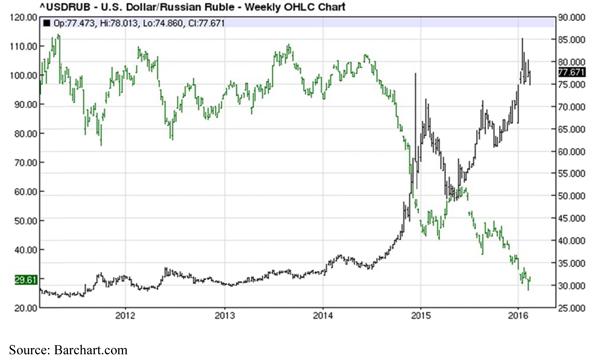 Graphs are for illustrative and discussion purposes only. Please read important disclosures at the end of this commentary.
The trouble with the ruble, as with all commodity- and energy-dependent economies and their currencies, is oil (in green). I described the situation in my Marketmail commentary on August 4, 2015 (see "More Trouble with the Ruble"), including this passage:
Tell me where the oil rout may stop and I will tell you if there is more downside to the Russian ruble and Russia's stock market. If indeed oil is headed under $20/bbl. in due course as the Chinese situation unravels, the ruble may break 100 on the USDRUB cross rate. The Russian dollar-denominated RTS index is at 858 at the close last week. I think it is entirely possible that it ends up in the 400-500 range.
The USDRUB exchange rate was at 58 when those comments were made. On January 21, 2016 the ruble hit 85.09. Given that the dollar-denominated RTS Index was at 858 at the time, where was it on Friday? 725.98 (and we have been as low as 607 on January 21).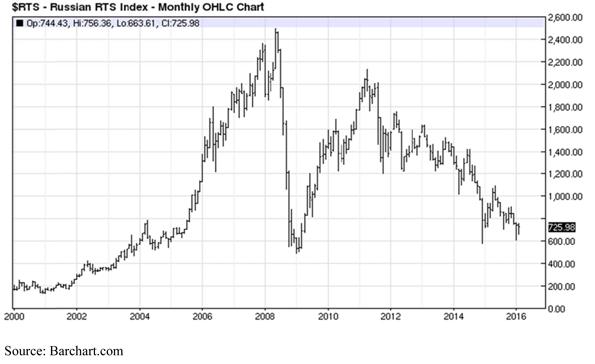 Graphs are for illustrative and discussion purposes only. Please read important disclosures at the end of this commentary.
The outlook for the Russian stock market and the ruble remains bearish. As a matter of principle, I believe one has to short with the bears and run with the bulls, as difficult as that may be. Playing favorites does not work in stocks or bonds and neither does it work in commodities or currencies. Permabears and permabulls have the same faults - being "perma" means being stuck in one position.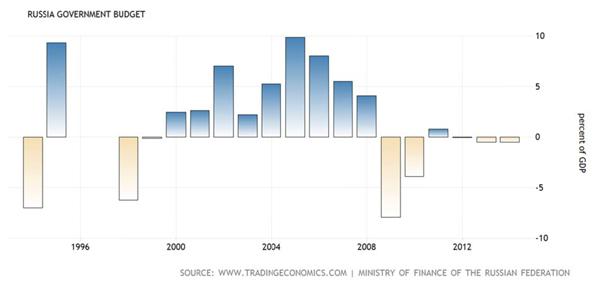 Graphs are for illustrative and discussion purposes only. Please read important disclosures at the end of this commentary.
I think we have better-than-even odds of USDRUB at 100 and an RTS Index at 400 or so simply because I am not convinced that oil will hold at $20/bbl. Russia remains the most leveraged economy to the price of oil, which is perhaps why it is so conservatively run from a fiscal standpoint. The Russians would make most countries look ridiculous with their low level of indebtedness and conservative budgets. Even though we have a generational collapse in commodity prices that is greater than 2008, their budget deficit is tiny (-0.5%) and much smaller than what they ran in the 2008 Great Financial Crisis.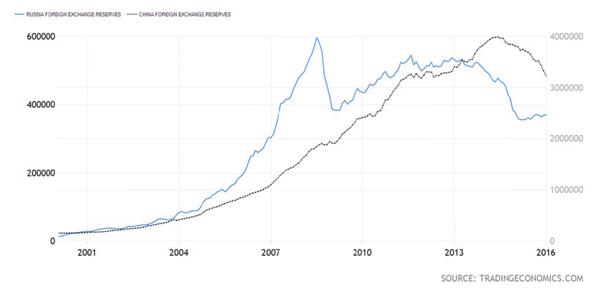 Graphs are for illustrative and discussion purposes only. Please read important disclosures at the end of this commentary.
Furthermore, as the Chinese forex reserves are collapsing while trying to control the peg on the yuan, with the flight of capital out of China running at $100 billion a month, Russian forex reserves are rising amidst a collapse in commodity prices. This is because the Russians learned the $200 billion lesson from 2008 (that's how much they lost in forex reserves, see chart), that managing the ruble exchange rate is very costly if the price of crude oil is not there to support it. So instead of throwing good money after bad, the Russians have high interest rates to support the currency, even though that is not helping much at the moment, given the situation with crude oil.
The Chinese situation is highly relevant to all of China's close trading partners and all major commodity producers, like Russia. The fact that commodity prices are low does not mean they cannot go lower, as we learned in the Asian Crisis in 1997-1998. The issue this time is that China has a GDP of $11 trillion, much larger than during the Asian Crisis of the late 1990s.
The question of China arose again in a conversation with investors last week where one that had visited China in the 1980s was sharing with me that it was surreal that there is smog and pollution in Beijing today and then there was nary a car on the road.
"They are very industrious people," he said of the Chinese. "You have to admire that."
"I know and I do admire it," I noted. "But I see a problem in people connecting an impossible-to-manage credit bubble that is presently unravelling in China and their industriousness. One has nothing to do with the other."
I hope the Russians understand that difference as it is costing them dearly at the moment.
Warren Buffett as an Oil Market Timer
News that Warren Buffett's Berkshire Hathaway (NYSE:BRK.B) added an investment in Kinder Morgan (NYSE:KMI) during the fourth quarter was being spun as him betting on a bottom in oil prices. Berkshire held 26.5 million shares of the company as of December 31, valued at $395.9 million at the end of 2015. In that regard, I would like to point out that oil was down a lot in the first quarter and the trades were made in 4Q; and Warren has two star managers making large investments in stocks on behalf of Berkshire, so it may not be him making the KMI investment and it may not be a bet on a bottom in oil at all. (See February 16, 2016 Bloomberg: "Buffett's Berkshire Hathaway Discloses Stake in Kinder Morgan.")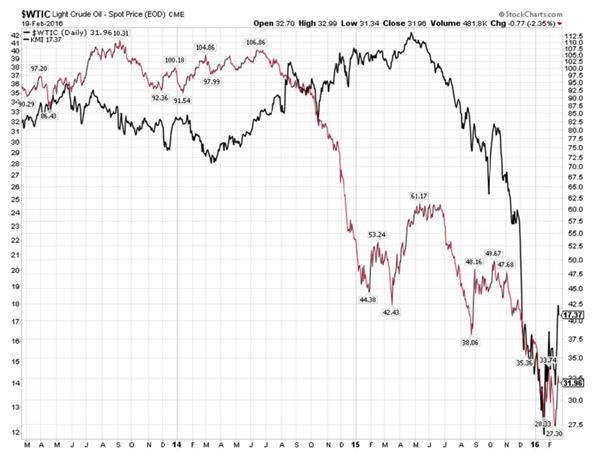 Graphs are for illustrative and discussion purposes only. Please read important disclosures at the end of this commentary.
Kinder Morgan was still rising for quite some time after oil began declining in 2014, the idea being that it is a toll booth operator and as long as there was pipeline volume the price of oil was less relevant. Then, investors realized that there is a lot of high cost oil flowing in those pipelines and sooner or later that was going to impact volumes.
To be fair to Buffett (or his managers that may be making those investments), KMI now trades at close to book value (1.14). But Kinder's bigger stakeholders are not its shareholders but its bondholders. KMI has a stock market value of $38.7 billion but an enterprise value (equity plus debt) of $82.9 billion so the bondholders have a bigger say in matters. No, they don't "own" Kinder (yet), but every time a company has to dramatically cut dividends (-75%) in order to make coupon payments it is clear who runs the show.
Another energy company Berkshire is increasing its stake in is Phillips 66 (NYSE:PSX). Berkshire disclosed in August that it held more than 10% of the oil refiner's stock and made regular purchases since then. PSX is more like a Warren Buffett stock: As the price of oil is declining faster than gasoline (or other refined products' prices), the spread between those two product categories (called the crack spread) is increasing. Rising crack spreads mean rising profits for refiners.
So when Phillips 66's former parent ConocoPhillips (NYSE:COP) is cutting dividends PSX is maintaining them and growing them over time. The point it is that rising stakes in PSX and KMI at the same time does not lead to the conclusion that Buffett (or his managers) are timing a bottom in oil. If they were, they would probably not be holding PSX too.
The KMI purchase may be a political maneuver. Berkshire may make money over time with KMI but it may not be trying to call a bottom in oil or banking on short-term gains. His purchases of Goldman Sachs (NYSE:GS) and General Electric (NYSE:GE) warrants and preferred stock in late 2008 were aimed to express his support of the companies in times of trouble and not necessarily time a bottom in either's share prices, which declined precipitously after he injected capital in both firms. His famous October 16, 2008 New York Times opinion piece ("Buy American. I am,") was not meant to time the bottom in the market either.
I don't believe that increasing Berkshire's KMI stake is an attempt to time a bottom in crude oil.
(Please note: Ivan Martchev does not currently own positions in BRKB, KMI, PSX, COP, GS, or GE. Navellier & Associates does not currently own positions in BRKB, KMI, or GS; these positions have been holdings in past client portfolios. Navellier & Associates does currently own positions in PSX, COP, and GE for some client portfolios.)
Disclosure: *Navellier may hold securities in one or more investment strategies offered to its clients.
Disclaimer: Please click here for important disclosures located in the "About" section of the Navellier & Associates profile that accompany this article.