Introduction
BHP Billiton (NYSE:BHP) the once proud 800 pound global mining gorilla is a shadow of its former self. A true mining gorilla would be free to fully embrace the global commodities super cycle during a severe downturn. He would romp through boardrooms and acquire distressed world class assets for pennies on the dollar. He would prepare for production by commencing construction even while the market is over supplied. Finally after biding his time patiently he would profit handsomely when the commodities super cycle inevitably turns upwards once again.
Instead, however, BHP the gorilla finds himself encaged by his very own balance sheet because he let greed get the better of him at the top of the cycle. Due to a critical mismanagement of the super cycle he finds himself famished with considerably reduced strength. The only path to freedom now for this gorilla is clear: in order to stage an escape a significant turnaround in global commodity prices is an absolute necessity. Organic growth is non-existent as every resource he has is diverted to pure survival.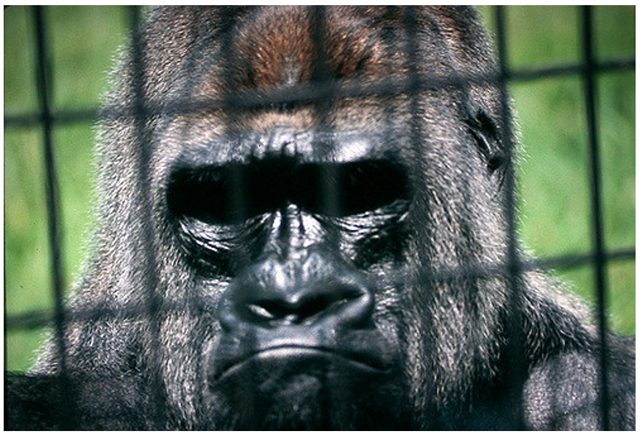 Not a happy camper
The world's largest diversified miner has just reported their half year results for H1 2016. If I were to sum up the underlying theme of these results in a couple of words it would be "balance sheet". Against a backdrop of collapsing commodity prices the company has found it increasingly difficult to juggle its capital expenditure and capital management programs. As you can see below each of BHP's "four pillars" (coal, iron ore, copper, oil) have had their foundations demolished which has been the cause to all of BHP's woes.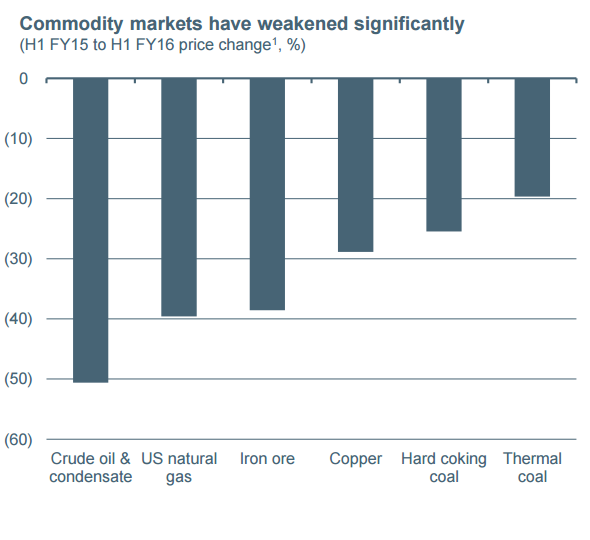 Source: BHP presentation
To make matters worse, credit rating agency Standard & Poors had placed BHP on "credit watch with negative implications" since early February which saw BHP fall from an A+ rating to an A rating. In order to stave off future potential downgrades maintaining the balance sheet for BHP has been absolutely paramount for some time now. In light of all this pressure something has had to give and this has been 1) BHP's dividend and 2) BHP's capital expenditure.
The Dividend
The first thing that is very obvious is the cut to the dividend which has now fallen to 16 US cents from 62 US cents representing a 74.2% drop as you can see in the chart below. This is the first time the dividend has fallen on a half yearly basis since 2004. This is extremely significant because BHP has been itching to scrap its progressive dividend policy for a while now but have been reluctant to do so in the face of a much feared investor backlash. The poor results posted today however have given the company ample justification to do so without this fear.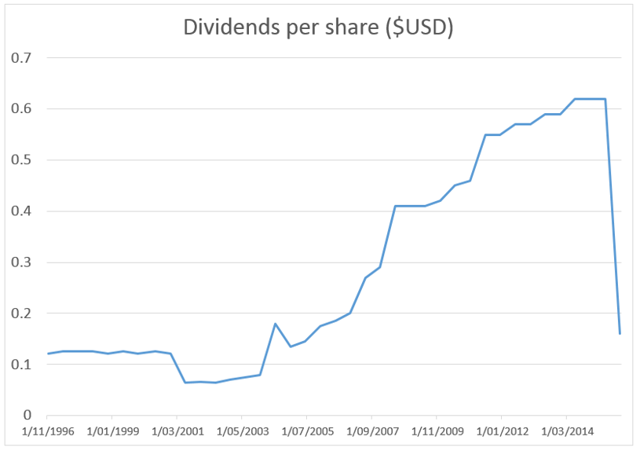 Source: Bloomberg
Capital Expenditure
If we look back in time however the dividend was not the first thing to be sacrificed for the benefit of the ever important balance sheet. It was capital expenditure. As you can see below, capital expenditure peaked at $11.75bn in early 2013 and since then has more than halved to $5.25bn. Going forward there are forecasts for an additional $3.5bn total to be cut in capital expenditure over the 2016 and 2017 financial years.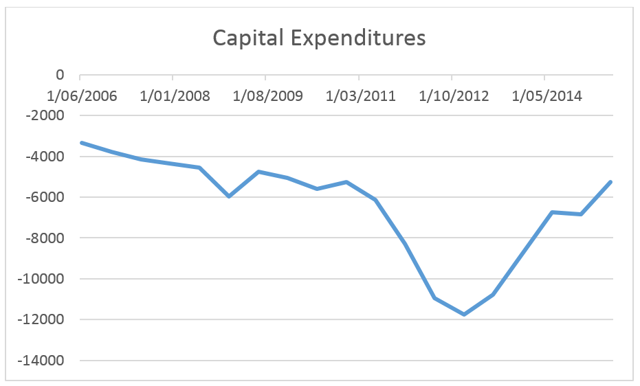 Source: Bloomberg
By looking at the above CAPEX chart the state of affairs for BHP may not look particularly dire. After all capital expenditure is only going back to levels that were seen throughout 2009-2011 and the cuts haven't been that aggressive, right? Wrong. To get a fuller picture we must look at capital expenditures in relation to BHP's total depreciation and amortization, as below.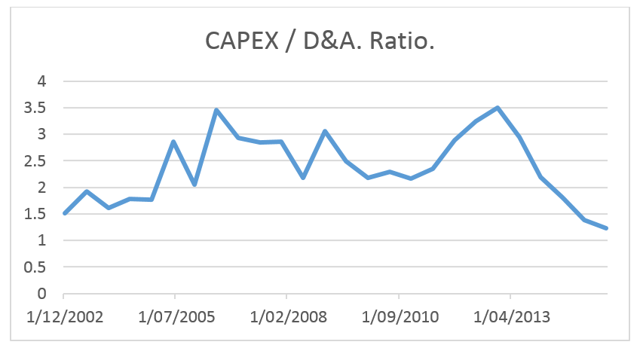 Source: Bloomberg
BHP's capex to depreciation ratio has hit decade lows and is almost a third of what it was only 3 years ago. It is very apparent that this gorilla is trying to scrounge together every morsel of food he can possibly find just to survive. The downside to cutting CAPEX as aggressively as BHP has will be the severe impact it has on future growth. We must keep in mind that BHP's business model operates on the basis of long life low cost assets. The lead times between resource definition, construction and eventual cash-flow generation can in some cases be as long as 10 years or more. It is this future growth which will be missing in the years to come.
Commodities cycle
Where to from here for BHP? To answer that we must assess where BHP is on the commodities cycle. Although BHP have mismanaged the commodities cycle it does not mean there is no upside in BHP's share price. All it means is that BHP haven't benefited from the cycle as they should have been able to. If there is a rebound in global commodities prices there may still be a way for BHP to claw its way out of the predicament it has put itself into.
There are many variations of a well known adage when trading commodity stocks and it goes something along the lines of this: "When p/e ratio's are high, there is a good chance you are at the bottom of the cycle and you should buy. When p/e ratio's are low, there is a good chance you are the top of the cycle and you should sell". This is counter intuitive because the rule of thumb is typically applied in the opposite fashion. Commodities however are a different beast due to over and under supply which are a result of inventory stockpiling and the significant lag between investment and production. Using this as our guide and by looking at the below chart I think it is clear we are nearing a bottom of the commodities cycle.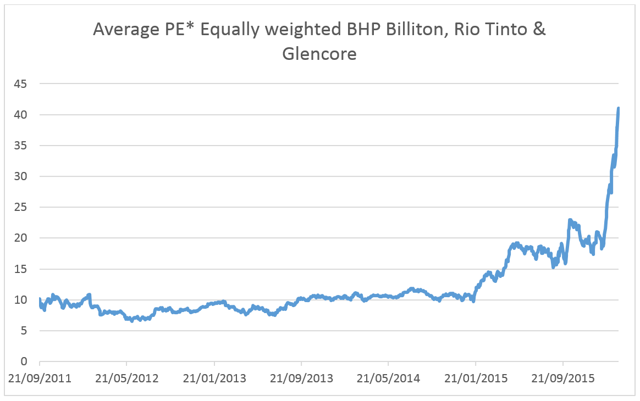 Source: Bloomberg
Is BHP a buying opportunity?
Personally I still believe that the liquidation of Chinese inventories has yet to fully unravel because they have been used as a source of collateral for other finance arrangements over the past decade. Nonetheless I would be looking very hard at quality companies like BHP who are at the bottom of the cost curve going forward because I do believe we are nearing the bottom of the commodity cycle. This gorilla hasn't been able to take advantage of the cycle this time around but at least we know he has a good chance of surviving the years ahead.
Conclusion:
BHP has failed to manage the commodities super cycle effectively
CAPEX has been cut aggressively over the past few years and cuts are forecast to steepen along with cuts to the dividend
Just because BHP has mismanaged the commodity cycle does not make it a poor investment today
Disclosure: I/we have no positions in any stocks mentioned, and no plans to initiate any positions within the next 72 hours.
I wrote this article myself, and it expresses my own opinions. I am not receiving compensation for it (other than from Seeking Alpha). I have no business relationship with any company whose stock is mentioned in this article.