Ask casino owners if they gamble, and the answer is "no." They know the odds! It's much better owning a casino then gambling. In a down market, many casino shares are up. After a tough 2015 caused by the anti-corruption crackdown in China it seems that lady luck is on their side. Some billionaires are doubling down. Steve Wynn of Wynn Resorts (NASDAQ:WYNN) has gone on one of the biggest insider buying sprees I have ever seen, buying 1 million shares for $63.8 million in December (real money even for a billionaire.) He then spent another $32 million in January for 572,850 shares, and $15 million for 258,523 shares in February. It seems that Macau is making a bottom, and he's put his money where his mouth is.
Wynn's conference call "management is great"
Commentary from casino magnates is always entertaining. To the question on why he bought so much stock, he said, "My view is that I like Wynn Resorts especially because I think the management is great." He also mentioned that "January in Macau was the "best month in a long time." Other random comments on the call included "only an Irishman would call a $1.5 billion hotel a joint. See how relaxed everybody is in this company?" He might be a little biased, but putting in nearly $100 million to back himself is working out the stock is up 15% year to date.
Must-see attractions in Macau
Las Vegas Sands (NYSE:LVS), Melco Crown (MPEL) and Wynn are exposed to Macau. Las Vegas Sand's Venetian is the highest-grossing Macau property, exceeding $1 billion plus in EBITDA in 2015. The only property that exceeded it globally was one of LVS's other properties, Marina Bay Sands, in Singapore. The founder, Sheldon Adelson, is also calling a bottom based on "well, if you look it's just 70 years of experience that I have in business."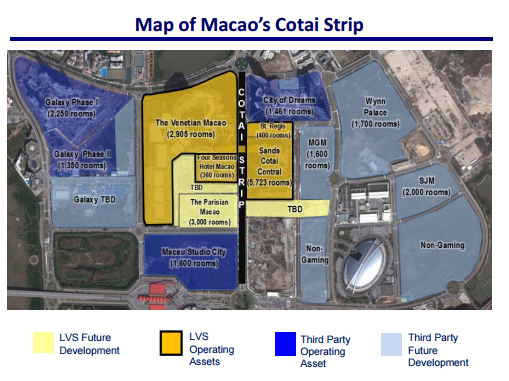 Downtown versus the strip
These companies will benefit as Macau shifts from the Peninsula to the Cotai Strip. Sheldon quoted that visitation in Cotai is now 60%, whereas it used to be 100% to the Peninsula. It's a bit like downtown and the strip in Vegas. The strip is where all the non-gaming facilities are - its the place to be.
Lady luck on Macau's side
Signs are improving for diversified casino operators. Melco Crown's Studio City was initially allocated 200 tables - a disappointment to some - but it received an additional 50 tables in January in recognition of its non-gaming attractions. It's a big deal, as each table can be expected to bring in around $10,000 a day. 4 new casinos will open up in Macau this year (Macau had nearly 3 years without a new resort). The increase in supply creates more competition, but it also helps to increase the Cotai's appeal over that of the peninsula. Las Vegas Sands and Melco Crown properties are well positioned on the strip.
For all the doom and gloom in Macau, it is still the only region in China where gambling is legal. It is a market oligopoly - only 6 gaming operators have access to this market. A scare market with billionaires betting on themselves sounds like better odds than gambling at a casino.
Decisive is long Las Vegas Sands and has no position in Wynn Resorts or Melco Crown. The material in this article is for informational purposes only and in no way constitutes a solicitation of business or investment advice. The material has been prepared without regard to any client's or other person's investment objectives. Before making an investment decision you should consider the assistance of a financial adviser and whether any investment or service is appropriate in light of your particular investment needs.