Changes in NAV per Share
Many BDC investors believe that all BDCs should be priced mostly based on net asset value ("NAV") per share. However, there are many variables that go into pricing assets for BDCs including mostly Level 3:
"Assets whose fair value cannot be determined by using observable measures, such as market prices or models. Level 3 assets are typically very illiquid, and fair values can only be calculated using estimates or risk-adjusted value ranges."
The values of these assets are constantly changing and could be seen as guesstimates. Investors also need to take into account NAV per share growth rates and many higher yield BDCs have a history of NAV per share declines and/or potentially overstated portfolio values. The following table shows the change in NAV per share over the last two years.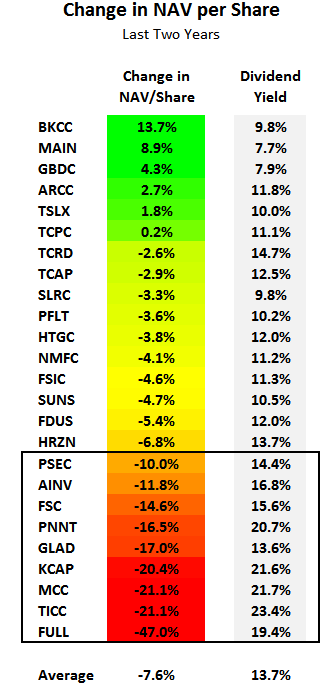 Many of the BDCs that have grown their NAV per share during this period have lower yields such as BlackRock Kelso Capital (NASDAQ:BKCC), Main Street Capital (NYSE:MAIN), Golub Capital BDC (NASDAQ:GBDC), TPG Specialty Lending (NYSE:TSLX), Ares Capital (NASDAQ:ARCC) and TCP Capital (NASDAQ:TCPC).
Comparison of Higher Yield BDCs
The following table shows the current dividend yield and price-to-NAV multiples for the BDCs with higher dividend yields.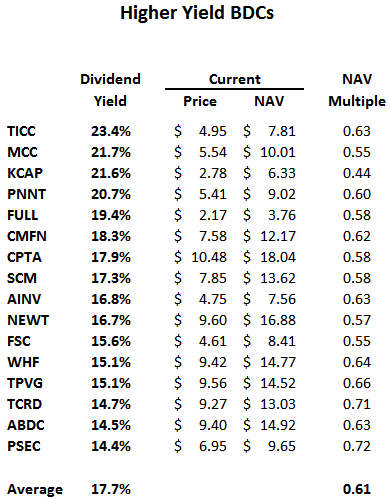 It should be noted that KCAP Financial (NASDAQ:KCAP), Medley Capital (NYSE:MCC), Full Circle Capital (NASDAQ:FULL), Prospect Capital (NASDAQ:PSEC), and Fifth Street Finance (NASDAQ:FSC), have all cut their dividends over the 12 months as well as having declining NAV per share shown in the previous table. Newtek Business Services (NASDAQ:NEWT) recently cut its dividend likely related to not having recurring NII that adequately covers its dividend as discussed in previous articles and TICC Capital (NASDAQ:TICC) cut its dividend earlier this year but then raised it back the following quarter. Apollo Investment (NASDAQ:AINV) and PennantPark Investment (NASDAQ:PNNT) have higher amounts of oil exposure than the average BDC. TICC, KCAP and PSEC have the highest amounts of collateralized loan obligation ("CLO") exposure, using off balance sheet leverage, and could be seriously impacted by rising default rates.
The following table uses the average price-to-NAV multiple of 0.61 and dividend yield of 17.7% from the previous table to imply pricing for each BDC.
For example: Using the average yield of 17.7%, Capitala Finance (NASDAQ:CPTA) would be priced closer to $10.63 and using an average price-to-NAV of 0.61 it would be closer to $10.92. Both of these implied prices are relatively close to the current price of $10.48.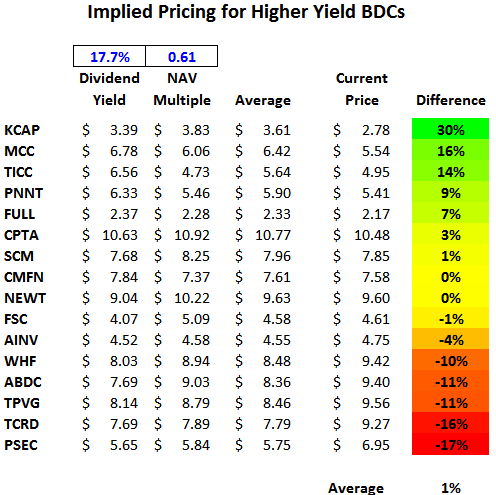 This would suggest that KCAP, MCC and TICC are the best-priced higher yield BDCs. This is a very simplistic method of pricing and personally I use a system based on relative risk, dividend potential and qualitative measures of management applied to expected returns for each BDC. If you are interested in more information on BDCs including individual dividend coverage potential, risk profiles, valuations, and rankings, please see my "BDC Research Page" and for my free monthly newsletter, please visit "BDC Buzz.com".
Personal note: I have updated my positions to reflect changes in my holdings, but please keep in mind that some of the positions are very small and mostly for research purposes.
Disclosure: I am/we are long ABDC, AINV, ARCC, BKCC, FDUS, FSC, FSFR, FSIC, GAIN, GARS, GBDC, GLAD, GSBD, HTGC, MAIN, MCC, MRCC, NMFC, PFLT, PNNT, PSEC, TCAP, TCPC, TICC, TPVG, TSLX.
I wrote this article myself, and it expresses my own opinions. I am not receiving compensation for it (other than from Seeking Alpha). I have no business relationship with any company whose stock is mentioned in this article.
Editor's Note: This article covers one or more stocks trading at less than $1 per share and/or with less than a $100 million market cap. Please be aware of the risks associated with these stocks.