Background
I started building out a position in BHP Billiton (NYSE:BHP) (NYSE:BBL) several months ago. Over 6 trades, my BHP shares have cost me £11.92 on average (including transaction fees).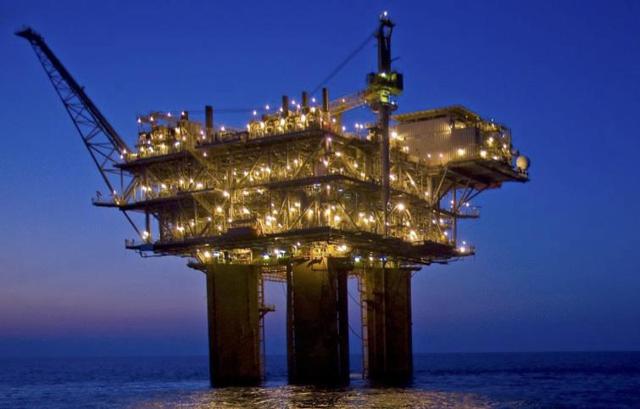 A BHP oil rig in the Gulf of Mexico
BHP is the worst performer in my portfolio. In capital terms, I am down about 35%-40% with current prices about £7.70. Such heavy paper losses can make it tough to sell a position because then you lock them in.
Furthermore, the dividend yield was attractive though priced for a cut. I was not counting on a cut of 75% however (I was expecting 50%). A 5% yield would have been attractive for a business like this (and still somewhat credible in my view) but the proposed 2.5% does not seem that attractive for a volatile stock like this.
Last night, BHP released its half yearly results for the 6 months to December 31, 2015. This 6 month period reflects H1 2016. The financial year end (or FYE) for BHP is June 30th 2016. So it's time to a review of the financials and try to rationally conclude what I should do with my shares in BHP Billiton.
So what happened with the cashflows at BHP?
Whilst the earnings documents did not provide a statement of cashflows, I was able to deduce the following cashflow picture for the 6 months to Dec 31, 2015
Operating cashflow $5.2B
Capex $3.6B
Other commitments $0.4B
Free Cashflow $1.2B (before debt and dividend payments)
Last year's dividend payments came in at about $7B, or $3.5B for 6 months. The new dividend policy will cost about $1.75B annually going forward. Clearly, BHP management has made a reasonable decision here to live within its means
The earnings slides and press release provide more insight on full FYE 2016 cashflow projections. Here is my call on what BHP management are guiding:
Operating Cashflows $10.4B (my own estimate - a repeat of H1 2016)
Capex $7B (see slide below)
Free Cashflow $3.4B
Debt reduction $2.75B (see slide below)
Dividends $1.75B (per new policy)
Deficit of $1.5B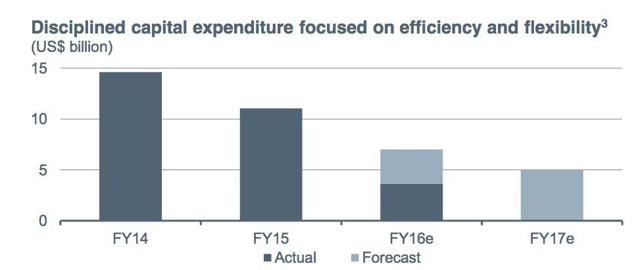 Capex Guidance from BHP earnings call slides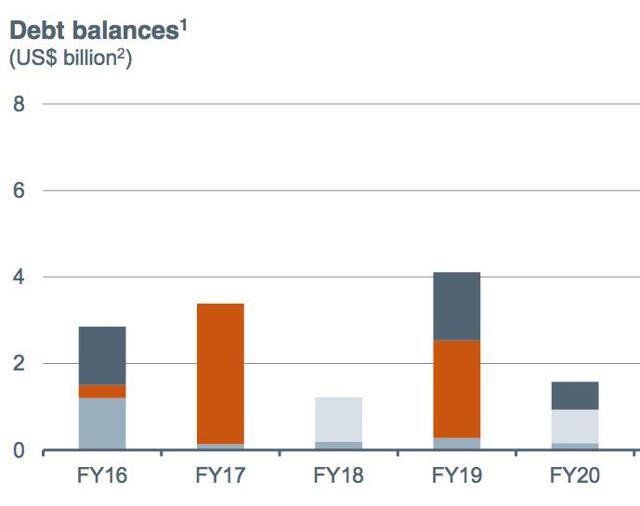 Debt maturity profile from BHP earnings call slides
The deficit can ideally be met by better pricing, cost reductions and volume increases in H2 2016 relative to H1 2016, and failing that by a debt issue. This level of debt issue (to cover the $1.5B deficit) should not be a major problem for BHP Billiton. BHP issued new debt of $6B in H1 2016.
What should I do with my BHP Billiton shares?
I like the financial realism and actions taken by BHP management. BHP is cutting its cloth to its measure. I wrote an article on Royal Dutch Shell (NYSE:RDS.A) (NYSE:RDS.B) recently and I don't believe RDS management is being realistic with the available cashflows at its disposal.
BHP Billiton is taking action to credibly endure this low price commodity environment. Whilst RDS is dependent on a big recovery in oil prices to balance its books and meet its stated objectives. RDS can only cover its capex in the current price environment and cannot currently cover its debt commitments or its dividends commitments from free cashflows.
I applaud BHP for its realism, but I would note the following
The outlook for commodities is unsure
China has gone through a massive infrastructure boom and history shows that such booms always tend to end very badly
The full fallout from Samarco is still unknown (BHP has provisioned $0.8B loss in relation to Samarco)
The yield is only 2.5%
Conclusion
As I finish up writing this piece, the BHP Billiton share price has fallen over 5% this morning on the London Stock Exchange. My overall loss is going towards 40% in capital terms.
If I sell out now then I should try to find another credible opportunity that can offer a strong cyclical rebound with a good and safe yield. The only other credible candidates that comes to mind that meet this criteria are:
I am reluctant to lock in this paper loss today until I know what stock I will rotate into and indeed will this new stock offer the same credibility as BHP Billiton which is, at least, firmly living within its means.
Disclosure: I am/we are long BHP, ADM. I wrote this article myself, and it expresses my own opinions. I am not receiving compensation for it (other than from Seeking Alpha). I have no business relationship with any company whose stock is mentioned in this article.