At the Philadelphia Real Estate Council Spring meeting last week, speakers and PREC members engaged in insightful rhetoric on developing commercial real estate on and off university campuses. The conversation was lively, informative and I hardly got a break from taking notes due to the nonstop flow of diverse and high quality commentary. Of course, leaving these kinds of meetings always leaves me inspired for new content for the blog. Since PREC meetings are private, I can't reveal exactly what was said. Seriously, I legally cannot reveal who said what. However, I can go off on a tangent about one of the main topics that was covered during the discussion.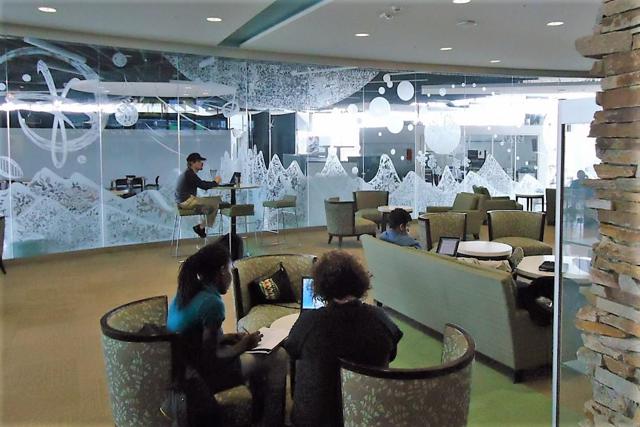 The first thing people usually think of when they hear "university CRE development" is student housing. Well, analyzing developing CRE around college campuses is a bit more complex than just brushing over the student housing sector. Just think about off-campus development. What is the most talked about trend in off-campus development right now? Innovation Centers.
This infatuation with innovation is not only university-specific, it's on everyone's minds, from politicians to entrepreneurs, and is something that has become the core of any institutional mission. Just as the concept was a central focus for the public during the Industrial Revolution of the 19th century, the term "innovation" has recently resurfaced in a forceful way during what people label as the third Industrial Revolution we are in today. Quite honestly, the word "innovation" has become a highly overused buzzword.
Last month we published a piece on the rise of innovation districts in which we defined innovation districts as:
"geographic areas where leading-edge anchor institutions and companies cluster and connect with start-ups, business incubators and accelerators."
A large part of what these districts is about creating an intentional space, which embraces creativity and collaboration while allowing entrepreneurs and start-ups to thrive. In order to attract potential students in such a competitive market, universities have turned to investing their dollars in creating innovation centers complete with high-tech equipment, dry-erase white walls, and modern architecture and furniture. It has really become an arms race on building.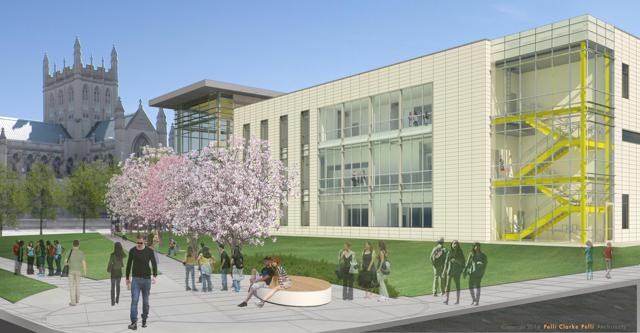 Center for Innovation in Medical Professions (Cleveland State University)
How do universities market these centers in a way that will attract students? What are the other factors encouraging universities to invest in this specific form of real estate? At least for many Tier 1 universities in urban settings, there are a few reasons why creating innovation centers near campus is so appealing:
They serve as an advantage when recruiting students
Focused on job creation:

Providing a place for students to find jobs or start their own business even after graduation
Creates jobs for the surrounding community
Many of these centers cater to more than just university students. Take for instance, the University of Pennsylvania's Pennovation Center, which is located in the heart of the Pennovation Works, a 23-acre site resting along the banks of the Schulkyll River directly next to Penn's campus. The University's president Amy Gutmann said in a prepared statement:
"The Center is designed to bring the University's eminent researchers and scientists along with our extraordinary students, together with the private sector to foster creative exploration, entrepreneurship and new alliances and to generate economic development for the region. We are excited about the discoveries that will come out of the Center and about the kind of real societal and economic impact they will have in our region, country and the world."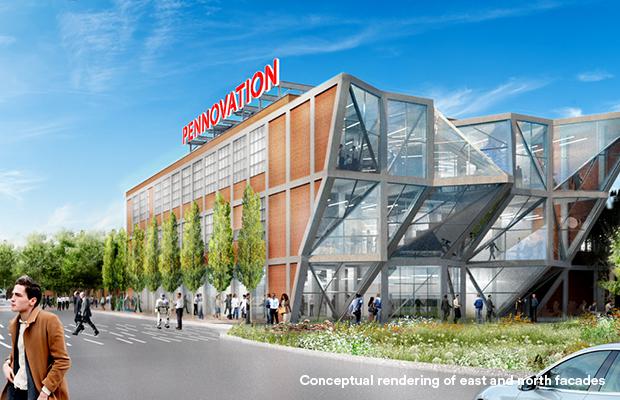 The Pennovation Center will have two open floors of co-working space along with workshops, programs and resources centered around professional development. The Center will also hold research labs, which will cater to making advancements in the areas of science, technology, engineering and math.
Quite honestly, most "Innovation Centers" are all the same. However, investors and developers are much more likely to assist Tier 1 universities in urban settings rather than a liberal arts college in rural America when it comes to the development of one of these Centers.
Investors want to know that the off-campus property will have a large draw, serving an ongoing purpose to entrepreneurs and students alike, when it comes to gaining capital back from the tenants who will inhabit these spaces. In terms of developers, working with a University can prove challenging, although much has changed over the last few decades.
While there is more capital available in general today, it's also very important that both the developers and the university, which hires them be open to compromise, especially when it comes to these off-campus projects which are intended to serve more than just the students and faculty. You also won't find properties like innovation centers in every market - they will most likely continue to sprout up in more urban markets with generally high populations or near campuses with surrounding neighborhoods that are less affluent in order to promote access and inclusion. After all, this idea of "innovation" in the 21st century is infiltrating more areas than those with the draw of, or built around, a university.