Changes in the U.S. income distribution over decades in time provide opportunities and challenges for businesses. In a previous article, I discussed the distribution's origins and changes with time. These income demographics serve as an important factor in determining the long-term trends that establish large commercial markets.
Here, I discuss some specific companies, including Wal-Mart Stores (NYSE:WMT) and Apple (NASDAQ:AAPL), that have been impacted by these trends. I show why this has become an Apple world when it used to be a Wal-Mart world (in the U.S. at least), and why this is an ongoing challenge for Wal-Mart and other low-price retailers.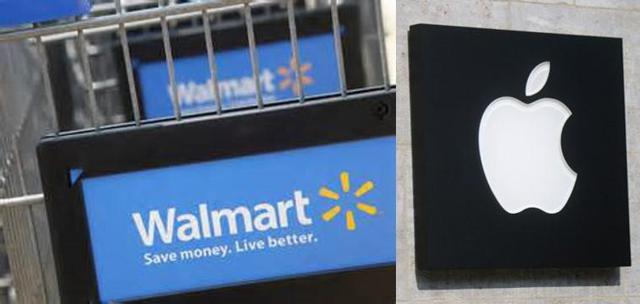 The example below, from a Harvard Review article, illustrates the change in the U.S. income distribution between 1970 and 2000. This shift is indicative of the long-term trend of the peak lowering and the high-income tail widening seen in my previous article. It highlights the identification of the demographic shift toward higher incomes as an important new market opportunity.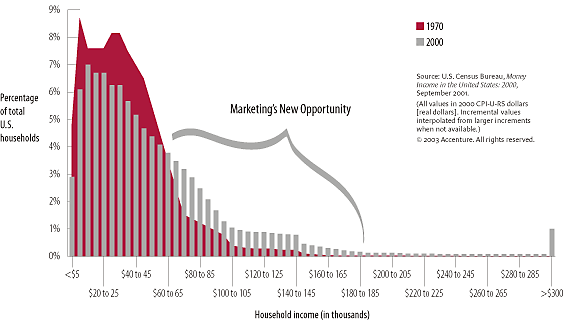 This broadening of the tail is meaningful from a living standards perspective and its relationship to the viability of certain businesses. Just after 1970, while completing a major shift to a flatter, more egalitarian income distribution, disposable personal income began to rapidly increase. Note that this nonlinear increase occurred while our population linearly increased, indicating higher per capita disposable income.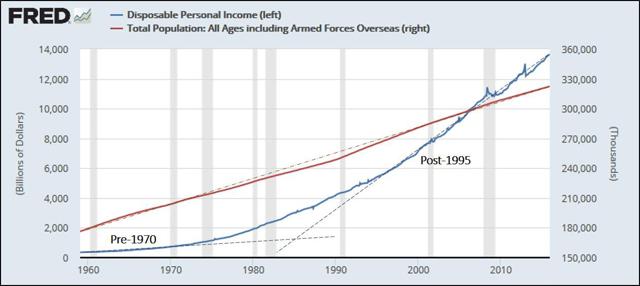 The importance of this shift was recognized in the early 2000s and opened up the concept of selling to the mass affluent. This is the consumer segment between the middle wage earner and the very wealthy, or equivalently, between the discount and luxury markets.
The Broadening Middle Aided Apple's Ascent
The increase in affluence of the broadening upper-middle income earners created a void that personal electronics and their services filled from the late-1990s through the early 2000s. Especially during the rise in sales of iPods and iPhones during the early- to mid-2000s, there was a large increase in spending by the mass affluent and this is reflected in Apple's sales. Apple's upscale personal electronics products had a market ready for them when they debuted and it continues to grow to the present day.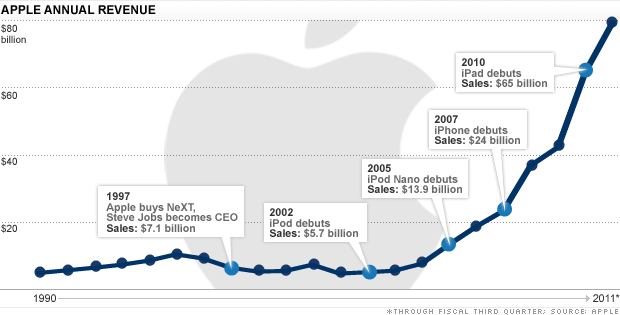 The idea that the shift in incomes provided a catalyst for Apple's growth is also supported by the rise in communications services spending, such as in telecom, internet, cable, and satellite, throughout this time period. While the percent of income spent on such services remained close to 2%, from 1990 to 2008 the dollar amount increased more than 3x. This increase corresponds very closely to the nearly 3x increase in disposable income during the same period in my earlier chart.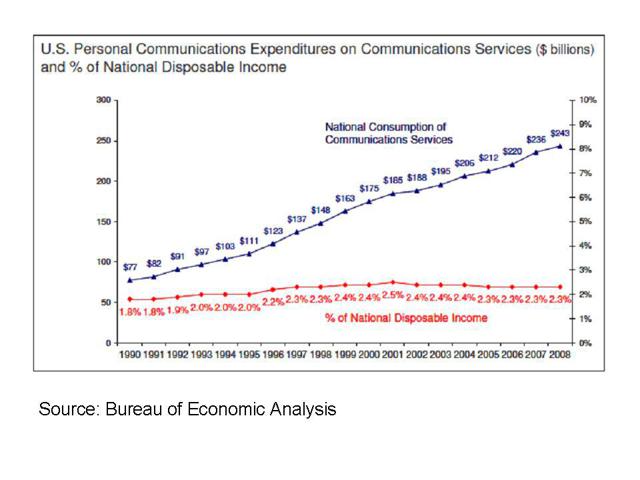 While income distributions have adjusted over the last two decades to permit more people who can buy into the Apple ecosystem, there are also fewer who can't.
The Declining Low End Slowed Wal-Mart's Growth
Coinciding with the rise in the mass affluent was a decrease in the numbers of less affluent. The rise and eventual early-1990s stagnation of the U.S. growth of Wal-Mart are in part attributable to this shift: the rate of store number growth slowed considerably around 1996 as consumers moved to shop at higher end retailers.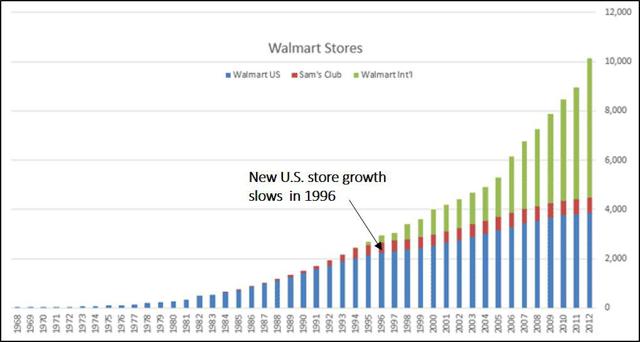 Since 2006, Wal-Mart has been making efforts to move upward in the market, trying to make its own shift between discount and upscale discount. These incremental changes appear to only provide incremental sales benefits. Only time will tell if this slight upscale move will build a reputation that brings in sufficiently more higher-end customers to make a difference in the U.S. market.
Wal-Mart's efforts aren't much different than Sears' (SHLD) partnership with Lands' End (NASDAQ:LE) in 2002 that ended in a 2014 separation. Sears had hoped that by bringing Lands' End under their purview and into their stores that they'd get more upscale customers. However, Sears' discount reputation couldn't be overcome. Wal-Mart's long-time reputation as the lowest-cost discount retailer is also not something that can be shaken with the addition of organic produce and high-price televisions.
It's helpful to discuss and compare Target (NYSE:TGT) as well. Target's shift into upscale discount, which began in the late 1990s, was implemented to differentiate itself from Wal-Mart, its main competitor.
Target seems to have serendipitously moved into and exploited the demographic shift occurring at the time, since much of its success was attributed to branding in the early 2000s rather than entering an opportunity in the market. Target continues to move upscale, where its customers earn 20% more than those of rivals like Wal-Mart.
The next plot shows a comparable store comparison for key rivalry years between Wal-Mart and Target. Around 2003, comparable store sales growth for Target exceeded that for Wal-Mart and remained so except for a brief 2-year interlude during the Great Recession, after which it promptly sprung back. This flip in growth by Target over Wal-Mart is another example of the mass affluent market and its capture.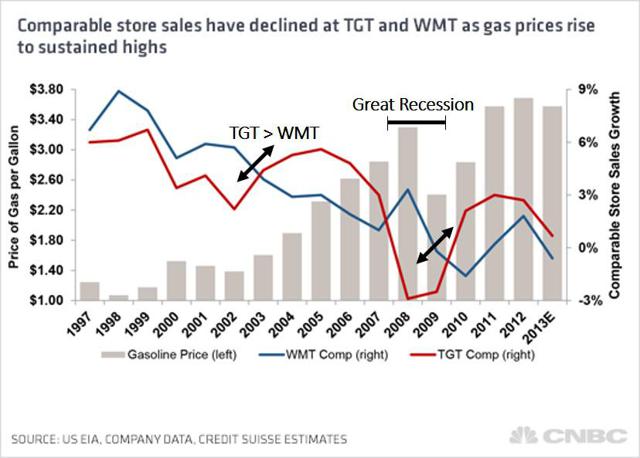 Note that the plot above includes the price of gas during that time period. Lower income earners are more sensitive to gas prices than the affluent. While not definitive from the graph, it appears that Wal-Mart's downtrend remained fairly strong through 2012, whereas Target was able to overcome Wal-Mart in 2010 even with gas prices high. With gas prices low again, I expect both Wal-Mart and Target stores in the U.S. to benefit but Wal-Mart should receive more of an impact owing to their lower income customer base.
Companies like Wal-Mart and Sears/Kmart, whose popularity were built on low-price retail leadership, have been facing an ongoing headwind from these demographic shifts and are now implementing large numbers of store closures. Wal-Mart is closing 154 U.S. stores out of 4574 total. Sears/Kmart is closing 50 stores this year out of 793 total. Target, who went all-in on their rebranding, has been much more successful. For comparison, Target is only closing 24 U.S. stores between last and this year out of 1801 total. While the store closures are more complex than a single issue, they are indicative of the demographic condition.
Conclusion
The major trends in income distributions provide large market opportunities in some cases and challenges in others.
In the case of Apple and higher-end retailers, the historical trend has been favorable to their growth. Apple, Target and other companies that thrive off the mass affluent should continue to see growth from this trend, though slowing concurrent with this demographic shift. My guess is that the heyday of exploiting this shift is over.
In the case of Wal-Mart and other discount retailers, the trend has been detrimental to their growth. At least with respect to the U.S. market, I don't expect much revenue growth out of Wal-Mart for the foreseeable future. Expect its trend to remain on the order of the prior 5 years, at around 2% CAGR. International growth will continue to be Wal-Mart's best bet.
While the income shift may be slowing down, it's still a key market feature that influences corporate growth decisions. It bears considerable importance for some of America's most venerable companies.
It also leaves me wondering, what will be the next great market influence?
Disclosure: I/we have no positions in any stocks mentioned, and no plans to initiate any positions within the next 72 hours.
I wrote this article myself, and it expresses my own opinions. I am not receiving compensation for it (other than from Seeking Alpha). I have no business relationship with any company whose stock is mentioned in this article.