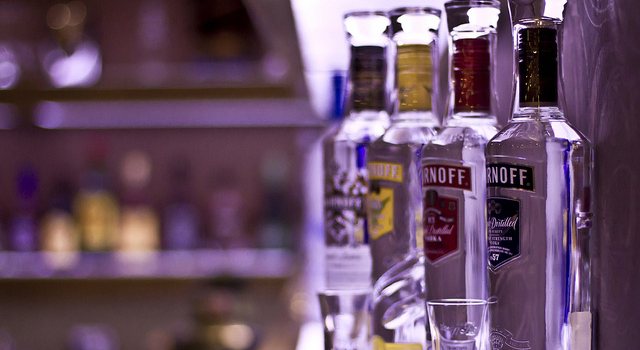 I am a fan of the world's largest spirits maker, Diageo (NYSE:DEO). At the moment, it makes up a little under 5% of my portfolio, and I would happily build this up a little further.
Its stable of quality brands from big names such as Guinness, Smirnoff, Johnnie Walker and Tanqueray to its more equally attractive brands such as Ketel One, Bulleit, J&B and Baileys rarely fail to impress.
I last looked at the company back in December. Since then it has declared its interim results (being a UK-listed company it does not declare quarterly results). Naturally, seeing that I have a large position in the company, I was extremely interested in these results. So how did they look? Let's see.
Solid Revenue Performance
In fact, the results looked pretty good. Not that this is obvious on first glance. Reported revenue dropped from £8.724 billion in H1 2015 to £8.267 billion in H1 2016.
However, when we adjust for negative currency movements (add a further £463 million) and the effects of acquisitions and disposals (add another £161 million), the organic figure comes out at £8.891 billion for H1 2016. That is about £167 million (or 1.9%) ahead of H1 2015. Not bad.
Currency impact was, therefore, hardly slight. But looking at organic revenues, we see the company is performing pretty well. In fact, looked at from an organic perspective, revenue growth was experienced quite nicely across regions: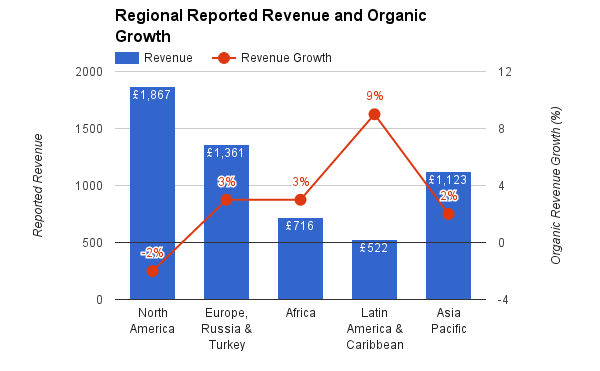 What this tells is a much happier story. People continue to be attracted to Diageo's basket of brands in great numbers, driving forward solid underlying growth in almost all regions. Good news. Of course, once currency headwinds soften, we should see an even more stellar set of reported revenue figures coming from Diageo. Something to look forward to!
Why the North American Decline?
But there is, of course, one stand out here. That little "-2%" revenue growth figure for the North American market. Now, as you can see, North America is a critical market for Diageo. It represents a little over a third of its revenue so it is one area we would particularly like to see growth. So should we be worried?
No, not really.
This decline was mostly driven by its premium grape-based vodka brand, Cîroc. On the face of it, Cîroc saw a dizzying and worrying 43% organic revenue decline.
Fortunately, though, this drop was largely created due to a later innovation pipeline and the introduction of the replenishment model for innovations, meaning the mega-shipments such as the 750 thousand cases shipment of Cîroc Pineapple in H1 2015 did not occur in this half. As the company explained:
US Spirits declined 2% with shipments down nearly 500k cases in the half. This was mainly driven by the reduction in the volume of Cîroc against the prior period when 750k cases were shipped for the launch of Cîroc Pineapple. In comparison, in this half for the launch of the new Cîroc flavour, Cîroc Apple, which occurred later in the half, 250k cases were shipped.
This is all good. More efficient inventory handling is an attractive long-term shift.
What is more, generally, growth amongst its main brands in the North American market was solid indeed: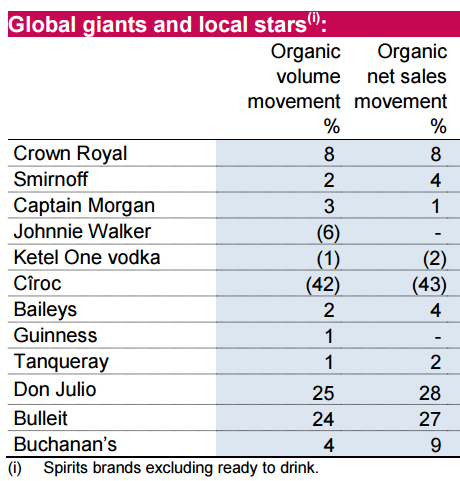 All in all, I was happy. Other than Cîroc, only Ketel One (another premium vodka brand) saw organic revenue decline. That being said, leading global brands Guinness stout and Johnnie Walker whiskey both saw flat revenue. Overall, though, I was happy to see a fairly strong set of revenue growth figures across brands in this market with Smirnoff (finally) seeing volume and revenue growth.
Cash Flow Performance
But what really impresses me is the progress the company is making fundamentally. I noted above some of its efficiency measures. This has helped in making the business more streamlined which can only benefit shareholders over the long term.
We are already seeing some of the benefits from this. Take a look at the cash flow reported. Again, Diageo saw a markedly improved amount of FCF appear in its accounts. A combination of nice growth in operational cash flow and a decline in CapEx helped drive this forward from both angles: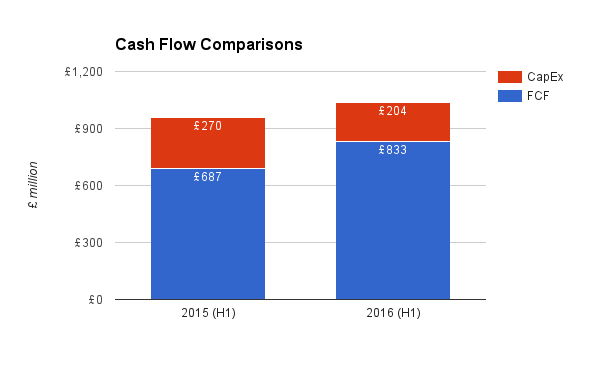 This is great news with regards to my favorite metric for assessing the quality of a company: its CROIC (cash return on invested capital).
The CROIC tells us how much FCF the company produces for every dollar of capital invested in the business (that is, debt and equity). A CROIC of 10% means that for every $100 invested, it generates $10 in FCF.
Diageo has actually been an underperformer with regards to its CROIC: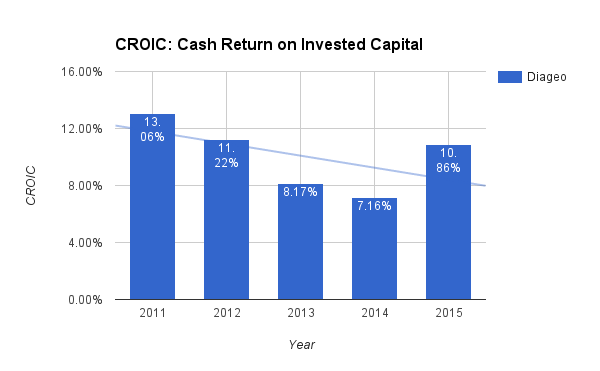 This was well below its peers who have both generated far stronger CROIC figures and more consistent ones (for instance, Brown-Forman (NYSE:BF.B) has generated an average CROIC over the last five years of nearly 17%). Indeed, it was only last year that Diageo headed above my ideal CROIC of 10%.
However, Diageo's fairly dramatic restructuring of its business in recent years is paying dividends. In fact, at H1 2016, there is a great sign that Diageo will once again see its CROIC get a nice boost: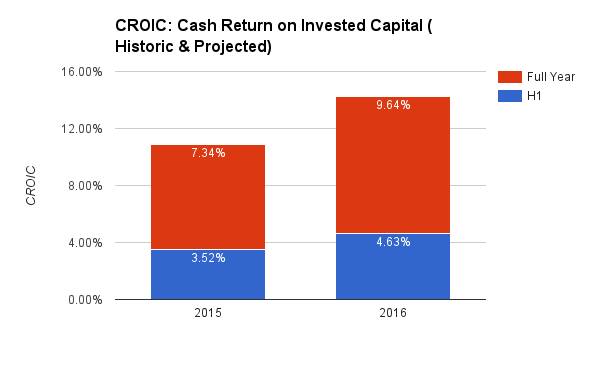 Already Diageo produced a sizable amount more FCF from its invested capital in the first half of 2016 than in 2015.
If H1 2016 represents the same proportion contribution to the full year CROIC, we could see it return to a 14%+ CROIC. However, even if it was only to match a CROIC of 7.3% in H2 2016, I would be quite happy with the improvement.
Margins Continue To Improve
The company also continues to see modest improvements in its already impressive operating margins: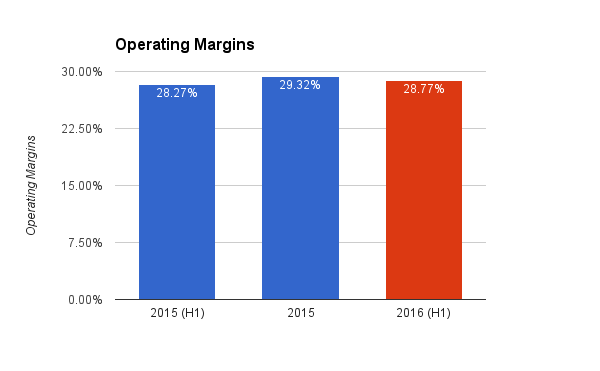 Diageo's margins have always been pretty solid and in line with its peers. However, the fact that it can continue to extract a little more is great to see. Indeed, as we will see later, management believe that there is plenty of scope for margins to expand further in future years.
Debt Position Continues to Improve
Diageo has also been making significant headway in reducing its debt exposure. In 2015, its interest charges and effective interest rate on its debt drop noticeably:

This is encouraging to see as, despite improving debt-to-equity ratios in recent years, Diageo was one of the most heavily leveraged of its peers: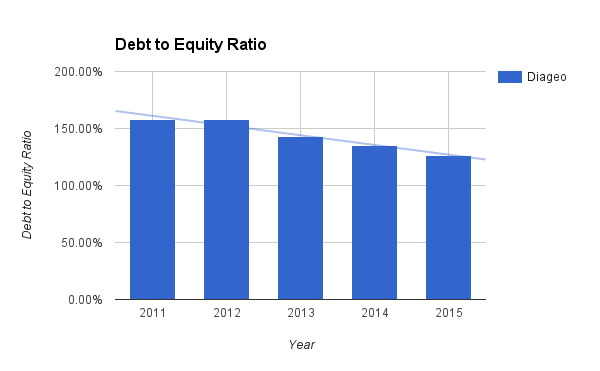 This leaves me confident that soon Diageo may again be able to sit above my ideal targeted 25% FCF coverage target. In FY2015, it fell just a little shy of 20%: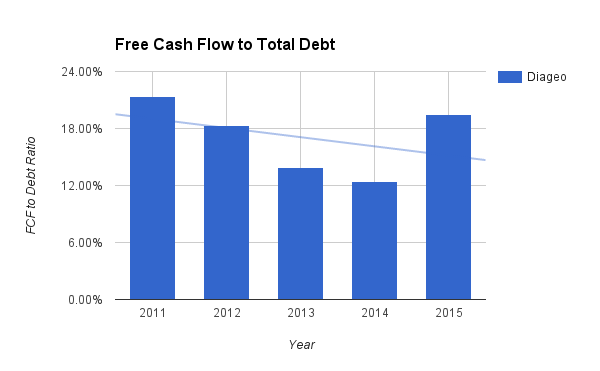 All in all, this is moving in the right direction.
Dividend
Diageo also declared a nice 5% jump in its interim dividend. Based on last year's dividend, however, it remains one of the best-yielding spirits and alcohol plays: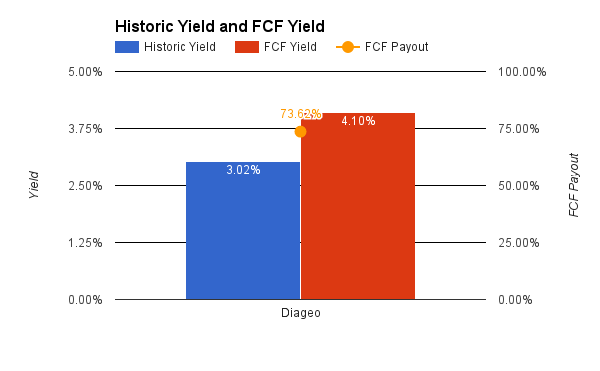 The 5% dividend growth will help push that even higher. What is more, the stronger FCF performance in the first half of 2016 suggests we may see the FCF payout ratio drop nicely as well this year on top of further dividend growth.
This is encouraging to see. The yield remains one of the most attractive traits for this company being both moderately high and fairly well-covered. With FCF improving, I hope to see this coverage grow noticeably in the near future.
Fair Value Adjustment
I am actually really impressed with these results from Diageo. So much so, in fact, I think that Diageo deserves to receive a boost to its fair value figure.
I calculate my fair value by taking the average from the consensus EPS for the next two years. I then multiply this by the historic P/E for the company over the last five years.
For Diageo, the historic P/E sits at 19.2 (a significant discount to its peers). I'd argue this is now too low. The improvements have been noteworthy, and it looks set to continue to drive impressive performance going forward. I propose using its highest P/E over the last five years (20.2) as my guide.
This is still well below the average amongst its peers. However, it seems to include a certain degree of additional optimism in Diageo's valuation which, I think, is very much deserved in light of these results.
Using these figures provides me with a:
Basic fair value of $104.80*
I then adjust according to the amount of cash held on its books. Doing so offers us a:
Cash-adjusted fair value of $105.72*
I would therefore suggest that Diageo remains fairly valued at anything below the $106 mark.
Conclusion
After several years of a flat share price and somewhat lackluster performance, it looks as though (despite volatile markets) Diageo is beginning to make headway in its attempts to sharpen up the business.
It has been long-awaited, and it was good to hear Diageo's CEO, Ivan Menezes, state that:
For the full year we expect volume growth to drive stronger top line performance, margin to slightly improve and strong cash conversion to continue. This will set us up to deliver better momentum in [FY2017], with productivity gains supporting margin expansion and investment in growth. We remain confident of achieving our objective of mid-single digit top line growth and 100 bps of organic operating margin improvement in the three years ending fiscal 2019.
I am increasingly confident this is achievable. Although Diageo has been lackluster in many regards in recent years, it has always remained a high-quality operation. Now these changes are, seemingly, starting to make an impression on results; I feel more confident than ever in its near-term future in which this quality business will present some quality growth for investors.
Right now, it looks like quite an appetizing time to either open or build up a position in this beverage behemoth as the long-term story is looking increasingly compelling.
Notes
* For investors in the London-listed shares, these prices would be £18.59 (basic FV) and £18.75 (cash-adjusted FV).
Unless otherwise stated, all graphs and the calculations contained within them were created by the author. Creative Commons image reproduced from Flickr user mustafakhayat.
Disclosure: I am/we are long DEO.
I wrote this article myself, and it expresses my own opinions. I am not receiving compensation for it (other than from Seeking Alpha). I have no business relationship with any company whose stock is mentioned in this article.