Introduction
Investors are currently preoccupied by whether the economy might enter a recession. The reasons most frequently mentioned have less to do with broad macroeconomic indicators, which generally show moderate growth, and more to do with financial market indicators, such as the volatility in the stock market, rising high yield bond spreads, and the flattening Treasury yield curve. This is a big topic, so we'll focus on one issue today - the yield curve - and visit the remaining ones in future posts. It is a timely subject, as we saw the yield of the 10-year Treasury plunge to 1.57% on February 11 in data from Bloomberg earlier this month, compared to its nearby high of almost 2.5% in mid-2015. (It has since rebounded to roughly 1.75%.)
A flattening yield curve has sometimes (or, we might even say, "often") preceded recessions. So, investors understandably take note. And, without a doubt, the yield curve has flattened, using the difference between the yield of the 10-year U.S. Treasury bond and the 2-year U.S. Treasury note as a guide. The yield curve is now as flat as it was during the Great Recession. What does this suggest?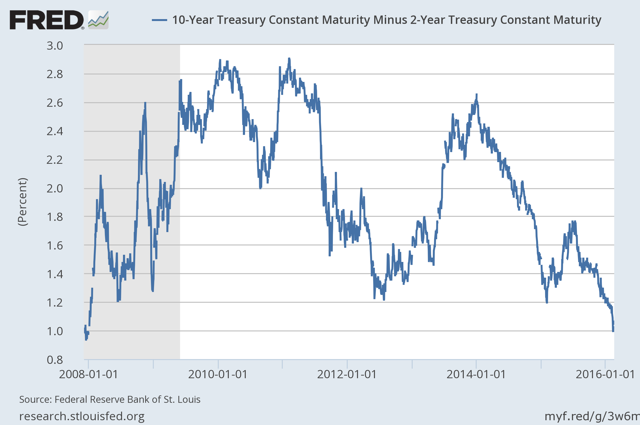 Inflation Expectations
By this measure, investors seem to expect that growth would slow, anticipating that shorter term rates would fall (or, more likely, remain low) while economic growth and inflation would be subdued. As inflation is often a driving force behind the level of yields, let's see what the data tell us. And indeed, inflation expectations have indeed fallen considerably, with the market-based measure from TIPS pricing of inflation over the five year period beginning five years from now showing inflation as being just roughly 1.5%, as we see in the nearby graph.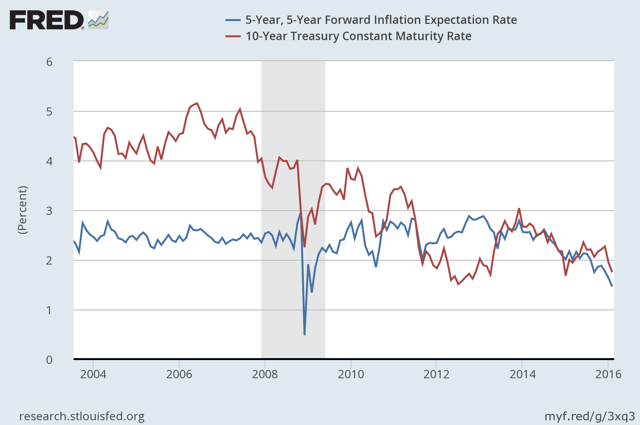 Real Yields
However, there must be another factor at play, too. Note in the graph that, yes, inflation expectations have fallen and are at a level considerably below the Fed's 2% target, as shown in the blue line. But also observe that the 10-year Treasury yield (the red line) had been roughly two percentage points or more than the level of expected inflation prior to the Great Recession. (This difference is a proxy for the real yield of Treasuries, or the Treasury yield less expected inflation.)
Since the recession, however, the difference between these two rates (the red line minus the blue line) has fallen, with real yields in the past few years barely above zero (and sometimes even negative). What is driving real yields lower, and why have investors been buying Treasuries for several years now when they yield almost nothing after subtracting expected inflation?
To answer that, we must look beyond the U.S. economy and domestic investors. While a flattening yield curve and minimal real yields would, in a closed market, suggest a recession, our markets are open and international investors are large purchasers of U.S. Treasuries. What happens there does matter here.
Conditions Overseas and Foreign Purchases of Treasuries
And what is happening "there" is the massive bond-buying program in the Eurozone and perennially low bond yields in Japan. In some Eurozone countries, yields on their government bonds have even been negative out several years, in data from Bloomberg. Now, German 10-year government bonds yield a mere 0.21% while the equivalent in France yields only 0.57%, in data from Tullett Prebon. Japan's government bonds yield a miniscule 0.01%.
Clearly, 10-year U.S. Treasury yields, currently at about 1.75% or so, might seem attractive to investors outside the U.S. that seek safety. The economic worries in the Eurozone, where the European Central Bank (ECB) recently pushed its official rate into negative territory for funds banks hold at the ECB - not to mention its bond-buying program - have exerted a powerful force in sending yields lower. Similarly, a long-standing lack of growth in Japan (which also recently instituted negative rates for funds banks park at its central bank) presents a dearth of opportunities for investors to earn a yield in sovereign debt generally regarded as "safe." That means foreign ownership of U.S. government and agency bonds has increased, as we see in the nearby graph of U.S. debt held by foreign investors.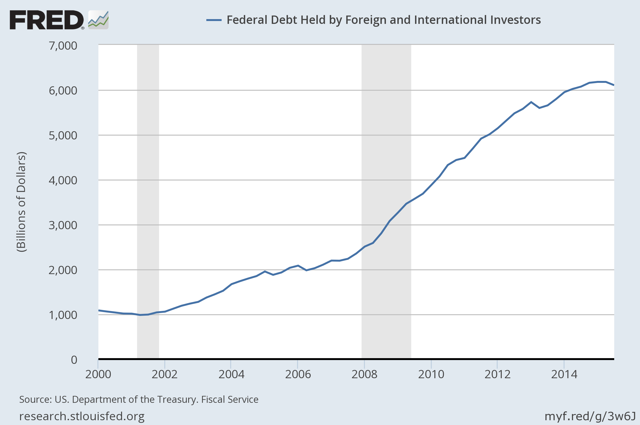 Indeed, foreign and international investors increased their holdings of Treasuries and other government debt six-fold from the beginning of the millennium and by about 75% since the end of the recession. With this type of appetite for Treasuries, it is no wonder why yields have plunged and stayed low! As such, I would be disinclined to use a flattening yield curve as necessarily a symptom of any impending economic woes in the U.S. Slow economic growth, yes, but anything more problematic, perhaps not.
Mostly, however, low interest rates here reflect economic conditions "over there." Fed Chair Janet Yellen cited market conditions, not just here, but overseas as well, as a reason why the Fed saw enough caution to the Fed's outlook that it would proceed only at a "gradual pace" in raising interest rates. Investors see the Fed as raising rates perhaps once (or not at all) this year, according to fed funds futures trading, in data from Bloomberg. That indirect effect of foreign conditions perhaps constraining the Fed's rate hike plans also helped send Treasury yields lower.
Conclusion
More to the point, what it means is that foreign investors have faith that the U.S. remains an attractive place to park their funds, arguably less vulnerable to global turmoil than other developed markets. As an investor, perhaps one might take confidence in the fact that the U.S. has remained somewhat immune from foreign woes. And, most importantly, take any recessionary signals from a flattening yield curve with a grain (or 40-pound bag) of rock salt.
Disclosures: Investing involves risk, including possible loss of principal, and investors should carefully consider their own investment objectives and never rely on any single chart, graph or marketing piece to make decisions. The information contained in this piece is intended for information only, is not a recommendation to buy or sell any securities, and should not be considered investment advice. Please contact your financial adviser with questions about your specific needs and circumstances.
The information and opinions expressed herein are obtained from sources believed to be reliable, however their accuracy and completeness cannot be guaranteed. All data are driven from publicly available information and has not been independently verified by United Capital. Opinions expressed are current as of the date of this publication and are subject to change. Certain statements contained within are forward-looking statements including, but not limited to, predictions or indications of future events, trends, plans or objectives. Undue reliance should not be placed on such statements because, by their nature, they are subject to known and unknown risks and uncertainties. Indices are unmanaged, do not consider the effect of transaction costs or fees, do not represent an actual account and cannot be invested to directly. International investing entails special risk considerations, including currency fluctuations, lower liquidity, economic and political risks, and different accounting methodologies.
© 2015 United Capital Financial Advisers, LLC. All Rights Reserved
Disclosure: I/we have no positions in any stocks mentioned, and no plans to initiate any positions within the next 72 hours.
I wrote this article myself, and it expresses my own opinions. I am not receiving compensation for it. I have no business relationship with any company whose stock is mentioned in this article.