Introduction
It wasn't really my intention, but I found myself analyzing many utility companies over the past several months. I usually analyze several companies every month. Analyzing them makes me familiar with more businesses, figure what the fair value of the company is, and then when it reaches fair value, all I need is to make sure that the analysis is still relevant before initiating a position.
Many investors here in Seeking Alpha like the utility sector, as the companies usually offer stable income, and low but reliable growth in income. It isn't a secret that my two holdings in the sector are Avista (NYSE:AVA) and Wisconsin Energy (NYSE:WEC). I analyzed other companies in the sector. Some had stronger fundamentals while other suffered from stagnation and a lot of debt. In this article, I am willing to analyze Consolidated Edison (NYSE:ED), a company that I wanted to look at for a long time. I will try to look at its strengths and weaknesses and compare it to my holdings in the sector.
Consolidated Edison engages in regulated electric, gas, and steam delivery businesses. It offers electric services in New York City and Westchester County, gas in Manhattan, the Bronx, parts of Queens and Westchester County and steam in parts of Manhattan. Further, the company develops, owns, and operates renewable and energy infrastructure projects, as well as invests in transmission companies.
Fundamentals
The fundamentals seems pretty weak to me. Every metric I checked seems to show lack of growth. On the other hand long term debt climbed over 60% in the past decade. At the same time revenues grew from $12.13 billion in 2006 to 12.5 billion in 2015, and that is CAGR of 0.3%. The revenue growth is very disappointing. Low revenue growth will make it very hard for the company to increase FCF and EPS. The FCF actually declined by almost 20% from its 2006 levels, while EPS grew very slowly.
The EPS grew from $2.95 in 2006 to $4.04 in 2015, this is CAGR of 3.2%. It is not too low for a utility company, but when I take into consideration the lack of growth in revenues and the decline in FCF, I feel much less comfortable with this low single digits EPS growth. More over, the outlook for 2016 and 2017 isn't much better, and the predicted growth rate is around 2%. As a young investor I find it very hard to invest in companies that don't grow.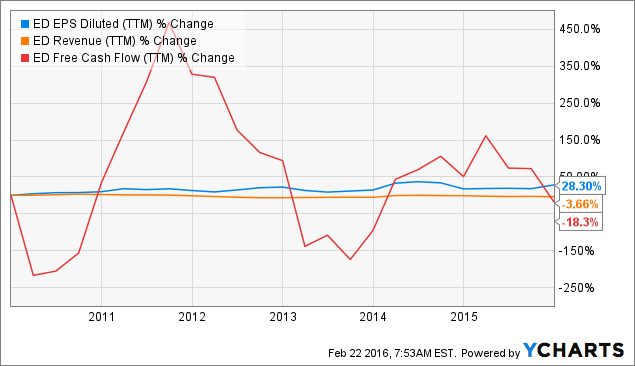 ED EPS Diluted (NYSE:TTM) data by YCharts
The dividend is another sad story in my opinion. The dividend grew even slower than the EPS due to the very high payout ratio in 2006 of almost 80%. The dividend grew from $2.305 in 2006 to $2.62 in 2015. This is a disappointing CAGR of 1.31%. The current dividend is sustainable with payout ratio of 65% which is in line with its peers. The dividend yield is also similar to the yield of WEC and AVA and stands at around 3.7%.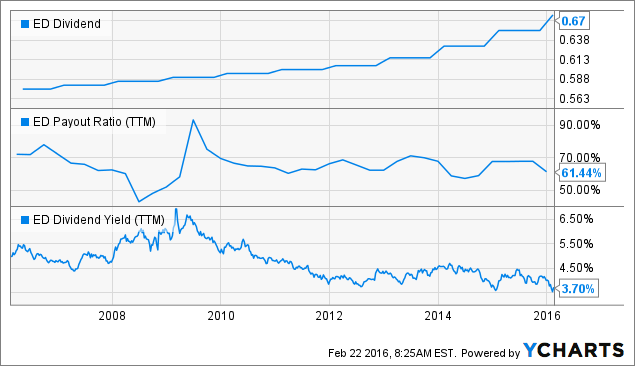 ED Dividend data by YCharts
The company also cannot allocate capital to repurchase its shares. Doing that can help the company in increasing its EPS. With such low dividend growth, share buybacks can increase EPS in a way that the total dividends paid won't have to grow, and the same amount with lower amount of shares will be enough for a 1.3% increase in the dividends per share.
When I compare the fundamentals of WEC and AVA, I find out that there is nothing to compare. Both of them show health EPS and dividend growth, generate more and more FCF, and have positive outlooks. On the other hand, ED suffers from weak growth in all metrics, and is practically stagnated.
Valuation
I expect to see that ED trades for lower valuation than WEC and AVA. The P/E should go along with the earning growth, and since there is no growth, I expect low valuation. As the graph below shows, the valuation is indeed cheaper, but not by much. The forward P/E for 2016 is 17.38 which is only 7% lower than the valuation of AVA and 10% lower than the valuation of WEC. I think that this valuation gap is too low, and with the current growth rate ED should trade for P/E ratio closer to 14-15.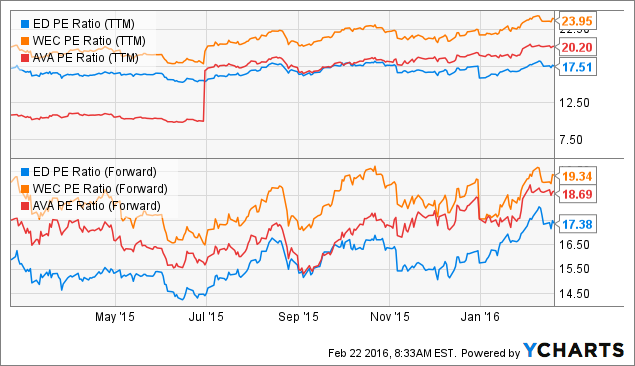 ED PE Ratio (TTM) data by YCharts
Moreover, other valuation metrics shows ED is more expensive than the peers. Look for example at the price to book value. ED trades for a higher valuation than both WEC and AVA. The P/S puts ED between the peers, and it doesn't make any sense. I believe that ED is traded for a rich valuation and it is totally unjustified, especially when compared to its peers. After looking at the fundamentals, I believe that ED is a company with no growth and very high valuation.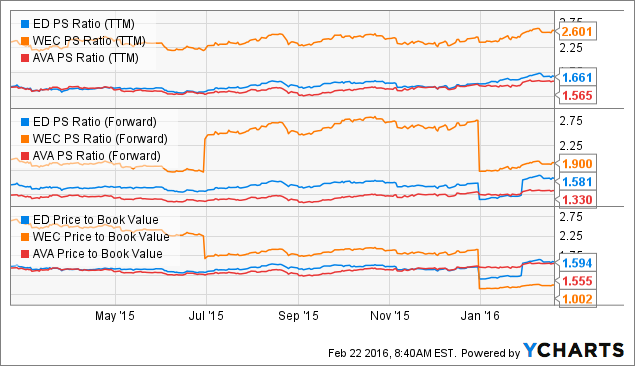 ED PS Ratio (TTM) data by YCharts
Opportunities
A company with weak fundamentals and high valuation should have plenty of growth prospects, but I am not sure this is the case for ED. The big opportunity for long term investors here, especially retirees is the reliability and stability of the business model. The dividend is safe and grows slowly. In a world where 10 year bond yields less than 2%, getting 3.75% without significant risk isn't something you can easily ignore.
Another opportunity for the company is the area where it operates. New York City is probably one of the strongest metropolitan area in the U.S. It is a small area that requires a lot of resources. The small area make it easier to deliver. In addition, operating in this highly populated area, gives ED the ability to expand.
ED can also grow by becoming more efficient, and it is already trying to do it. They are converting oil facilities into gas facilities. At current gas and oil prices it won't have much impact, but this is a great investment for the future as the gas is cheaper and cleaner. Moreover, using renewable energy can also help ED as it might get some support from its usually very strict regulator.
Risks
The first risk I see in this investment is the dividend growth. The basic rules of dividend growth investing is that the dividends grow faster than inflation. This is not the case for ED, the graph below shows the growth of the dividend over the past decade. The dividend payment today is 16.2% higher than it was in 2006. Over the same period of time the inflation in the U.S was 17.5%, so investors who bought ED in 2006 can buy less today, than they could back then, and we are talking about an era of very low inflation.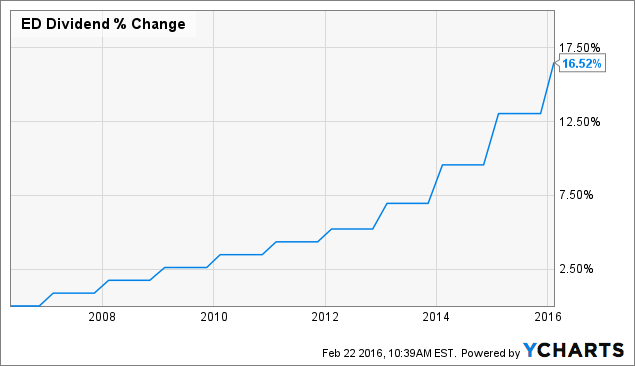 ED Dividend data by YCharts
Another risk here is the beta of the company. Investors that buy mainly blue chips usually own stock with betas that are lower than 1. It means that they are less volatile than the market. The lower the beta, the lower the volatility. However, the beta of ED is negative. It means that it actually has an opposite correlation to the stock market. If the stock market goes up, ED will go down and vice versa. Put options have negative beta, I don't want to invest in a stock that goes down when the market is healthy.
Well, with no growth, high valuation and not too many growth opportunities, I believe that the current price of ED is a true risk for investors, even for the medium term. The dividend growth doesn't even cover the inflation, and capital appreciation seems unlikely, I find it hard to believe that at the moment ED can bring investors significant returns.
Another risk is the inability of the company to increase prices. The peers like Southern Company (NYSE:SO), WEC and AVA all enjoy friendly regulators. However, ED has a much stricter regulator that doesn't allow all the increases ED asks for. Without the ability to increase prices, it will be hard for ED to support EPS growth and dividend growth.
Conclusion
There were several utility companies I felt that are not suitable for me. Southern Company due to its lack of growth and expensive projects is an example, but unlike ED it has a dividend yield that somewhat compensate for it. ED on the other hand has no growth and has dividend yield which is not higher than the dividend yield offered by peers with high growth.
I am not willing to initiate a position in ED, and I don't think that any investor who accumulates money for retirement should buy it. I still believe that the best picks in the sector are WEC, and AEP when they dip. The only good reason to buy ED is if an investor is already retired, and he needs a very low beta stock that will act like a treasury 10 year bond.
Disclosure: I am/we are long WEC, AVA.
I wrote this article myself, and it expresses my own opinions. I am not receiving compensation for it (other than from Seeking Alpha). I have no business relationship with any company whose stock is mentioned in this article.