About two months ago, I wrote that if BHP Billiton (NYSE:BHP) wants to preserve its financial health, then it may have to reduce dividends. On Monday, the world's leading mining company announced dismal half-yearly results and has planned to cut interim dividends by 75%.

Image: BHP Billiton investor presentation
BHP Billiton swung a massive loss of $ $5.67 billion for the six months ending December from a profit of $5.35 billion for the same period a year earlier, thanks to one-off charges of $6.1 billion which mainly include $4.9 billion of write downs related to US oil and gas properties and $858 million set against the tragic collapse of a dam in Brazil. That's the first loss for the company since 1999, a couple of years before BHP Limited merged with Billiton Plc. The weakness in commodity prices (as shown in the picture below) led to 37% drop in revenues to $15.7 billion while underlying earnings, a non-GAAP measure of profits, plunged 92% to just $412 million.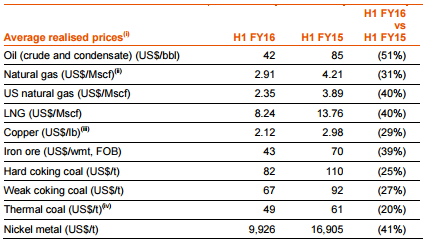 Image: BHP Billiton
Analysts' expectations were already pretty low, but the actual profit was smaller than Wall Street's estimate of $585 million. BHP Billiton is the lowest cost producer with one of the best balance sheets in the industry, but perhaps analysts have overestimated this mining behemoth's ability to remain profitable in the downturn. If that's the case, then BHP Billiton could end up facing wholesale cuts in earnings expectations and price targets from analysts, which can have a negative impact on the stock.
There were, however, some bright spots. BHP Billiton was able to fund its entire capital expenditure from operating cash flows, resulting in free cash flows of $1.2 billion. It remains the most profitable large cap miner, with EBITDA margin of 40%, higher than its rival Rio Tinto's (NYSE:RIO) margin of 34%. It did not report a significant increase in net debt, which clocked in at $25.9 billion at the end of last year, which is impressive considering the slump in commodity prices and the miner's inability to fund both capital expenditure and dividends from operating cash flows. But I believe these positives could get overshadowed by disappointingly weak earnings.
However, the highlight of the earnings release was the cut in first half dividends from $0.62 to just $0.16 per share. Although the cut was widely expected, it was bigger than the 50% drop discussed in my previous article. I believe this is a big step in the right direction. The company has also abandoned its decades old dividend policy which was about maintaining or growing distributions. The company now expects to maintain a payout ratio of least 50% of the underlying attributable profits.
I believe BHP Billiton has taken a big and a bold step in the right direction. Preserving the financial health by curtailing cash outflows to bring them in line with cash inflows should be one of the top priorities in the downturn, and that's exactly what the dividend cut is going to achieve. The dividends have been weighing BHP Billiton's cash flows by more than $3.2 billion in every six months, but that's going to fall substantially this year. In addition to this, BHP Billiton also expects to reduce capital and exploration expenditure from a little over $11 billion last fiscal year to $7 billion in the current and $5 billion in the next fiscal year. Consequently, following the reduction in dividends and capital expenditure, BHP Billiton could end up living within free cash flows, considering that it is on track to post net operating cash flows of $10.5 billion this year (on an annualized basis).
In addition to this, the cut in capital spending and dividends will also free up a lot of capital which can be used more productively elsewhere, perhaps on paying off the debt or making bolt-on acquisitions. Linking payouts with earnings was also a sensible move. This shows that BHP Billiton has accepted the harsh reality of the downturn - that it can no longer promise maintaining or growing distributions at all cost. The new policy is more flexible since it has linked payouts with earnings.
Conclusion
There was little to cheer about in the half-yearly results, but BHP Billiton has moved aggressively to slash its cash outflows to bring them closer, or perhaps even below, the cash inflows. This not only puts the company in a better position to withstand the downturn, but also opens doors to other opportunities.
Disclosure: I/we have no positions in any stocks mentioned, and no plans to initiate any positions within the next 72 hours.
I wrote this article myself, and it expresses my own opinions. I am not receiving compensation for it (other than from Seeking Alpha). I have no business relationship with any company whose stock is mentioned in this article.