Seadrill (NYSE:SDRL) has been down in the dumps this year by losing close to 49% of its value, which is not surprising considering that oil and gas infrastructure investments are expected to decline further in 2016. According to a CNN report, spending by exploration and production companies in 2015 was down by $250 billion, and this quantum is anticipated to go up to $320 billion this year.
Now, this is bad news for Seadrill as the company has been witnessing a decline in its backlog for the past few quarters on the back of a drop in the rig count and E&P spending. So, a steeper drop in spending by E&P companies means that Seadrill's backlog will continue to take a hit in 2016 as well. But, in my opinion, Seadrill is well-positioned to withstand the weakness in the end market and eventually make a comeback in the long run. Let's see why.
Preserving cash flow and margins in difficult times
The good thing about Seadrill is that it has managed to preserve its cash flow and grow the gross margin impressively despite a drop in its revenue. This is despite the fact that Seadrill has to contend with lower dayrates for its drillships, which indicates that the company's cost-cutting and cash preservation techniques are working well. The following chart shows how Seadrill has been able to increase cash flow and gross margin despite lower revenue: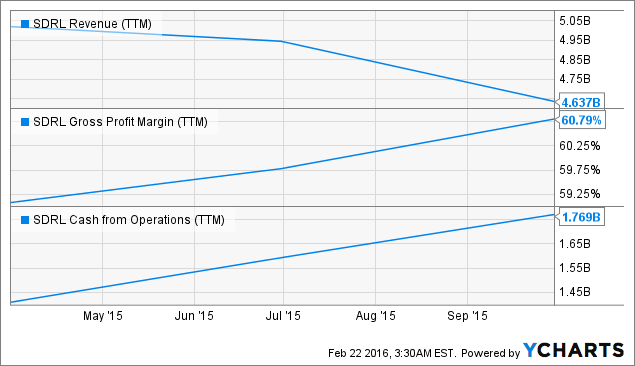 SDRL Revenue (TTM) data by YCharts
In fact, in the last reported quarter, Seadrill's operating cash flow went up to $1.49 billion from last year's $1.3 billion as the company witnessed strong utilization rates across its portfolio. For instance, in the floaters segment, Seadrill's utilization was 90%, while in the jack-ups segment, it was even higher at 98%. All in all, Seadrill had only 9 rigs idle out of a total of 38 rigs and its economic utilization stood at 92%. This is shown in the chart below:

Source: Seadrill
This strong utilization rate is driven by the fact that Seadrill has one of the youngest fleets in the industry, which allows it to gain contracts even in a weak environment, thereby keeping its utilization rates high. Now, a higher utilization rate means that Seadrill's variable costs will be low, which is why it is enjoying better contributions to its margin.
What's more, Seadrill is using the cash savings that it is generating to reduce its debt levels, which in turn is reducing its interest burden. For instance, in the last-reported quarter, the company had reduced its interest-bearing debt impressively on a year-over-year basis. This is shown below:
Source: Seadrill
Thus, as far as the fundamentals are concerned, Seadrill's improving cash flow and margins, along with its cash position of $1.43 billion, will allow the company to withstand the end-market weakness.
Gauging end-market improvements
As I had already discussed at the beginning of the article, Seadrill will find it difficult to make a comeback this year as investments in oil exploration and production are expected to drop. However, from a longer-term perspective, a recovery in this market cannot be ruled out. This is because the consistently growing demand for crude oil will create a gap between demand and supply if such investment cuts continue. This can be gauged from the chart given below: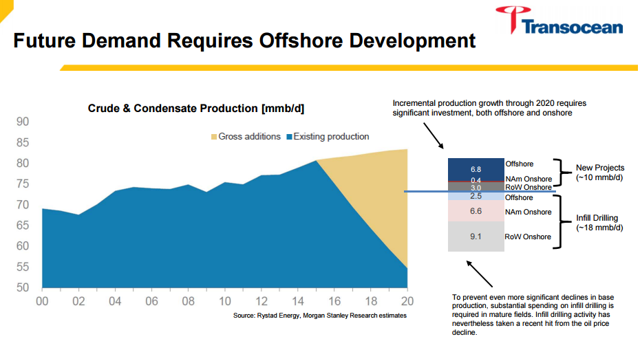 Source: Transocean
Thus, as supply starts falling short of demand, oil and gas companies will need to invest in offshore development, which will spur demand for Seadrill's services. But, till the time a recovery actually takes place, Seadrill will remain conservative. This is the reason why the company has elected to cancel certain newbuild programs and defer deliveries as well.
For instance, the company had 14 rigs under construction according to the last update for which it had to pay remaining installments worth $3.9 billion. However, the company has managed to both defer and reduce the value of installments to be paid. For instance, under its contract with Sevan Drilling and Cosco, Seadrill was able to reduce the final delivery installment by 15% to $447 million, generating savings of $79 million.
Meanwhile, the cancellation of the West Mira contract will allow it to receive $170 million in claims from the shipyard, along with interest, and this will strengthen its liquidity further.
Conclusion
Seadrill has been able to keep the utilization rates high in a difficult environment, which is impressive. Meanwhile, the company's focus on preserving cash flow is another positive. Thus, Seadrill looks well-placed to overcome the weakness in the end market and do well when things start getting better going forward.
Disclosure: I/we have no positions in any stocks mentioned, and no plans to initiate any positions within the next 72 hours.
I wrote this article myself, and it expresses my own opinions. I am not receiving compensation for it (other than from Seeking Alpha). I have no business relationship with any company whose stock is mentioned in this article.