Keycorp (NYSE:KEY) has made and continues to make progress high profitability. The last two quarters saw some improving trends and the next two years could prove to be reasonably supportive for the bank. Having underperformed the Financial Select Sector SPDR ETF (NYSEARCA:XLF) by 7% on a year-to-date basis, I believe risks are overblown and the stock's current price is a very compelling entry point.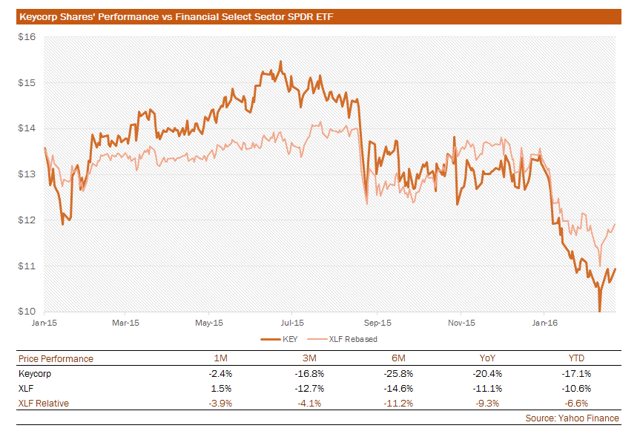 In a recent article I provided a neutral view on Keycorp mentioning that the valuation already reflected a great deal of good news at that time. However, the bank posted better results than I had expected as I failed to properly estimate fee income growth for Keycorp. The acquisition of Pacific Crest Securities had resulted in expanded business that improved the bank's revenue base. As a result of this I raised my investment banking-related fees and commissions growth estimates for Keycorp in 2016E and 2017E.
Investment banking and debt placement fees will keep on growing at fast pace this year and cause a continued evolution for diversification of revenue streams. My base-case scenario for Keycorp's revenues include a +10% growth in IBDP fees leading an increase of +5% in non-interest income for 2016. Moreover, favorable developments are not limited to only fees in Keycorp.
Loan growth will remain strong in Keycorp as the management guided for expansion in commercial lending. The bank, as might be expected, will be one of the beneficiaries of an environment of the Fed rate hikes and supportive macro backdrop in the Northern Tier. Excluding the oil and gas exposure, most of the risks attached to the rise in commercial lending are related to the real estate loans. This is directly associated with the credit disciplines the bank maintains and a strategy in place to keep loan losses at a minimum. On the other hand, the bank's total commitments to the energy sector were slightly down on a year over year basis to $3 billion at 2015 year-end of which 31% were criticized.
Within retail loans, Keycorp would post a rapid growth in credit cards as the bank is poised to take the advantage of pricing in a tightening cycle. However, home equity loans are still to be account for the significant part of the community lending volume but further improvement is very unlikely there. Overall, volume growth in consumer loans do not seem demanding for now but the bank will enjoy repricing there. Additionally, both average risk profile and unemployment rates do not pose significant downside risks on the asset quality front.
Keycorp has experienced a very low rate of operating expenses growth in the recent years. We saw the noninterest expenses to interest earning assets ratio coming down from 3.92% in 2012 to 3.44% in 2015. Given the efficiency outlook of the company, I believe Keycorp would have room for further cost cutting. That being said, the bank sees significant synergy opportunities in the First Niagara (NASDAQ:FNFG) acquisition and plans to minimize the expenditures. There is big chance that the overall operating expenses will be lower than estimated when two banks operationally combined.
CCAR results may also be another catalyst that would that would drive share price higher this year. Speaking of dividends, it is, in my view, fair to expect in increase this year as the bank has done so for five consecutive years.
Keycorp is now trading at a 7% discount to its peers on 2016E P/E of 9.3 times. I believe that the aforementioned catalysts coupled with the attractive valuation make the company a compelling investment. Based on a 2016E EPS of $1.20 (consensus: $1.14) and a target 2016E P/E of 12x, (or 1.24x 2016E P/TBV on ROATCE of 10.5%), I derive a target price of $14.4 for Keycorp which offers a potential return of 32%. Now seems to be a good times a pile in.
Disclosure: I/we have no positions in any stocks mentioned, and no plans to initiate any positions within the next 72 hours.
I wrote this article myself, and it expresses my own opinions. I am not receiving compensation for it (other than from Seeking Alpha). I have no business relationship with any company whose stock is mentioned in this article.