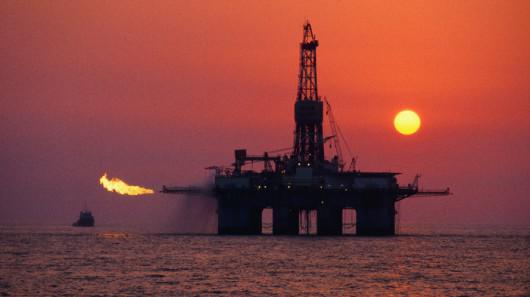 Source: Offshore Energy Today
Oilfield services stocks have been hammered by the free fall in oil prices from their peak in Q2 2014. Halliburton's (NYSE:HAL) cost containment measures and its proposed merger with Baker Hughes (NYSE:BHI) have buoyed the stock. HAL is off about 28% over the past years versus an 8% decline for the S&P 500 (NYSEARCA:SPY). Over a year after the merger was announced, Halliburton is still trying to clear regulatory hurdles:
Halliburton plans to divest Baker Hughes' offshore drilling and completions fluids division and the bulk of BHI's completion systems, adding more assets to the list of businesses it plans to sell to appease antitrust regulators, Bloomberg reports.

HAL already had agreed to sell BHI's core completions business, which provides equipment for controlling the flow of oil as it is readied for production, and has decided to sell most of the rest of BHI's related completions operations at the behest of regulators, according to the report.
Secondly, regulators in Brazil and the EU are concerned the transaction could hurt competition or result in higher prices for oilfield services. Reports have now surfaced that the company might need to divest even more assets to appease Australian regulators; Australia is reportedly looking for an alternative buyer of divested assets in order to create stronger competition across various markets. As regulators require a strong number three competitor across all products in every market, the merger may be untenable. Moreover, even if the deal is approved, HAL shareholders may not win out long term for the following reasons:
Negative Arbitrage
The acquisition price for BHI is [i] 1.12 HAL shares of each BHI share and [ii] $19 per BHI share. Halliburton would also inherit Baker Hughes's net debt of $1.7 billion. Based on Friday's closing share prices, Halliburton would pay about $25.4 billion for BHI or over 15x its 2015 adjusted EBITDA. If Halliburton's divested assets are sold for less than the 15x EBITDA, then is could create a negative arbitrage. While BHI's EBITDA has fallen over 60% from $4.7 billion in 2015 to $1.7 billion in 2015, the deal value hasn't fallen in lockstep.
Secondly, potential buyers of the divested assets could apply a much lower valuation multiple given [i] the free fall in oil prices and [ii] the potential difficulty in raising capital to fund the deal in a capital markets environment that is less inviting for energy deals. In particular, banks are looking to shun energy exposure, and might be less enthusiastic to provide debt for an oil services deal than they were a year ago.
$2 Billion Cost Synergies Might Not Be Realistic
The proposed merger has gotten HAL longs excited due to expected cost synergies of $2 billion. However, after tens of thousands of headcount reductions and other cost containment efforts, those cost synergies might not be as robust as first thought. On its Q4 earnings call, HAL management gave little additional color on its ability to meet previous cost synergy estimates.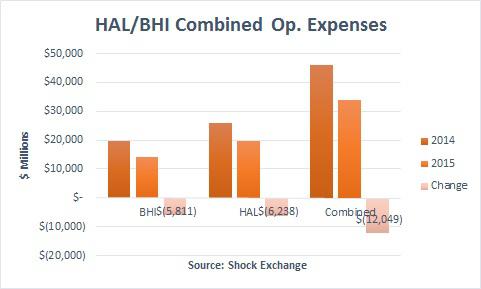 Total operating expenses for both companies were $46 billion in 2015. They fell 12 billion to $34 billion for full year 2015. With combined costs much lower, the lion's share of cost cuts expected to be generated by the merger might have been realized already.
HAL is all about risk and reward. The downside is that the stock could plummet if the merger is not approved. In my opinion, the company would likely be better off with the merger, but the potential upside could be limited due to [i] oil prices sub-$40 and [ii] the potential for synergies to be lower than once expected. That upside does not warrant the 9x EBITDA multiple that HAL is currently trading at. The stock remains a sell.
Disclosure: I/we have no positions in any stocks mentioned, and no plans to initiate any positions within the next 72 hours.
I wrote this article myself, and it expresses my own opinions. I am not receiving compensation for it. I have no business relationship with any company whose stock is mentioned in this article.