Asthma is mostly a chronic reversible inflammatory condition of the respiratory tree that affects approximately 12% of adults and 10% of children and adolescents, leading to breathing difficulty. About 300 million people worldwide and 16 million in the US suffer from this condition. Many patients with mild or moderate asthma are well controlled on inhaled corticosteroids (ICS), short- and long-acting beta blockers, leukotriene inhibitors such as montelukast, and most recently, long-acting muscarinic inhibitors such as tiotropium. However, 5% of patients cannot achieve adequate symptom control with recurrent exacerbations, hospitalization and death.
Newer therapies for asthma are being developed by several companies, and this review looks at the biologics in the pipeline. These include those targeting IL5, a pro-eosinophilic cytokine. Eosinophils are thought to play an important role in the pathogenesis of asthma, and by targeting them, the signs and symptoms of eosinophilic asthma decrease (note: they do not affect non-eosinophilic asthma). Other antibodies target IL-4 and/or IL-13, cytokines driving the Th2 (allergic) phenotype in patients.
Mepolizumab (GlaxoSmithKline (NYSE:GSK))
Mepolizumab is the first antibody in about 10 years to be approved.
It is a humanized anti-IL5 antibody that blocks the binding of IL5 to its receptor's alpha chain.
It was approved by the FDA on Nov. 4, 2015, for patients with asthma age >12 and serum eos >150/ul.
The dose is 100 mg sq q four weeks.
Approval was based on Trials 1, 2 and 3, which had different endpoints. Trials 2 and 3 were considered pivotal.
Trial MEA115588 evaluated 75 mg intravenous (IV), 100 mg sub-cutaneous (SQ) and placebo for 32 weeks.
There were 576 subjects.
Both mepolizumab treatment arms showed statistically significant reductions in the frequency of clinically significant exacerbations of asthma compared to placebo (75 mg IV, 47%, p<0.001; 100 mg SQ, 53%, p<0.001).
The frequency of adverse events was 83% in the placebo group, 84% in the mepolizumab 75 mg IV and 78% in the mepolizumab 100 mg SQ group.
The frequency of serious adverse events was 14% in the placebo group, 7% in the mepolizumab 75 mg IV and 8% in the mepolizumab 100 mg SQ group.
Trial MEA115575 compared 100 mg SQ to placebo in reducing daily oral corticosteroid use while maintaining asthma control over 24 weeks
There were 135 subjects.
Patients on mepolizumab 100mg SQ were able to achieve greater reductions in their maintenance oral corticosteroid dose during weeks 20-24 compared to patients on placebo (p =0.008) while maintaining asthma control.
The frequency of adverse events was 92% in the placebo and 84% in the mepolizumab treatment group.
Frequency of serious adverse events was 18% in the placebo group and 1% in the mepolizumab group.
Overall, the most common reported adverse events in the two treatment groups were headache, nasopharyngitis, bronchitis, sinusitis, fatigue and asthma.
6% of subjects developed non-neutralizing abs across the three studies.
Overall, the studies showed improvement in steroid use, FEV1, exacerbations, and quality-of-life instruments (ACQ-5, SGR).
Being first out of the gate obviously gives GSK an advantage. The drug will give a boost to its respiratory portfolio, but probably not enough to replace Advair. It is meant to be given by a clinical staff, but it is expected that after a year on the market, the FDA will review and most likely allow self-injection.
Reslizumab (Teva Pharmaceuticals (NYSE:TEVA))
Next on the launch pad is Teva's reslizumab.
Also a humanized anti-IL5 IgG4k antibody.
On Dec. 10, 2015, the FDA's AdCom recommended the approval for patients age 18 and older and whose blood eos >400/ul.
Dose of 3 mg/kg IV q four weeks.
Phase III trials conducted as BREATH studies.
Trial NCT01287039 compared reslizumab in patients with eosinophilic asthma against placebo.
There were 489 subjects.
Study duration was 12 months.
Reslizumab reduced the frequency of asthma exacerbations by 50 percent compared to placebo.
Trial NCT01285323 compared reslizumab in subjects with eosinophilic asthma against placebo.
There were 464 subjects.
Study duration was 12 months.
Reslizumab reduced the frequency of asthma exacerbations by 60 percent compared to placebo.
Overall, common adverse events (occurring in >5 percent of patients) in the reslizumab treatment group were comparable to placebo and included asthma, nasopharyngitis, upper respiratory infections, sinusitis, influenza and headache.
Two patients treated with reslizumab experienced anaphylactic reactions.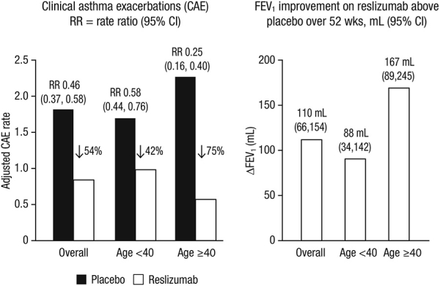 Reslizumab has several disadvantages - it targets higher eosinophil levels, thus has a smaller market, and has to be given IV in an infusion center. That will decrease the attractiveness to patients who prefer self-injection. It also has a safety profile that is not as clean as its competitors.
Benralizumab (AstraZeneca (NYSE:AZN))
Humanized antibody to IL5 receptor alpha chain (in contrast to the prior two which targeted the cytokine, not the receptor).
It has not finished Phase III studies. The Phase IIb 52-week study.
Enrolled 609 subjects.
Doses were 2, 20, 100 mg SQ q four weeks for eosinophilic patients, 100 mg SQ q four weeks for others.
Primary endpoint was asthma exacerbation rate; secondary endpoint was quality-of-life instrument (ACQ 6).
In the eosinophilic group, 20 and 100 mg SQ improved annual exacerbation rate by 57% and 43% vs. placebo (significant).
The results were not significant in the non-eosinophilic group.
Subgroup analysis showed greater improvement with increased baseline blood eos (100 mg SQ reduced exacerbations by 70% in patients ≥ 400 cells/μl, p= 0.002).
Treatment-emergent adverse events occurred in 72% of participants receiving any benralizumab dose compared with 65% of receiving placebo.
Most common adverse events were nasopharyngitis (11% patients receiving benralizumab vs. 6% patients receiving placebo) and injection site reactions (ISR, 16% vs. 4% occurred more frequently with benralizumab than with placebo).
From the eosinophil viewpoint, benralizumab is targeting 300 eos/ul, a value between the GSK and Teva drugs (150 and 400 respectively). On the plus side, it is to be self-administered by patients, which will make it more attractive than reslizumab.
Lebrikizumab (Roche (OTCQX:RHHBY))
Humanized anti-IL 13 antibody.
Phase IIb (LUTE/VERSE study) was 24 weeks long.
Enrolled 463 subjects.
Doses were 37.5, 125, 250 mg or placebo sq q four wks.
Patients were stratified on serum periostin levels (high was ≥50 ng/mL) as a pre-specified biomarker.
Asthma exacerbation rates were reduced by 22, 77 and 81 percent in periostin high patients in the lebrikizumab 250 mg, 125 mg and 37.5 mg groups, respectively (this is not a typo).
FEV1 was increased by 6.8, 10.7 and 10.1 percent in the periostin high patients in the lebrikizumab 37.5 mg, 125 mg and 250 mg groups, respectively, compared with placebo.
Adverse events were 70 percent in the lebrikizumab arm (all dose levels combined) versus 63 percent in the placebo group.
Serious adverse events (lebrikizumab, 2 percent; placebo 1.7 percent) were similar.
Other studies in mild asthmatics were negative.
It is hard to make sense of the inverse dose relationship in asthma exacerbation rates. More clarity will come from the phase III studies underway.
Tralokinumab (AstraZeneca)
Another anti-IL 13 antibody.
Completed IIb study in 452 adults given 300 mg tralokinumab SQ q two weeks, q two weeks x 12 weeks followed by q four weeks or placebo.
Duration was 50 weeks.
Patients receiving tralokinumab every two weeks, every four weeks and placebo all had similar unadjusted annual asthma exacerbation rates (primary endpoint, 0.91, 0.97 and 0.9 per year respectively).
FEV1 increased compared with placebo in patients receiving tralokinumab every two weeks (change from baseline = 7.3%; P = .003) but not every four eeks (1.8%; P = .448).
Quality-of-life instruments ACQ-6 and AQLQ were significantly different from placebo in the reversible and DPP4 (dipeptidyl peptidase-4) high subgroups for Q2W.
Frequency of treatment emergent serious adverse events/adverse events were similar within the safety population (tralokinumab Q2W: 89.3%; Q4W: 84.8%; placebo: 84.8%).
Given the Phase II did not meet its primary endpoint, it will be interesting to see what the Phase III data show.
Dupilumab (Regeneron (NASDAQ:REGN) and Sanofi (NYSE:SNY))
Anti-IL 4, IL 13 receptor alpha chain. IL4 and IL 13 receptors have a common alpha chain, and dupilumab targets both cytokines through the common alpha chain.
Phase IIb (pivotal) data was released on May 18, 2015, in patients with low eosinophils (Leos).
Previously, companies had shown positive data on patients with high eosinophils (Heos). Thus, dupilumab covers all eos patients, high and low, unlike the anti-IL5 antibodies.
The doses were 200 mg q2w, 300 mg q2w, 200 mg q 4w, 300 mg q 4w vs. placebo for 24 weeks, all given SQ.
There were 776 subjects, 42% with blood eos>300/ul, 58% with blood eos<300/ul.
The 200 mg or 300 mg Q2w doses of dupilumab showed a greater than 8 percent improvement in FEV1 at Week 12 (p < 0.001), in comparison to placebo.
The 200 mg and 300 mg Q2W doses of dupilumab showed 68 percent and 62 percent reductions, respectively, in adjusted annualized rate of severe exacerbations in the Leos population (p < 0.01 and p < 0.05).
Fractional excretion of nitrous oxide (FeNO), a measure of allergic phenotype, showed a dose dependent decrease.
The most common adverse event was injection site reaction, which was more frequent in the dupilumab dose groups (13 to 25 percent) compared to placebo (12 percent).
Other common adverse events were upper respiratory infection (10 to 13 percent dupilumab; 13 percent placebo), headache (5 to 10 percent dupilumab; 8 percent placebo), nasopharyngitis (3 to 10 percent dupilumab; 6 percent placebo) and bronchitis (5 to 8 percent dupilumab; 8 percent placebo). The incidence of infections was balanced across treatment groups (42 to 45 percent dupilumab; 46 percent placebo), as was the incidence of serious adverse events (3 to 7 percent dupilumab; 5 percent placebo).
Very promising compound as it is given SQ and is not restricted by serum eosinophil or periostin levels.
Summary
Generally, all antibodies seem to be very well tolerated. The differences are in mode of administration, dosing frequency, efficacy, and inhibitory factors such as restrictions of eosinophil levels or periostin levels. The fewer the inhibitions, the better. In summary, here is a table:
Drug

Admin

Dosing

Decrease in Asthma Exacerbation

Limit

Mepolizumab

SQ

4w

50%

Eos>150/ul

Reslizumab

IV

2w

50%

Eos>400/ul

Benralizumab

SQ

4w

43%

Eos>300/ul

Lebrikizumab

SQ

4w

20-70?

Periostin

>50ng/ml

Tralokinumab

SQ

2w

0

?

Dupilumab

SQ

2w

66%

None
Pole Position: Dupilumab and Regeneron
Given its mode of administration, efficacy, and lack of inhibitory factors, I consider dupilumab to be the best positioned. Apparently, the FDA agrees as it was given breakthrough designation.
A breakthrough therapy is a drug:
intended alone or in combination with one or more other drugs to treat a serious or life-threatening disease or condition and
preliminary clinical evidence indicates that the drug may demonstrate substantial improvement over existing therapies on one or more clinically significant endpoints, such as substantial treatment effects observed early in clinical development.
It has expedited development and review.
Dupilumab will have a greater effect on Regeneron than Sanofi as it is a smaller company and dupilumab's revenues will make a bigger difference.
Disclosure: I/we have no positions in any stocks mentioned, and no plans to initiate any positions within the next 72 hours.
I wrote this article myself, and it expresses my own opinions. I am not receiving compensation for it (other than from Seeking Alpha). I have no business relationship with any company whose stock is mentioned in this article.