By Mitch Zacks
It started with concerns over U.S. bank exposure to energy loans and now it has spread like wildfire to Europe. The issue - falling commodities prices. Concern has escalated as investors start to price-in the possibility, or likelihood, that a v-shaped recovery in oil prices is not likely in the foreseeable future. This means that many of the young energy companies that secured financing at $100 oil will fail. To the extent that European and U.S. banks have energy loans in their portfolios, defaults and losses stand to bruise balance sheets and threaten credit and liquidity. At worst, investors fear that energy defaults could be the new version of the 2008 subprime situation.
It's hard to blame investors for fearing the worst. The 2008 financial crisis is still fairly fresh in our memories and it's tempting to apply the same logic: banks start to write-off non-performing energy loans; credit gets cut off because banks are insufficiently capitalized and illiquid; banks fail or get bailed out. 2008 financial crisis redux.
You can get a sense of just how fearful investors are about bank liquidity by looking at credit default swaps (how much it costs to insure a bank's debt). Germany's biggest bank, Deutsche Bank (NYSE:DB), has seen the cost to insure its debt soar by over 180% over the past three months, bringing it back to 2011 levels (when Europe's sovereign debt crisis was at its height). Another household name, Credit Suisse (NYSE:CS), has seen the cost to insure its debt double.
As investors rush to hedge, demand for insuring the debt rises which causes the cost to rise. The fear is much more pronounced in Europe than in the U.S. European banks rely more on volatile trading revenue than they do on deposits. Additionally, European banks were much slower to recapitalize following the financial crisis and have fewer assets.
3 Reasons This Won't Be a Repeat of 2008
I could spend pages analyzing the 2008 financial crisis but at the heart of it was that big investment banks became illiquid and under-capitalized once their subprime loan portfolios lost value overnight. Since investment banks couldn't borrow from the Fed's discount window, they had to rely on interbank lending to get cash to pay debt interest due. Banks overleveraged to subprime saw their loan collateral collapse and, as a result, their ability to access interbank lending got cut off. At the time of bankruptcy, Lehman Brothers assets actually exceeded its liabilities. However, those assets just weren't liquid.
Today, it feels like investors are pricing-in the possibility of the next financial crisis hitting Europe in a similar fashion due to energy losses. Rumors circulated last week that Deutsche Bank wouldn't be able to pay interest on debt due in April, which eerily sounded like a Lehman moment. But Deutsche Bank quelled fears by offering to buy back some of its debt (which it simply could not do if it was illiquid), and it supported a report by Moody's stating that it would be able to make payments on its riskiest debt this year and that only a "major, unforeseen event" would cause it to miss a debt payment.
There are three reasons I think our current situation is not like the 2008 crisis:
Energy Loan Portfolios are Small - the biggest U.S. banks generally have less than 5% of their total loan portfolio in Energy (and Europe is in that range as well). Recall too that, within the oil sector, most loans are asset-backed meaning that banks can make a claim on property if needed (unlike most subprime loans). If energy loan losses were a huge problem on bank balance sheets, you would probably see non-performing loans going up throughout Europe - but they're actually going down.
Banks are Much Better Capitalized Today than Pre-2008 - generally, big bank balance sheets are dramatically less leveraged than they were before the crisis and, with Dodd-Frank and Basel regulations, they've been forced to raise capital against the possibility of future losses. Even still, U.S. banks have been adding to reserves: Citibank (NYSE:C) by $250 million in the latest quarter; JPMorgan (NYSE:JPM) by $124 million; Bank of America (NYSE:BAC) by $2 billion.
Credit Market Stresses Remain Subdued - the Cleveland Financial Stress Index for credit stress looks at a combination of the commercial paper to T-Bill spread, the corporate bond spread, the covered interest spread, the liquidity spread and the treasury yield curve spread. As you can see below, it's far from 2008-2009 levels and was even higher at the apex of the European sovereign debt crisis, in 2011.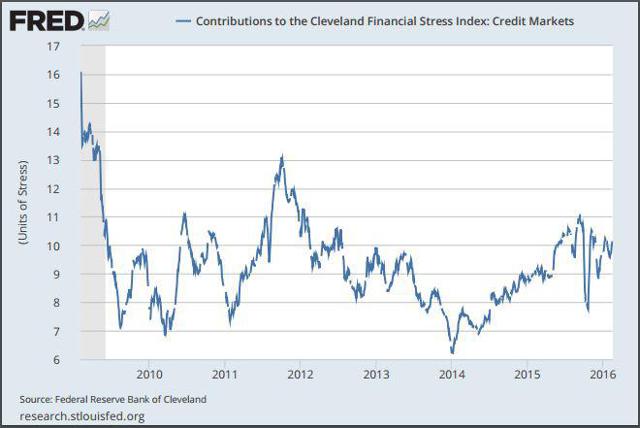 Bottom Line for Investors
When you look at most European banks closely now, you'll find that they are trading at deep discounts to book value. Unless fundamentals still haven't caught up, because the really big losses are ahead (which I doubt), this is usually a sign that investors are over-selling banks on fears and not a huge change in the fundamental outlook. This is not to say that you should go out and buy European banks - growth in Europe is still sluggish and Basel requirements are putting regulatory pressures and uncertainties on European banks. But this is to say that you shouldn't look at the European bank situation as though it is the next financial crisis. Stay the course and stay steady.
Past performance is no guarantee of future results. Inherent in any investment is the potential for loss.
Zacks Investment Management, Inc. is a wholly-owned subsidiary of Zacks Investment Research. Zacks Investment Management is an independent Registered Investment Advisory firm and acts as an investment manager for individuals and institutions. Zacks Investment Research is a provider of earnings data and other financial data to institutions and to individuals.
This communication is for informational purposes only and nothing herein should be construed as a solicitation, recommendation or an offer to buy or sell any securities or product, and does not constitute legal or tax advice. The information contained herein has been obtained from sources believed to be reliable but we do not guarantee accuracy or completeness. Zacks Investment Management, Inc. is not engaged in rendering legal, tax, accounting or other professional services. Publication and distribution of this article is not intended to create, and the information contained herein does not constitute, an attorney-client relationship. Do not act or rely upon the information and advice given in this publication without seeking the services of competent and professional legal, tax, or accounting counsel.