A strong business model, an attractive valuation, and healthy free cash flow - these are the three main criteria I look for when investing in a stock, and Estée Lauder (NYSE:EL) has them all.
With a global business network, along with household brands such as Tom Ford, Jo Malone, and Smashbox, the company succeeded in increasing diluted earnings per common share by 18 percent for the second quarter of 2016. In particular, the Makeup, Fragrance, and Hair Care lines all reported an increase in operating income in 2015 compared to the previous year, with Hair Care showing the highest increase at 23 percent. While overall sales and operating income decreased for Skin Care, this was primarily due to the effects of an unfavourable foreign currency translation.
Moreover, sales across several key markets rose by double digits across North America, Europe and Asia. In particular, China saw strong constant currency sales gains, which is impressive given a slowdown in consumer spending in the region. In this regard, Estée Lauder is in a good position to be able to capitalise on growth in both developed and emerging markets. Its range of strong brands have afforded the company a differentiation advantage, and this is serving the company well even across economies such as China where comparatively low economic growth is a concern.
As for the valuation and free cash flow criteria, I see Estée Lauder as currently trading at fair value. When we look at a historical average for the P/E ratio, we see that the ratio has roughly trended at the 29 mark over a five-year period. Moreover, at a price of $92.10 at the time of writing, this price seems to be fair value at this P/E ratio:
| | | |
| --- | --- | --- |
| P/E Ratio | Diluted EPS | Terminal Price |
| 23 | 3.119 | 71.737 |
| 25 | 3.119 | 77.975 |
| 27 | 3.119 | 84.213 |
| 29 | 3.119 | 90.451 |
| 31 | 3.119 | 96.689 |
However, fair value would not stop me from buying. Aside from promising earnings prospects, the company's free cash flow performance has been excellent. We see that when compared to competitors, Estée Lauder not only has the highest free cash flow per share, but has also increased free cash flow the most on a cumulative basis. In this sense, I still see fair value as an attractive valuation for the company given such performance.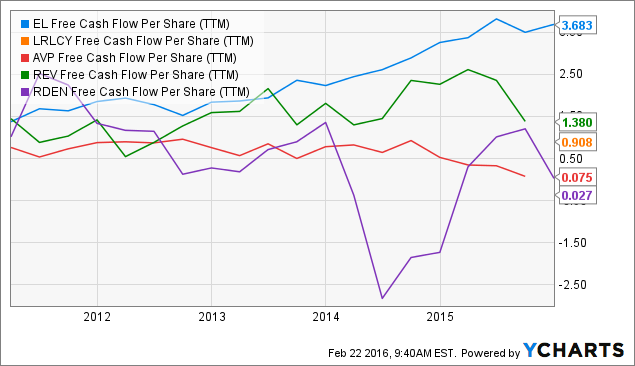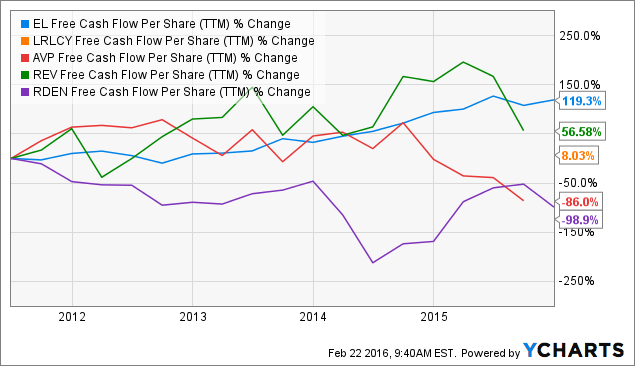 To conclude, Estée Lauder continues to maintain a strong business model, and what I particularly like about the company is that it has channeled earnings into vibrant free cash flow. For these reasons, I take a bullish view on Estée Lauder.
Disclosure: I/we have no positions in any stocks mentioned, and no plans to initiate any positions within the next 72 hours.
I wrote this article myself, and it expresses my own opinions. I am not receiving compensation for it (other than from Seeking Alpha). I have no business relationship with any company whose stock is mentioned in this article.