Introduction
This is part of a series of quarterly reviews that analyze the performance and portfolio characteristics of interesting equity managers running either public (mutual funds) or private pooled investment vehicles (hedge funds) that are not accessible by retail investors. Our aim is to provide readers:
An analysis of the manager's return and risk characteristics.
An analysis of the manager's top portfolio holdings.
An opinion on whether readers should replicate their portfolio.
All analysis is based on a clone portfolio of the manager's top 10 disclosed holdings, which allows readers to replicate the portfolio with ease if desired. It may not be an accurate reflection of the manager's actual investment performance.
That said, it is possible for some clone portfolios to outperform the manager's actual portfolio over time due to the following factors:
No Fee Drag: High base fees and excessive performance fees in some cases eat into returns. Investors can buy the stocks directly to access the manager's stock-picking skill.
No Over-Diversification: Managers typically over-diversify. Returns from the best ideas are usually diluted by a long tail of lower quality ideas. We focus only on the top 10 holdings.
No Fancy Sizing: Managers may have good stock-picking skills, but can be terrible at sizing ideas. Our clone portfolios are equally weighted so each idea has an equal impact.
No Tinkering: Managers typically add or trim positions on the margin too regularly, since after all, they are paid to "actively manage" the portfolio. Quarterly rebalancing in line with 13-F releases reinforces a buy-and-hold discipline and reduces costs.
No Shorting: Shorting requires a very different skill set, which not all managers are good at. Alpha from successful longs can be severely diluted from bad shorts or dynamic exposure management that does not add value over time.
Manager Brief
| | |
| --- | --- |
| Manager Name: | Vulcan Value Partners |
| Location: | Birmingham, AL |
| Year Founded: | 2007 |
| Lead Portfolio Manager: | C.T. Fitzpatrick |
| Investment Style: | Value |
| Number of Employees: | 33 |
| MV of Latest 13-F Holdings: | $10.8bn |
Vulcan Value Partners is a value manager founded by a former portfolio manager at Southeastern, an established value shop.
C.T. Fitzpatrick founded Vulcan Value Partners in 2007 to manage his personal capital. Since inception, all four strategies have peer rankings in the top 1% of value managers in their respective categories.* Prior to founding Vulcan Value Partners, C.T. worked as a principal and portfolio manager at Southeastern Asset Management. During his 17 year tenure, the team at Southeastern Asset Management achieved double digit returns well ahead of inflation and was ranked in top 5% of money managers over five, ten, and twenty year periods according to Callan and Associates.
The firm manages 4 strategies:
Large Cap Value
Large Cap Value (Concentrated)
Large Cap Value (Concentrated + Options)
Small Cap Value
For more details, please refer to the firm's website. Its latest quarterly letter can be found here.
Since the firm manages a couple of strategies, our clone portfolio will be an aggregation of its top holdings by market value across all four strategies.
Performance Analysis
Our clone portfolio returned +11.4% annualized over the past 3 years, vs. +15.1% for the S&P 500 Index. After a strong 2013, its performance has been flat in 2014 and particularly poor in 2015.
This performance was broadly in line with the Vulcan Value Partners Fund (MUTF:VVPLX) which generated +11.9%. More performance information is available on Morningstar.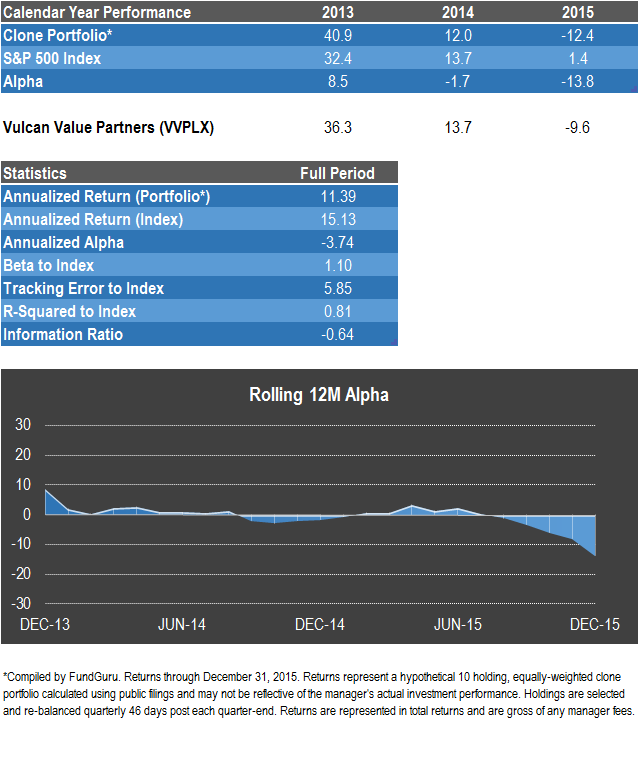 Holdings Analysis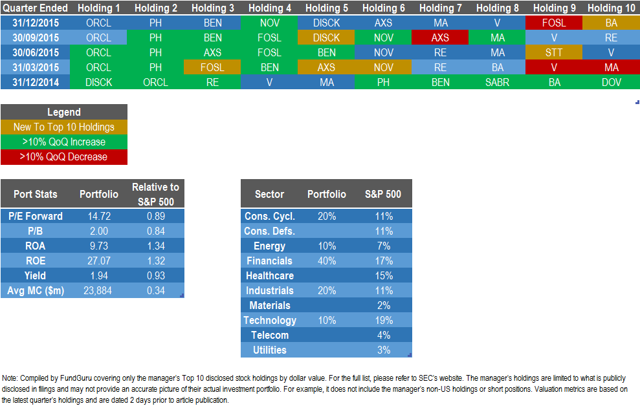 Portfolio Characteristics
This is clearly a value portfolio, with a lower P/E and P/B to the S&P 500. However, its higher ROA and ROE indicates there is a quality tilt. The portfolio is currently concentrated in Financials, which represented 40% of sector exposure. The manager appears to have been increasingly buying across the board (green cells), which is indicative of new capital inflows into the fund.
Individual Name Analysis
Of the top 10 holdings, 7 have been in the portfolio over the past year. This is how they have performed: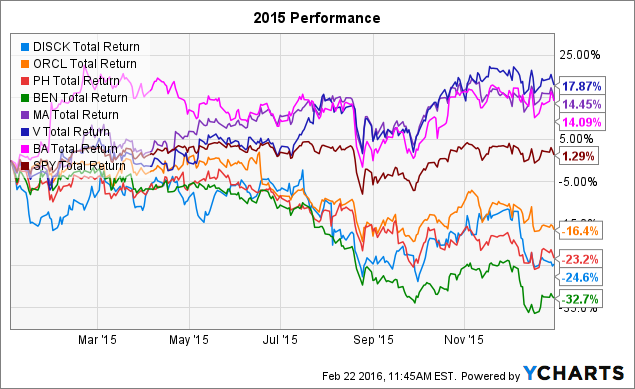 It is a mix bag. Over the past year, more growth-oriented names such as Visa (NYSE:V), MasterCard (NYSE:MA) and Boeing (NYSE:BA) have done well. On the other hand, value names have done poorly across the board, not just in 2015, but going back 3 years:
| | | | |
| --- | --- | --- | --- |
| | 3-Year Return | P/E Forward | FCF Yield |
| Oracle (NYSE:ORCL) | +2.6% | 12.8x | 7.3% |
| Parker-Hannifin (NYSE:PH) | +3.0% | 15.2x | 6.9% |
| Discovery (NASDAQ:DISCK) | -7.5% | 10.5x | 11.5% |
| Franklin Resources (NYSE:BEN) | -9.5% | 11.4x | 9.4% |
Of the four, Franklin Resources is the biggest loser. This is a large asset manager with extensive global presence and $872b in assets under management. It operates two well-regarded brand names; Templeton and Mutual Shares.
Due to its extensive AUM in international strategies, it has a high correlation to foreign equities. Below compares its share price performance to the iShares Core Emerging Markets ETF (NYSEARCA:IEMG) and the iShares Core Europe ETF (NYSEARCA:IEUR):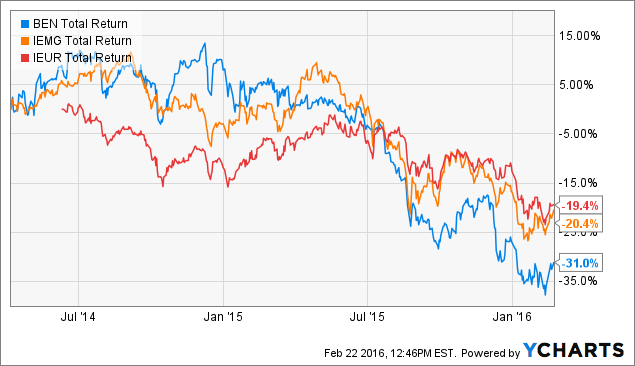 The company is currently trading at attractive valuations of 11x P/E, 1.7x P/B and an astonishing 9% free cash flow yield. Moreover, fundamentals appear to be robust with low levels of debt and solid balance sheet, where cash & equivalents represent 40% of its market cap.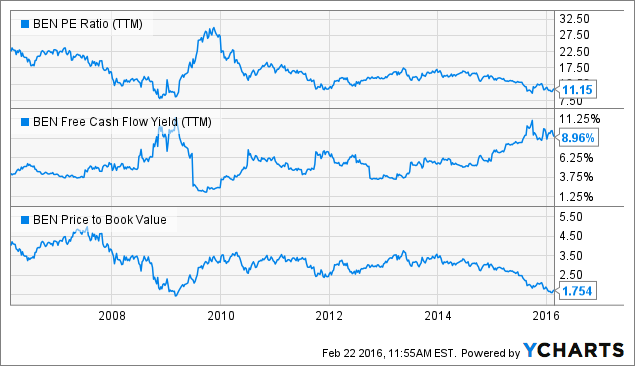 BEN is also returning capital to shareholders at an aggressive pace through mostly share buybacks.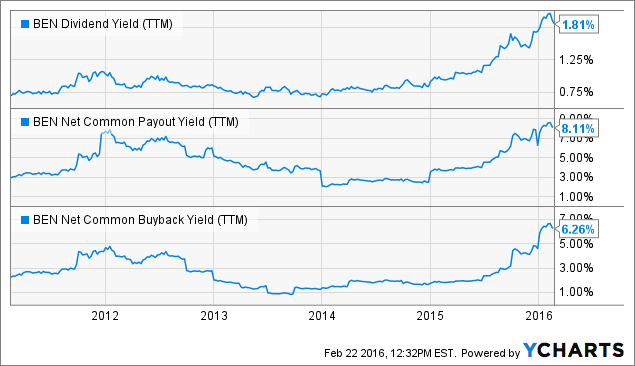 Now the big catch is declining revenues. Approximately 60% of its revenues is tied to management fees, which is no doubt held hostage to equity or bond market movements, and fund flows. The firm's AUM has declined gradually in recent years: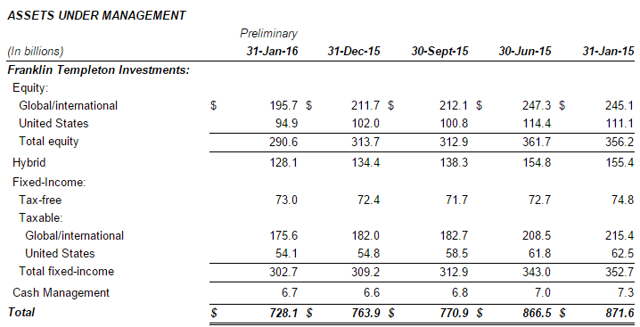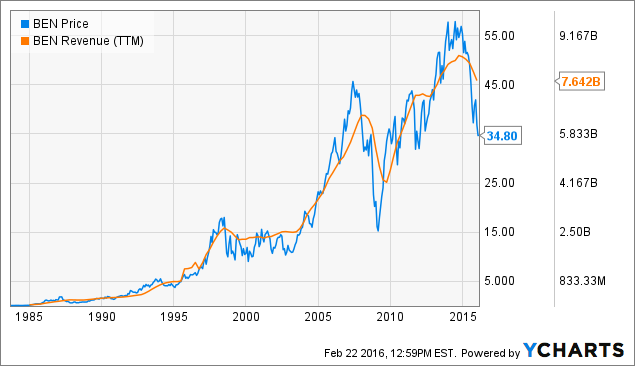 Will these trends continue and has the share price over-reacted? This remains to be seen. For now, we believe its fundamentals are sound with a considerable global reach and scale.
Current valuations are also attractive by historical standards and the firm will no doubt benefit from a pickup in emerging market equity or international equity fund flow; two regions we believe to be undervalued. For more information, see our article "Emerging Markets: A Time Arbitrage Opportunity."
Summary Thoughts
We Liked:
Attractively valued portfolio with a quality emphasis.
Low churn on a name-basis.
Recent underperformance provides a good entry point.
We Didn't Like:
Large assets under management, which shows no signs of stopping, yet.
Bottom Line:
This is an inexpensive portfolio balancing value and quality. We believe investors will be well-served by cloning Vulcan at this point in time.
For more information on why we like value stocks at this point of the market cycle, please see our article, "Move Out of Momentum and Into Value."
Interested in Following More Alpha?
Follow us now to get live updates as we post new reviews, and/or see our Schedule of Manager Reviews for an up-to-date list of the managers we have assessed so far.
Disclosure: I/we have no positions in any stocks mentioned, but may initiate a long position in BEN over the next 72 hours.
I wrote this article myself, and it expresses my own opinions. I am not receiving compensation for it (other than from Seeking Alpha). I have no business relationship with any company whose stock is mentioned in this article.