Introduction
Wabco (NYSE:WBC) has always intrigued me and now the share price is consistently trading at less than $100, the value proposition is much better compared to when the company was trading at $130/share. I was very interested in initiating a position after the third quarter, but I decided to wait for a little bit longer as the company's management described Q3 as 'weird' so I wanted to see how the company performed in the final quarter of the year before encountering any negative surprises.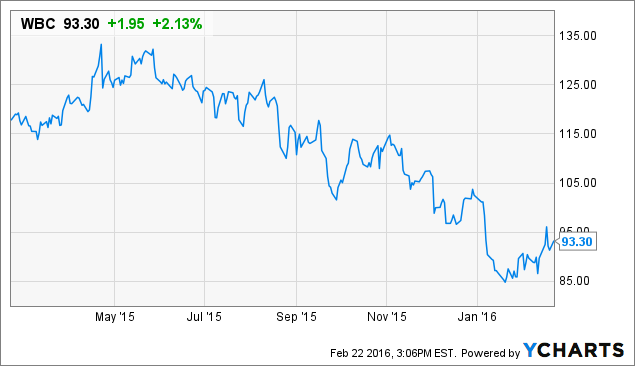 Q3 was 'weird', but how was Q4?
After a weird third quarter, I was unsure about what I could expect in the fourth quarter, but everything seems to have worked out pretty fine. The revenue fell by just 1% to $671M whilst the gross profit decreased by 2% to $200M. That's still very good, considering Wabco's results have been hit really hard by the stronger dollar (which had an impact of in excess of 10% on the revenues). So, if the exchange rates would have remained stable, I'm pretty sure the 2% drop in the gross profit would very likely have been a 5%+ increase.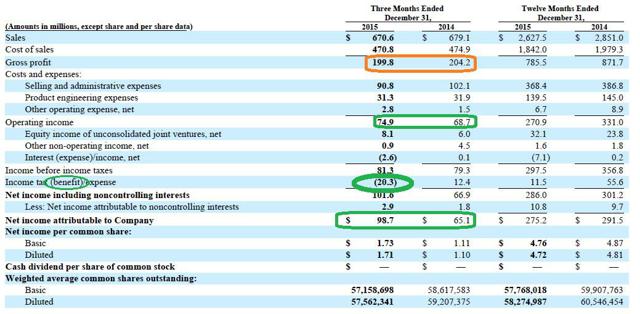 Source: SEC filings
Despite the slightly lower gross profit, the operating income increased by 10% on the back of lower selling and administrative expenses. Thanks to a tax benefit, the net income actually increased by more than 50% to $98.7M. This has boosted the full-year financial results. Yes, the full year revenue and gross profit was lower, as was the operating income, but the lower tax bill has saved the year as the net income fell by just 5%. On top of that, thanks to Wabco's share buyback program, the EPS fell by less than 3%, so I'd dare to say the company's 'damage control program' has worked pretty well.
My main reason why I was interested in Wabco before was the company's ability to convert its net income in free cash flow, and that's ultimately what enables a company to either invest in its assets or to reward its shareholders.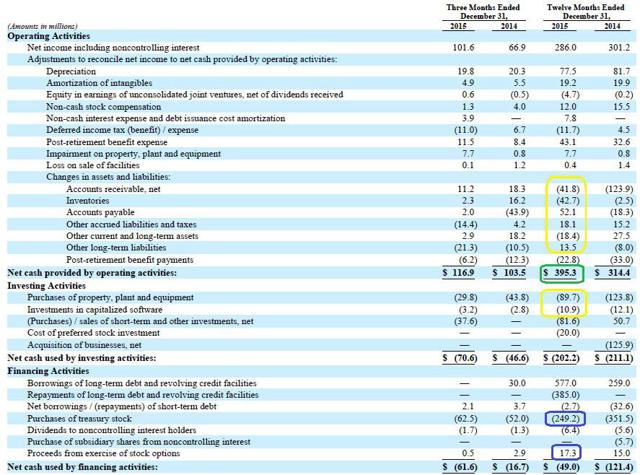 Source: SEC filings
I'm glad Wabco has provided separate cash flow statements for the fourth quarter (most companies only provide a full-year overview), which makes it easier to compare Wabco's Q4 result with the financials of the third quarter. I had absolutely no idea how Wabco would perform in the final quarter but just like the income statement, the cash flows were actually pretty decent. The operating cash flow was $117M, but there was a negative impact from working capital changes. Once I isolated these WC changes from the equation, the adjusted operating cash flow was actually $134M resulting in a free cash flow of $100M after deducting the capex. This was really good and this definitely helped to erase a relatively weak third quarter from my memory.
Wabco has repurchased 3% of its share count in 2015, and I'm expecting more buybacks this year
The very strong final quarter of the year (which was exceptionally strong on both the income and cash flow front due to the positive impact of the company's tax benefit), the full-year adjusted operating cash flow was $413M and as the total capex was just $100M, the adjusted free cash flow was in excess of $300M and that's a very robust result.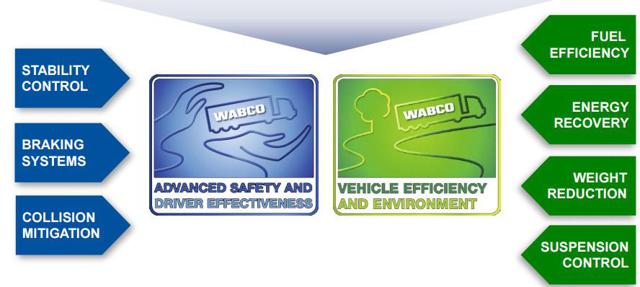 Source: company presentation
As the company doesn't pay a dividend, Wabco's shareholders have to rely on share repurchases to see the company create some tangible value. And Wabco didn't disappoint. Yes, the total amount spent on buybacks was lower compared to the previous financial year, but this was due to the fact Wabco elected to invest some cash in 'investments' rather than spending it on shareholder rewards. Approximately 75% of the free cash flow was spent on buybacks which allowed Wabco to repurchase 2.2 million shares. Unfortunately the full effect of this buyback program was reduced by employees exercising stock options, but Wabco was still able to repurchase and cancel 1.7 million shares, reducing the share count by 3%.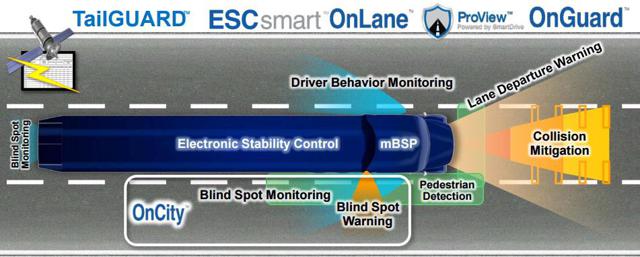 Source: company presentation
And it's very likely Wabco will continue to do so. It's still generating a very decent amount of free cash flow (and there's absolutely no reason why WBC won't be able to generate another $300M in free cash flow this year). On top of that, the share price is currently lower, so if Wabco would decide to spend the same amount on share buybacks, it would be able to repurchase more shares. Even after taking additional dilutive effects from option exercises into account, Wabco could definitely be able to repurchase a net amount of 2 million shares, reducing the share count by another 3.5%.
Investment thesis
Wabco's 2015 was pretty decent and that's actually an understatement as I dare to bet the company's free cash flow would have been zeroing in on the $350M mark if the US Dollar wouldn't have gained this much strength in 2015. Despite having spent quite a bit of cash on share repurchases, Wabco's financial situation remains robust with a working capital position of $900M and a cash position of in excess of half a billion dollar.
The company has no net debt at all, and this puts Wabco in an excellent position as the majority of its net liabilities consist of 'post-retirement benefits'. I do like the fact Wabco is keeping its free cash flow either inside the company (to fund a part of the acquisition expenses) or uses it to reduce the share count. The company still isn't very cheap as the free cash flow yield is 'just' 5.95%. However, as the option premiums have increased due to the recent volatility on the financial markets, I might try to write an out of the money put option and collect the option premium whilst I'm waiting for a lower share price. In case I'd be able to purchase stock at an average of $82.5/share, the free cash flow yield would increase to 6.9%, making the company even more attractive to own.
Disclosure: I/we have no positions in any stocks mentioned, and no plans to initiate any positions within the next 72 hours.
I wrote this article myself, and it expresses my own opinions. I am not receiving compensation for it (other than from Seeking Alpha). I have no business relationship with any company whose stock is mentioned in this article.