While I don't short shares, I have done puts for protection and played a few strangles/straddles. But I have wanted to short many companies, specifically a number of high-profile IPOs - the ones all over the media as they prepare to enter the market such as GoPro (NASDAQ:GPRO), El Pollo Loco (NASDAQ:LOCO) and Twitter (NYSE:TWTR). When looking at these stocks as they irrationally rose to new highs within weeks and months of their debut, I was always too chicken, even when the short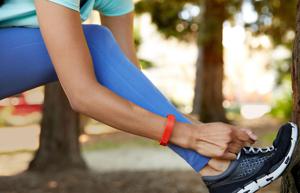 interest was sky high. I could not stomach the risk.
But after seeing Fitbit's (NYSE:FIT) report Monday night and the stock's subsequent crash, I felt it prudent to see if there was any pattern to these companies' declines. Precisely, I wanted to know if there is a lower-risk time in the cycle of these IPOs for an investor to take a position in puts? And I believe there is - that a relatively stable window after the IPO exists in which an investor can assume less risk. And FIT's chart is a good example of this window.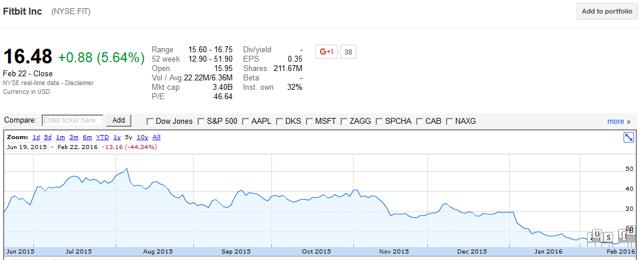 Source: Google Finance

FIT Peak Price: Aug 5th (8-9 weeks after IPO) at approximately $51
FIT's performance above is no different than the assortment of other high-profile IPOs we have seen that qualify in this same category over the past five years. These include stocks that are primarily in the tech and dining categories, such as Groupon (NASDAQ:GRPN), GoPro, Twitter, Potbelly (NASDAQ:PBPB), El Pollo Loco and Shake Shack (NYSE:SHAK). It is the normal pop in the first 2-3 months, followed by a bit of sideways trading, and then a rapid drop prior to the end of the first three quarters of trading. As you can see below, courtesy of Google Finance, the previously mentioned companies have followed the same pattern.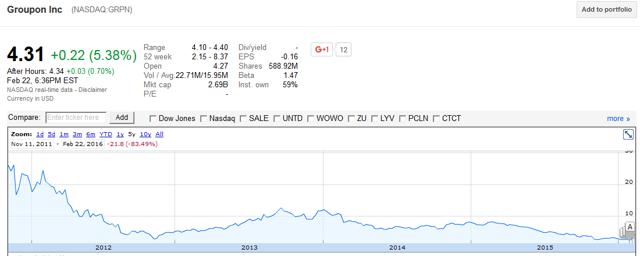 Peak Price: Nov 18th 2012 (3 weeks after IPO) at ~$26, then again Feb 3rd 2013 (12-13 weeks after IPO) at ~$24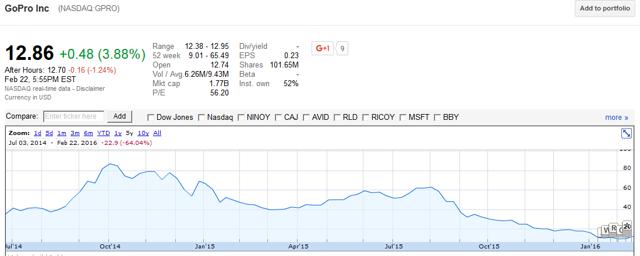 Peak price: Oct 3rd 2014 (12-13 weeks after IPO) at ~$87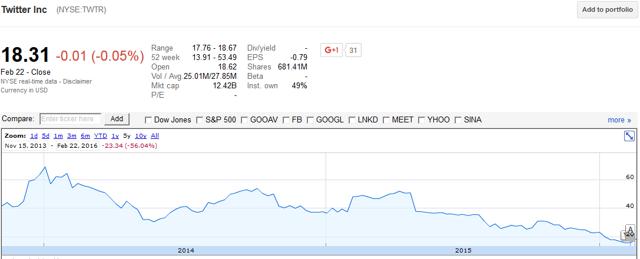 Peak price: Jan 3rd 2013 (8 weeks) at ~$69, and Jan 31st 2013 (12 weeks) at ~$64.50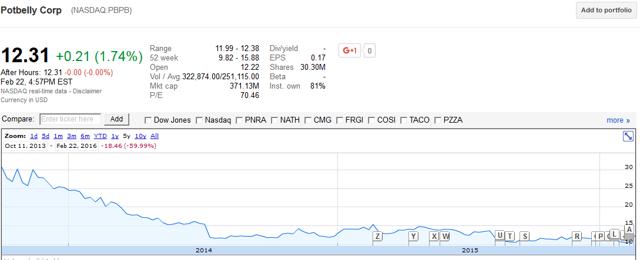 Peak price: Oct 31st 2013 (4 weeks) at ~$30, and Nov 15th 2013 (6 weeks) again at ~$30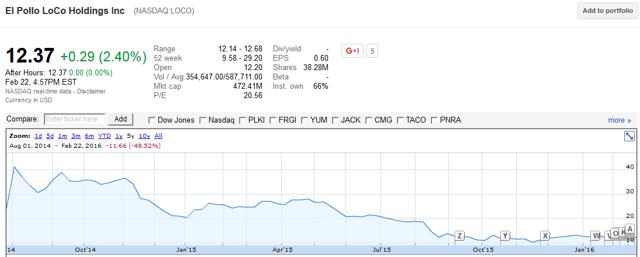 Peak price: Aug 1st 2014 (1 week) at ~$41, Sep 12th 2014 (7 weeks) at ~$39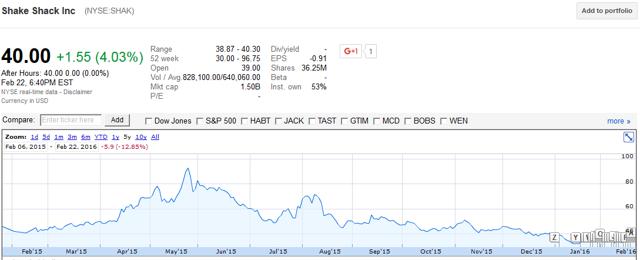 Peak price: May 5th 2015 (12-13 weeks) at ~78$, and May 22nd (15-16 weeks) at ~$92
The Bottom Line On These IPOs
The causes of these drops generally rest on hyper-growth hopes that shoot up shares as they receive an abundance of media coverage and high analyst price targets, which usually further the gains. Only then does that company report some form of "bad" news (usually a lower-than-expected earnings report) and fall from grace rapidly, which then again receives media coverage that usually accelerates the decline. It is a rollercoaster… but as with all amusement park attractions, eventually the ride ends back near the starting point.
Now, if you are wondering about the article's newborn/infant analogy - newborns are defined as babies under 28 days of age by the WHO and are considered at the riskiest point of survival for a child. After that time, babies become classified as infants, and the risk begins to lessen in regards to their permanency, especially around the three-month mark. This same analysis can be used when thinking about shorting IPOs similar to the ones above.
With the exception of GRPN and LOCO, all of these stocks took over four weeks, but generally under three months, to reach their peaks, and even GRPN and LOCO continued to remain overpriced for months to come. Hence, the smart short-side player would probably determine that waiting until these stocks are out of the newborn stage is best before assuming a position. Additionally, within nine months every one of these stocks had significantly declined. Therefore, that same player would probably deduce that one-year out put options might provide the biggest bang for the buck.
The benefit of puts is that your risk is limited - if you were to have bought puts instead of shorting shares in SHAK too early, say in early April of 2015, the sky would not be the limit - only the put premium, and you could always have doubled down with additional higher strike puts. And all without any interest charges or worries of margin issues. By going out one year, you have time to be patient and await multiple earnings reports to increase your chances of a share price decline.
Shortcomings Of This Analysis
There are several shortcomings here. First, the sample size could appear cherry-picked. But in this case, I can only determine one outlier stock that received similar media coverage to these companies - Facebook (NASDAQ:FB). And it IPO'd in a way most traders never saw coming with an immediate decline. But the difference is that it proved it could make money and keep up a high level of growth with a solid moat. Some might also point to LinkedIn (LNKD), which moved up long term, prior to its recent blip on the radar. However, if you look at the chart, it follows the exact same pattern - two to three months of gains, followed by nearly a 50% decline within that first year.
Additionally, this is only a small selection of stocks. Most IPOs come out very quietly and are never heard of in the media; however, those IPOs also don't usually see these types of drastic gains and declines in their first year of trading.
Lastly, the lockup of shares has not been mentioned here. While it does play some role, the more predominant catalysts for the movements of these shares appear earnings - and guidance-centric. FIT's report Monday is a good example, and has been the resounding theme in these mentioned stocks as investors jump the sinking ship for drier ground as guidance does not satisfy primary stakeholders in these stocks.
Similarities To Look For In Future IPOs
Now to the "So What" - how does one identify a similar IPO in the future? Well, first, just look and see what is being talked about on the financial networks and on the top ten lists of IPOs for 2016 - here are a couple links to some ideas from CNBC and Investorplace.com. My top three from these that I will be watching - Airbnb (Private:AIRB), Dropbox (Private:DROPB), and Pinterest (Private:PINIT), as they hold several notable similarities among the distinguished group above.
First, the numbers and outlook of all these companies were highly debated in the media. None of these companies lacked bobbing heads on the financial networks touting the bull story, with a few naysayers giving contrarian views and debating growth.
In particular, the food companies generally received commentary about their amazing expansion numbers and future growth potential. These drew in investors, who then followed the upward movement with hopes and dreams. Then the quarterly report came out and expansion was suddenly less than expected; the price fell as investors departed. Unfortunately, with LOCO and Bojangles' (NASDAQ:BOJA) performances, it appears most restaurant chains are now taking a breather from IPOs this year.
Second, for the tech companies, they seem to have fallen into the South Park mantra of startups, i.e., a pattern of pushing out the IPO, awaiting the lockup period to end, cashing out and often leaving others holding shares that magically have lost value overnight. But with Square's (NYSE:SQ) recent IPO failing to ignite, this tactic appears to be losing its luster. We will have to see how/when/if Dropbox and Pinterest are able to enter the market and how they fare in the first few days of trading.
As I conclude, I am now ready to take a chance on a future, hyped IPO I feel has become overpriced by assuming a position 6-12 weeks into its public offering through one-year puts. If the stock rises, I will look to add to my position and/or raise my strike price accordingly. As always, any investor considering this strategy must do their due diligence and be willing to display some intestinal fortitude - it is a roller coaster ride after all!
Disclaimer: This article is intended to provide information to interested parties. As I have no knowledge of individual investor circumstances, goals, and/or portfolio concentration or diversification, readers are expected to complete their own due diligence before purchasing any stocks or options mentioned or recommended.
Image Source: Fitbit
Disclosure: I/we have no positions in any stocks mentioned, and no plans to initiate any positions within the next 72 hours.
I wrote this article myself, and it expresses my own opinions. I am not receiving compensation for it (other than from Seeking Alpha). I have no business relationship with any company whose stock is mentioned in this article.