National Oilwell Varco (NYSE:NOV) designs, manufactures and sells equipment components in the O&G industry. Furthermore, the company conducts operations under four business segments; Rig Systems, Rig Aftermath, Well Borne Technologies and Completion & Production Solutions.
Since the industry downturn in regards to the O&G sector, the company has continued to experience a downturn of their own, in terms of revenue reduction and a profitability crunch.

Source: Recent Annual Report
Many investors understand, know and have studied the business model of NOV before. In order to not make this report mundane and/or repetitive, feel free to read these article here, here and here, for a better explanation/overview of the business model itself.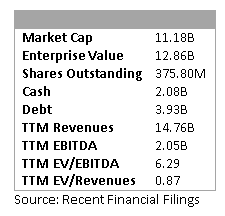 Don't Waste Your Time Calling A Bottom
In the past few years, it has been a long hard ride for investors of NOV, or as the Grateful Dead would say; "What A Long Strange Trip It's Been".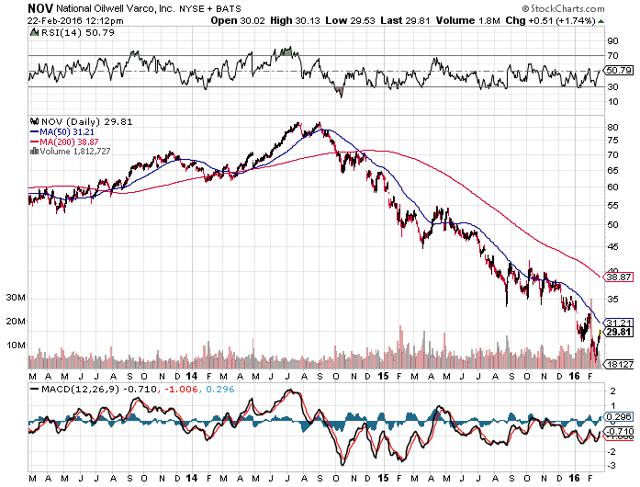 Putting aside the analogies of Jerry Garcia and the continual price tumble of NOV, there are a few things I would like to clarify.
First, don't waste your time trying to predict a bottom in NOV. It's not going to happen. There are way too many moving pieces on a macro economic standpoint and even on a straight company basis perspective. Furthermore, there are hundreds of 'professionals' who try to predict bottoms, recessions, etc., every year. What makes your prediction different from the guy who has a PHD in economics (in which he has never called a 100% correct prediction)? What is your edge over the hundreds of predictions every year?
"The only function of economic forecasting is to make astrology look respectable"- John Kenneth Galbraith
So what should you do instead of trying to call a bottom? There are a few things I can think of; continue to average down if you like the long-term outlook, short the company if you think it will continue to fall, sell the company, or do nothing. My plan is to continue dripping the dividend while doing nothing.
Have we hit a bottom? Will the stock continue to fall? I don't know and I don't care. When I bought NOV, I did so for the long-term economic outlook of the company as a whole and the strong management team at the helm. I knew that when I bought shares originally, the company could have a chance of falling 20%, 30% and even 50% from my purchase price. That is just what happens when you take risks and buy equity (especially in a commodity related business).
Non-Systematic Risk (Uncontrolled By Management)-Management Team Focused on Controllable Events
NOV's management team has almost zero control over macro and commodity related events such as the plunge in the price of oil. On a technical perspective, finance professionals call this non-systematic risk. Could management have controlled the volatile price of oil? In theory they could have hedged the price, yet doing so would be an opportunity cost; taking what management does best (selling O&G components) and switching, basically to a hedge fund. In my opinion, long-term value is obtained by focusing on what you do best; in NOV's case, selling O&G components.
One thing that really stands out to me about NOV's management team is their persistent buyback program. In the face of the downturn, management has continued to buyback common stock. This is an indicative sign that management believes that the stock price is cheap on a long-term historical basis. Finally, the company recently completed its $3bn share buyback program in 3Q15. Thus far another buyback program has not been announced.
Other areas that management can control is their organic and inorganic growth, continual cost reductions and maintaining a strong balance sheet. For an example, in the year of 2015, NOV completed seven acquisitions for $86mm. These acquisitions may not be initially accretive to the bottom line. However, when the O&G industry starts to recover, there is a good chance you will see accreditations from continual small-bolt on acquisitions.
In regards to the company's cost reductions, yes margins have fallen a decent clip, yet so has capex spending. I believe that the company will continue to curb off capex in 2016, thus focusing on FCF generation. Interestingly, the company's margins and other profitability ratios (ROE and ROA) have been falling before the downturn happened. I don't think the business model is broken per se, but rather the result of continual less accretive acquisitions and the company becoming larger.
If interested in finding out why exactly ROE and ROA have been falling pre-industry downturn, find an analyst willing to do a five-way decomposition of ROE. Or, if up to the challenge, do it yourself. Let me know the results though.
Finally the company has maintained a strong balance sheet pre-downturn and post-downturn. Leverage is dangerous. It puts serious balance sheet risk to an investment. NOV has and still has a very strong balance sheet that will allow it to weather this downturn. Moreover, keeping a strong balance sheet pre and post-downturn is a good indicative sign of a strong management team.
Going Forward
From reading the recent annual report, management is not very optimistic at all in regards to the first half of 2016. Furthermore, as long as the supply and demand of oil are in a disequilibrium state, a recovery in black gold will not happen. Though, the longer the disequilibrium continues, the stronger for potential upside. Moreover, we will most likely see further bankruptcies from over-levered firms and continual talks from OPEC and other organizations in regards to curbing production.
Given the fact that NOV has as strong balance sheet, and your own psychological mind state in regards to mark-to-market losses, the long-term for NOV does have some light shining through this dark tunnel. Given my circumstances, that I am only 25 and still have a significant amount of earnings power ahead of me, I can hold onto NOV for the long-run. However, if you are a 65 year old who got sold into buying NOV from the overhyped articles by the Motley Fool and the Warren Buffet bought it crowd, I am sorry (hopefully NOV was not an over concentrated position).
What makes NOV an attractive long-term play, is the nature of the industry as a whole. Customers, or on a technical perspective, contractors, really do not like investing into older equipment. There are several reasons, but the most important reason is efficiency. Older equipment is less productive and requires high capex maintenance. This acts as a double edge sword on contractor's bottom line.
Thus, the industry as a whole focuses on the efficiency of production. The lower their production expense and the less capex spent, the more money for the bottom line and shareholders as a whole. This makes the long-run attractive for companies like NOV. Furthermore, the industry will continue to retire old, less efficient equipment. This in turn will result in new builds. Moreover, when commodity prices stabilize further new build orders will follow-on.
Investors should think of NOV as the picks and shovels of the old school gold industry. Without the picks and shovels, old school gold miners could not efficiently remove gold from the ground. Furthermore, as the picks and shovels continued to depreciate in value from being used, gold miners would have to continue buying new ones. In the oil industry, companies can only go for so long without upgrading and buying new equipment. That is why I am bullish on the long-term outlook for NOV.
Conclusion
NOV presents itself as an undervalued security on a relative basis.
| | | |
| --- | --- | --- |
| | TTM EV/EBITDA | TTM EV/Revenue |
| Schlumberger Limited (NYSE:SLB) | 10.11 | 2.75 |
| Halliburton Company (NYSE:HAL) | 7.90 | 1.36 |
| Baker Hughes Incorporated (NYSE:BHI) | 12.57 | 1.28 |
| Cameron International Corporation (NYSE:CAM) | 8.37 | 1.50 |
| FMC Technologies, Inc. (NYSE:FTI) | 7.63 | 0.94 |
| Average | 9.31 | 1.56 |
| National Oilwell Varco, Inc. | 6.29 | 0.87 |
Interestingly the M&A announcements of SLB &CAM and HAL &BHI help to strengthen the case that NOV may be an acquirer or acquire, in the near to mid-term. In fact, there have been several cases made in the past that suggested that NOV may go through with a decent sized acquisition themselves or get taken over (remember, there are no takeover defenses). Furthermore, the relative undervaluation and strong market share make NOV an attractive takeover target.
Overall, if an acquisition of NOV is not announced I have long-term conviction that the company will continue to be a great buy for the long-haul. My price target is based upon a reversion of the mean multiple to the peer average used above of 9.31x, coupled with a normalized EBITDA run-rate of $3,000mm.
| | |
| --- | --- |
| EBITDA | 3,000 |
| Multiple | 9.31 |
| EV | 27,930 |
| +Cash | 2,080 |
| -Debt | 3,930 |
| Total Equity | 26,080 |
| Shares Outstanding | 375 |
| Estimated Equity Per Share | 69.55 |
In millions
Remember, the aggressive estimated equity per share is for the long-run (>2020). Based upon the company's long-term economic demand for its products, the value of its overall market share and brand and its strong management team, NOV should be able to pull through this downturn. Though the road will be bumpy, there is a light at the end of the tunnel.
Disclosure: I am/we are long NOV.
I wrote this article myself, and it expresses my own opinions. I am not receiving compensation for it (other than from Seeking Alpha). I have no business relationship with any company whose stock is mentioned in this article.